Late January 2020
I've said it before, and I will say it many times more. I am a very lucky person! There are many reasons for me to say that but since this is being written for my fiber arts website, I will stick to some of the fiber related reasons for my gratitude and appreciation of what is: I have been warmly welcomed and embraced by my husband's Swedish relatives who maintain the family farm in Sweden, including textiles and fiber arts equipment, from the late 1800s.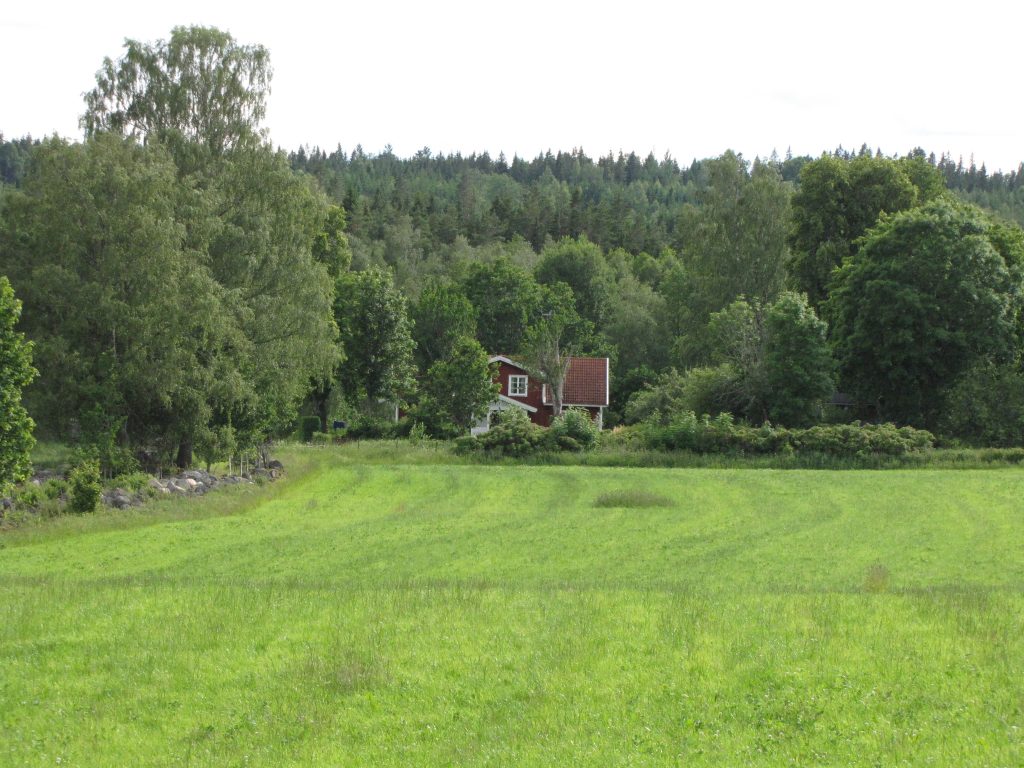 My first trip to the farm was in 2017. My second trip was in August of 2019. In between, five of the cousins came and visited us in California. We are family in the best sense of the word, and it feels wonderful!
This farm has been in my husband Michael's family since 1850, with the original house being completed in 1853 by Michael's great-great grandfather.
It is located in Småland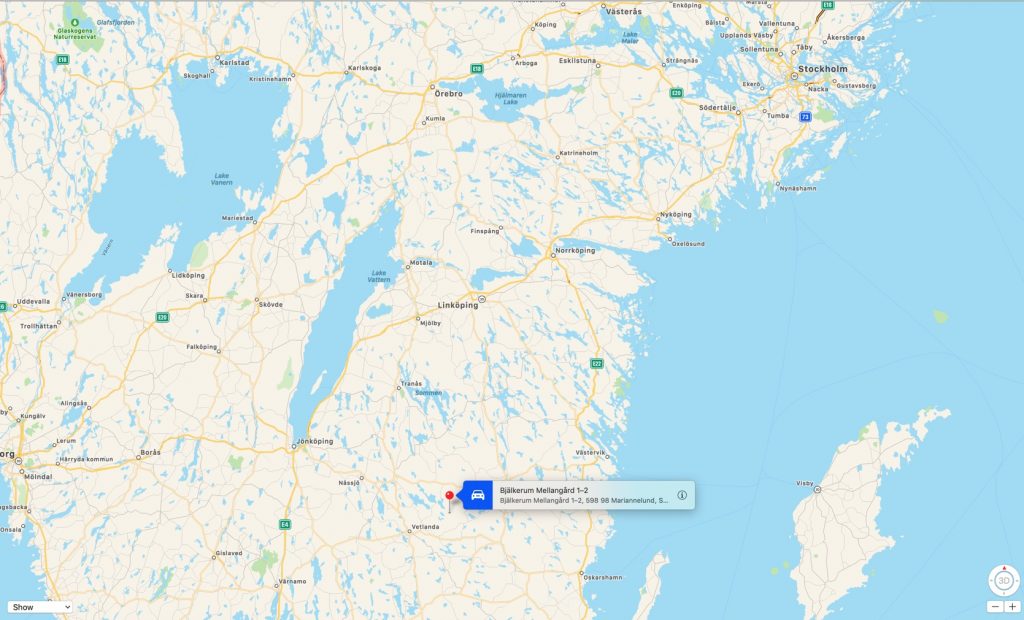 and was originally a dairy farm.
Currently, the farm, the house with newer additions (completed about 30 years ago), a cottage, and two barns are owned by seven cousins. The farm now produces pine and fir, which is well managed by the government. It is beautiful and well-loved land, forest, and creek, and it is a lovely part-time home to the family members and their guests, including those of us crossing large bodies of water to get there. To say it is a magical place is not an exaggeration.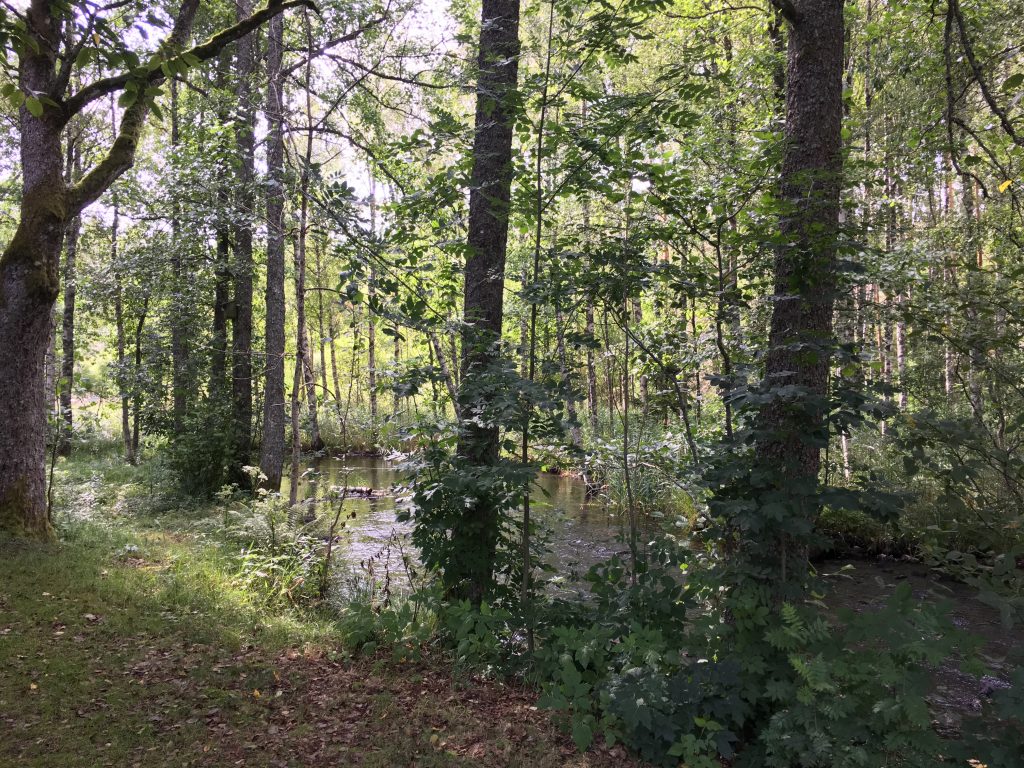 When I first arrived at the farm in 2017, I immediately felt at home and was intrigued by the textiles and artifacts of fiber activity. Spinning wheels, a band loom, temples, and other items related to working with fiber can be found in several rooms.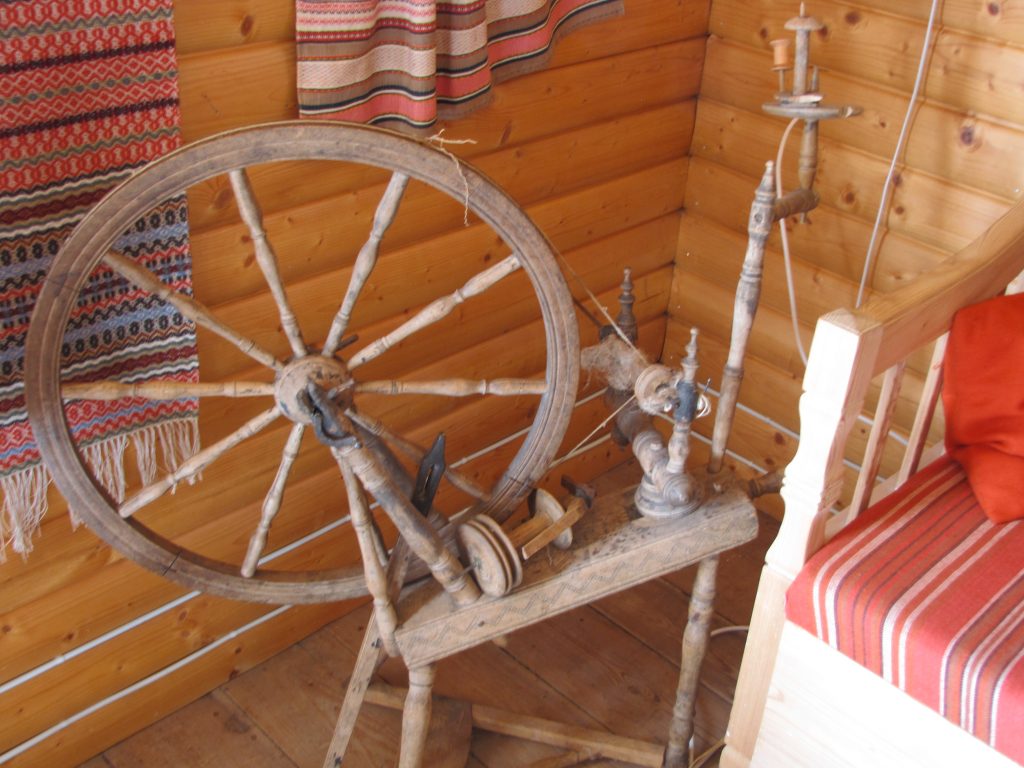 Hand-crafted textiles grace tables, walls, benches, and more.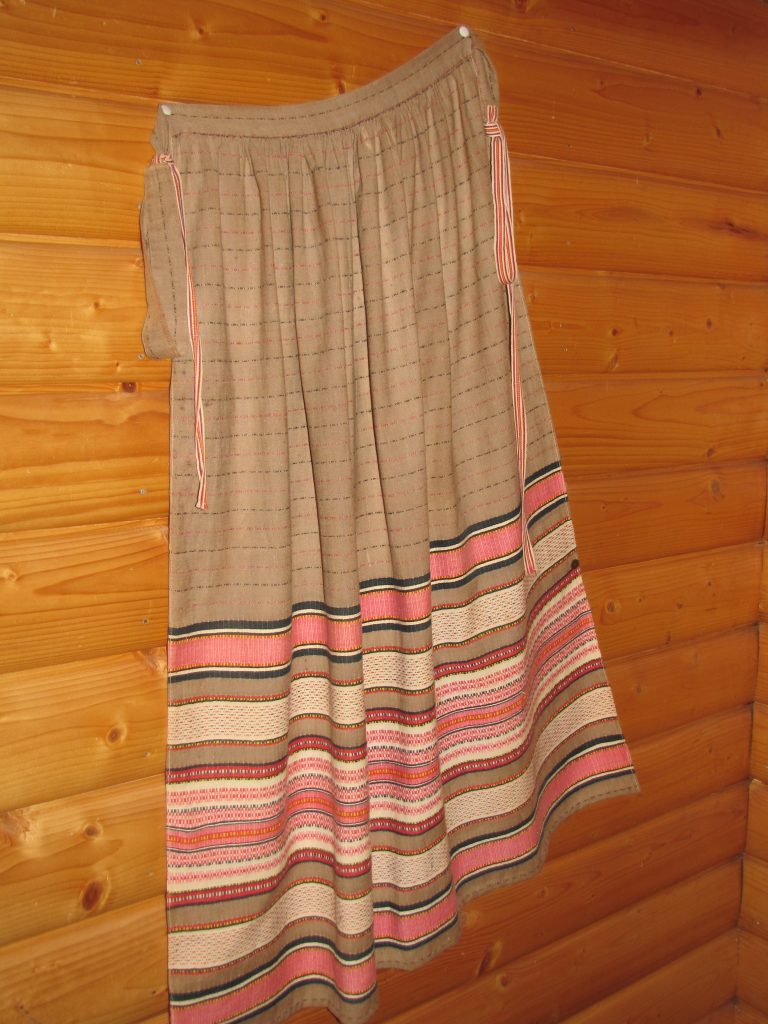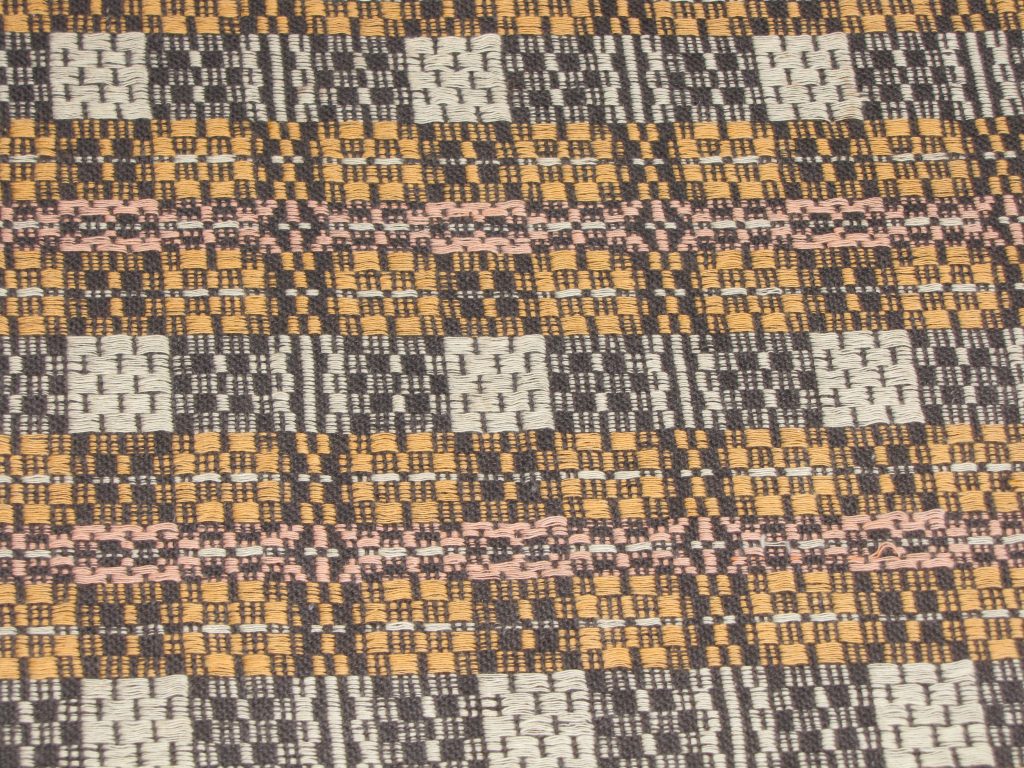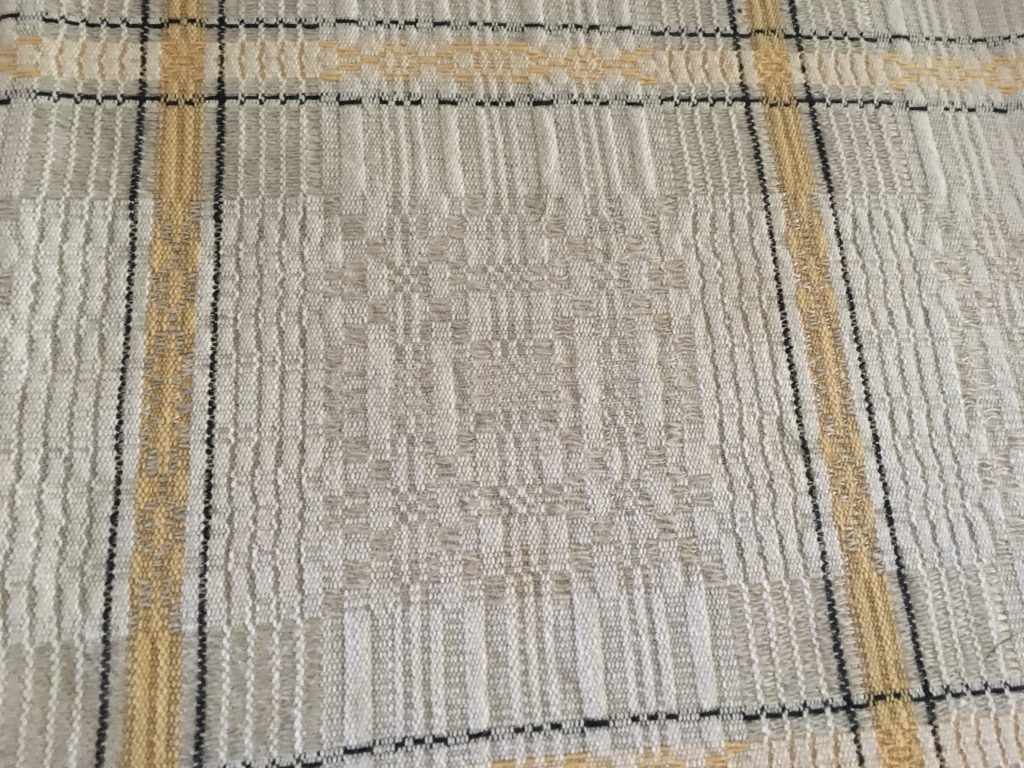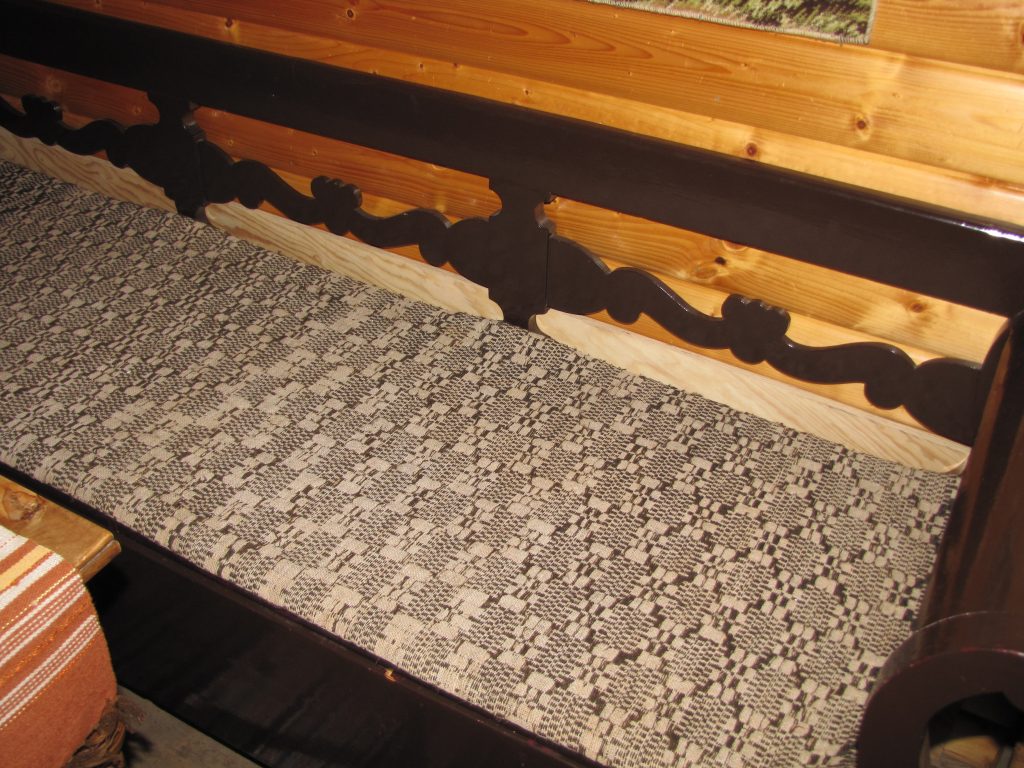 When the family understood my excitement as a spinner and newer weaver, they also became enthusiastic. Soon Annica, who makes everything so beautiful and welcoming, and Margaretha, the elder of the family, took me to the cabinet in the dining room and we were exploring table cloths, hand towels, and wall hangings that ancestors created in years past.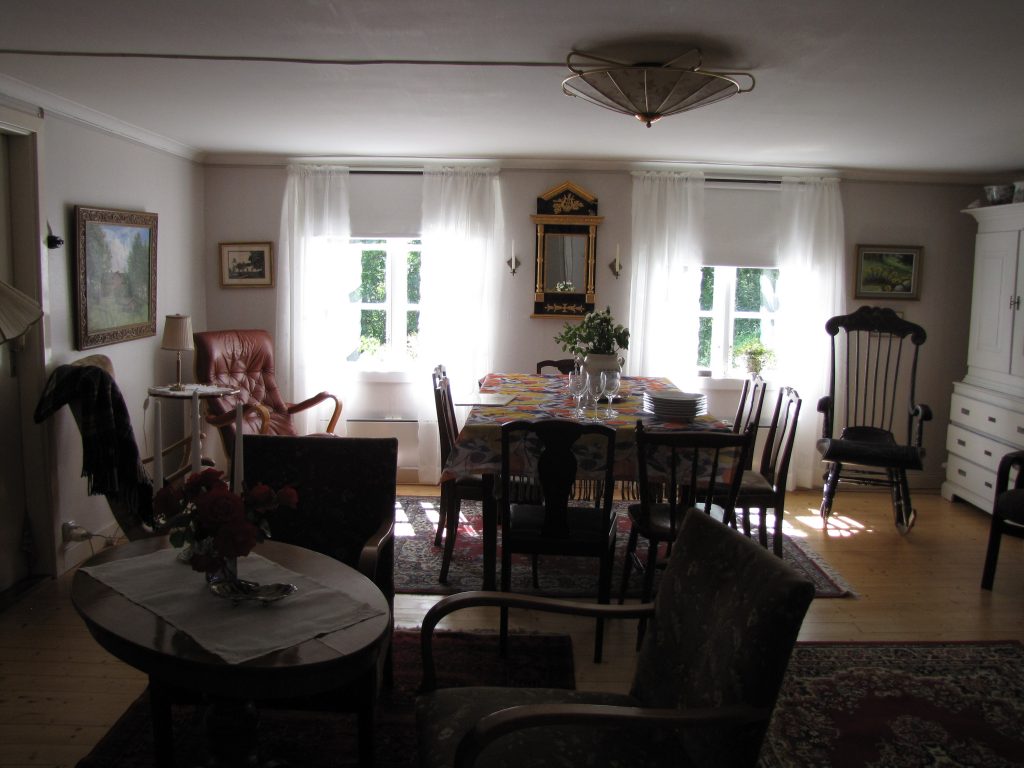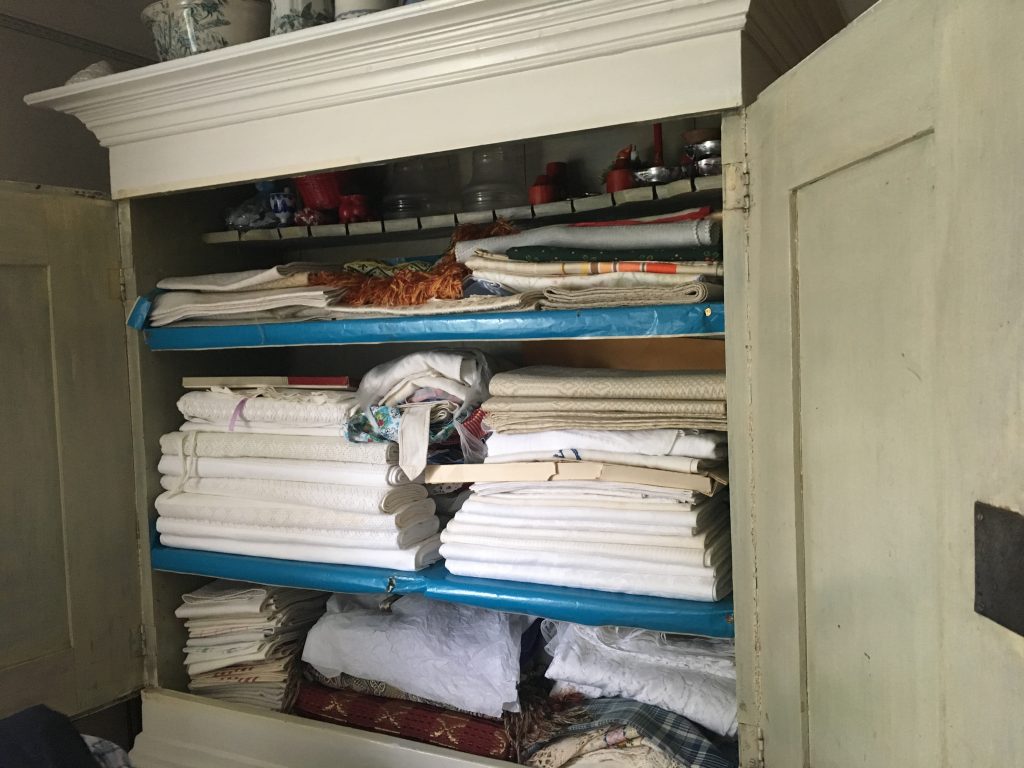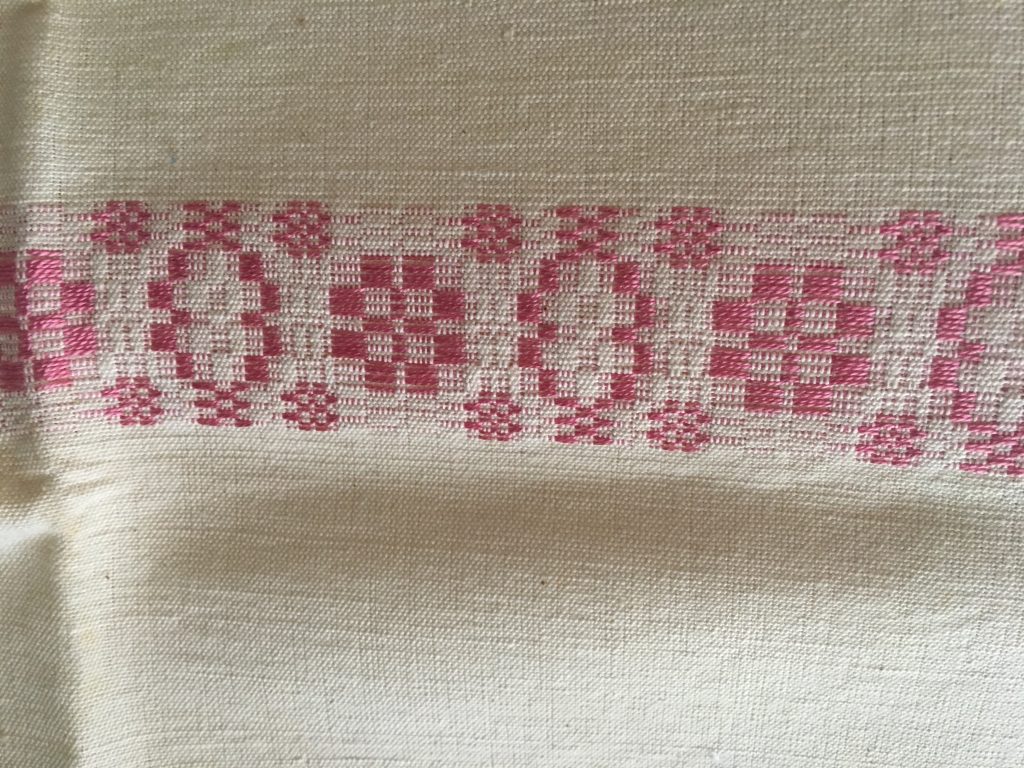 They could identify some of the items and who made them, some they knew came from other locations, and some of the textiles were made by family members but no one knows exactly who made them. Recently, Annica found some hand-woven curtains that had been stored for a long time. They now hang in the kitchen windows.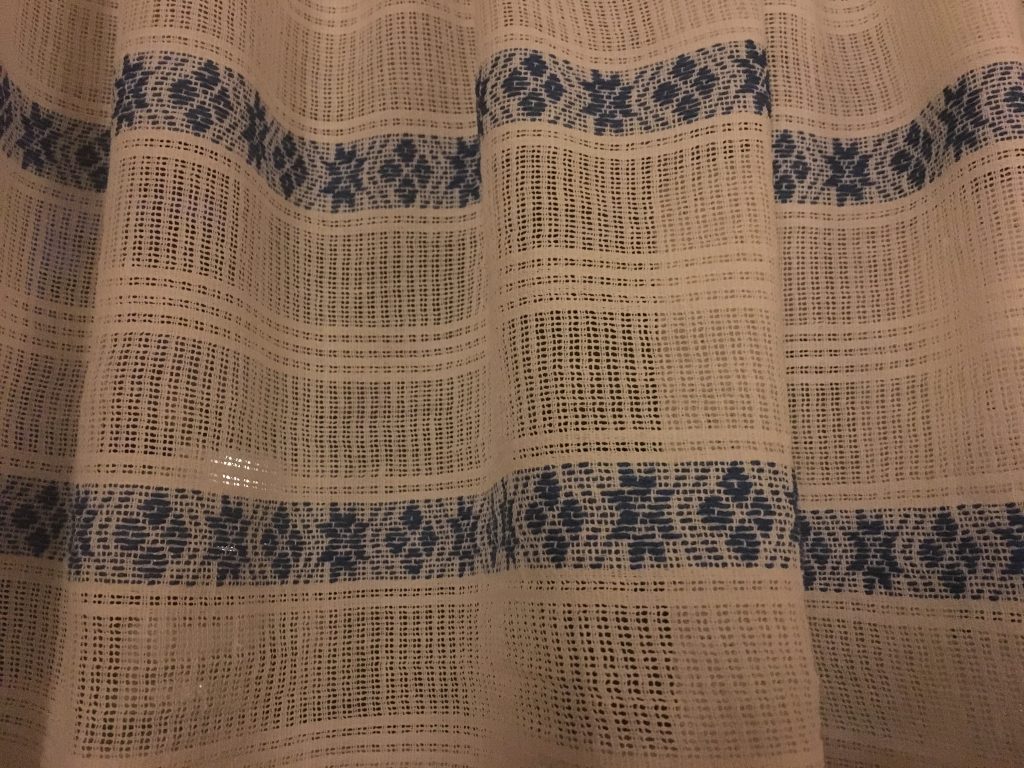 Some of the items now grace my home. I have been gifted a crisp linen hand towel with embroidery that belonged to one of Michael's grandfather's sisters,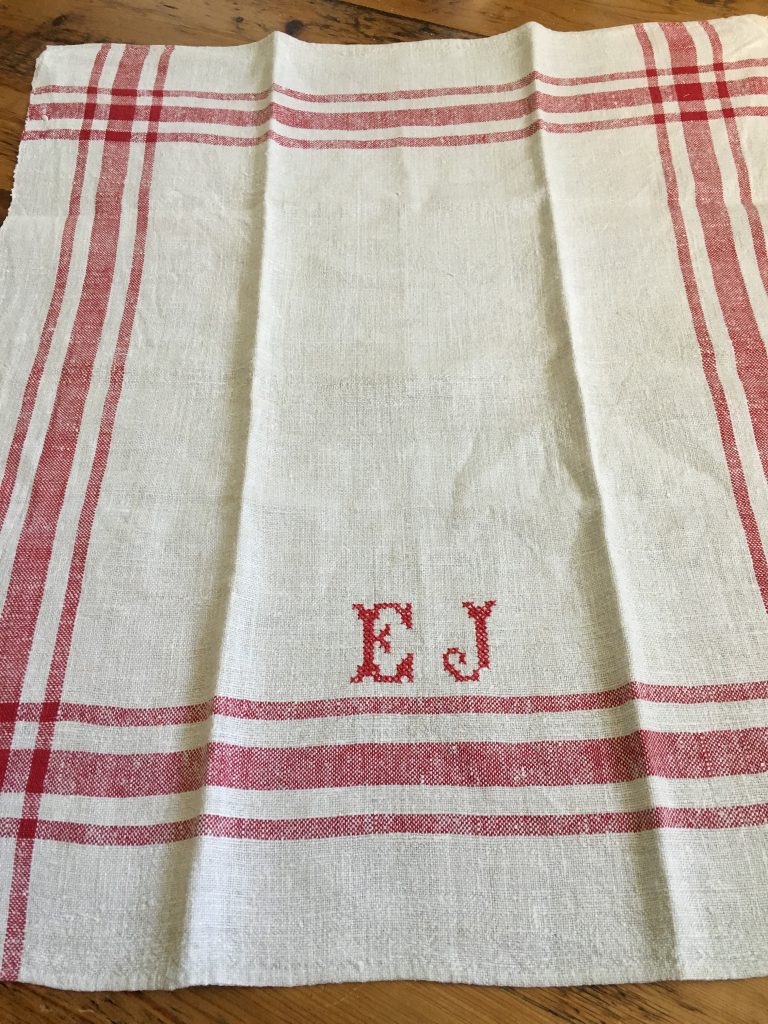 a fine linen finger towel woven by Annica's mother, Ruth (niece to Michael's grandfather),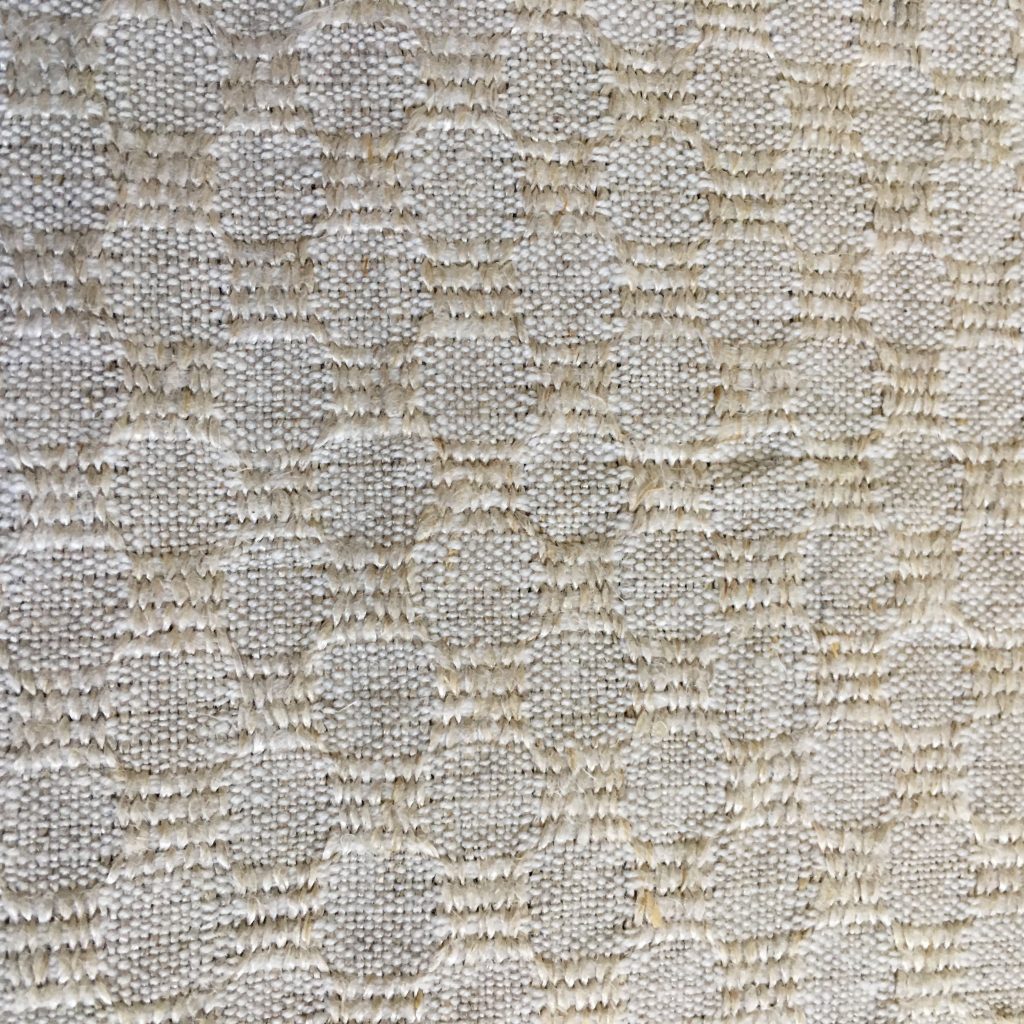 and a rep-weave table runner woven by Annica's mother.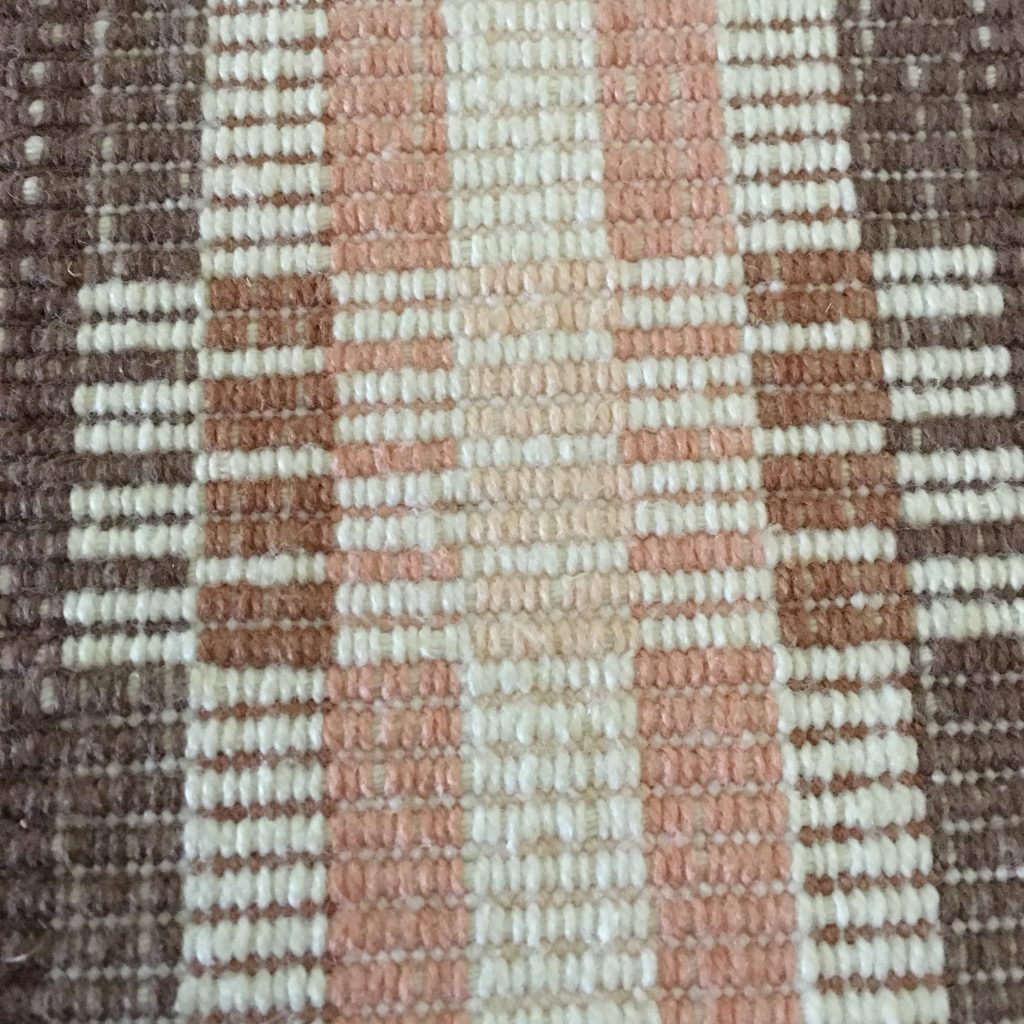 I also have a very fine linen table square that came from somewhere else as it would require more shafts than available on the loom at the farm.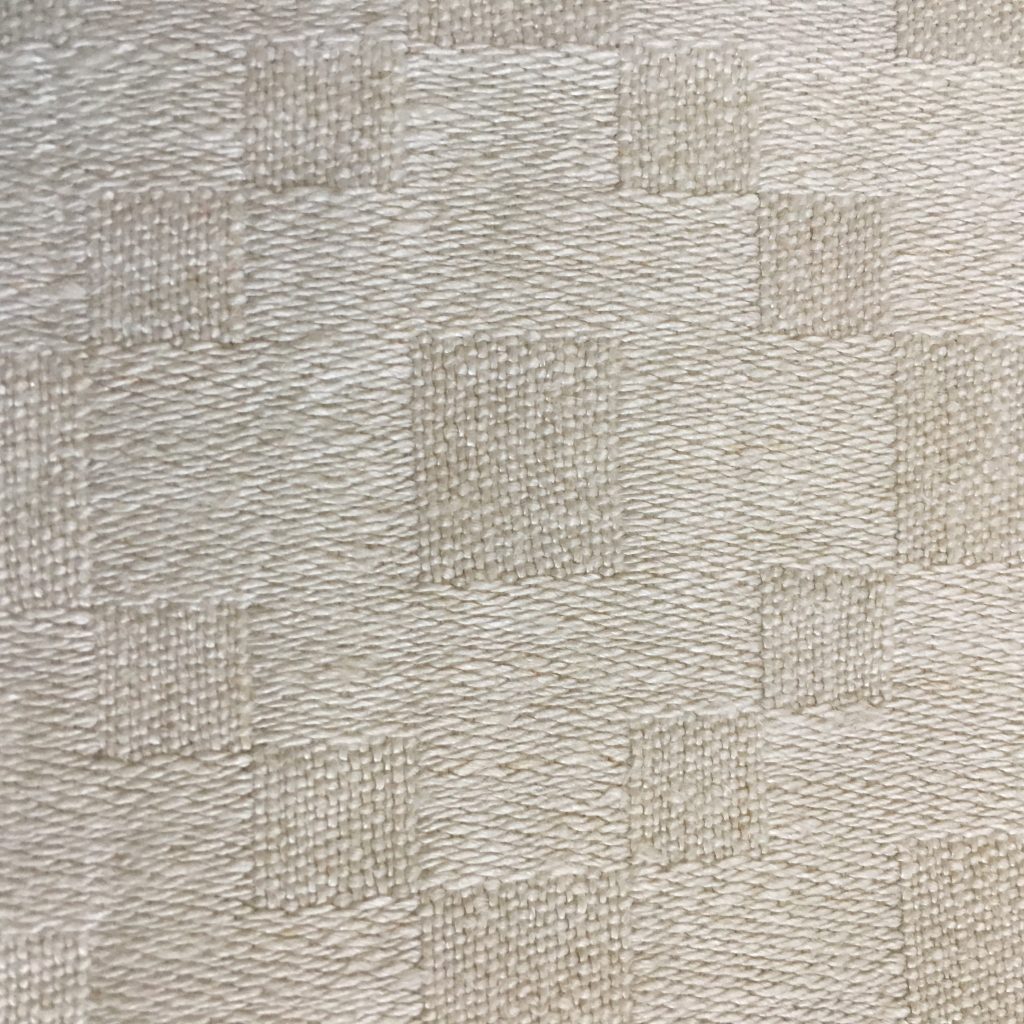 Since currently no one in the family is weaving, I have gifted them with handwoven towels, table runners, and placemats.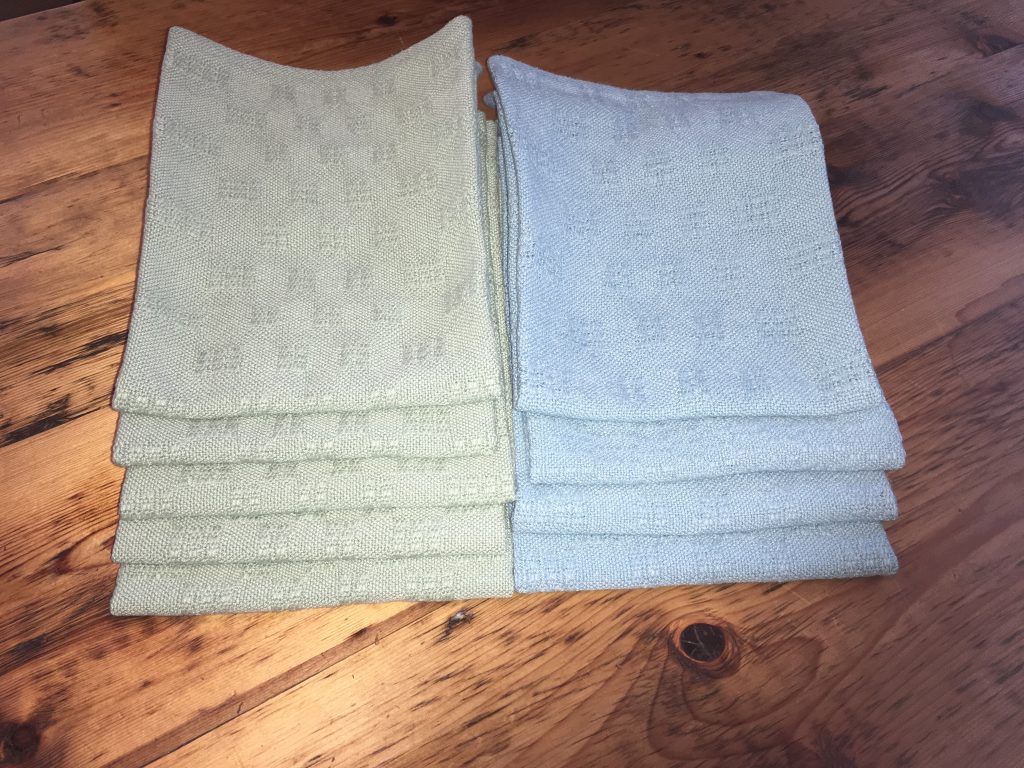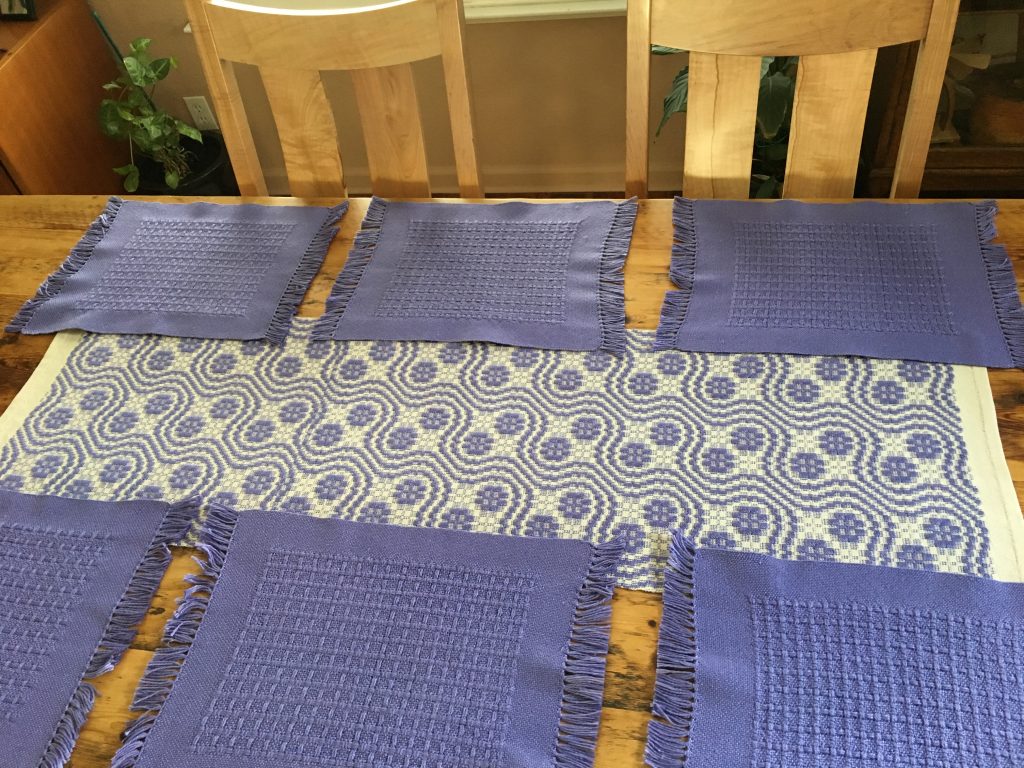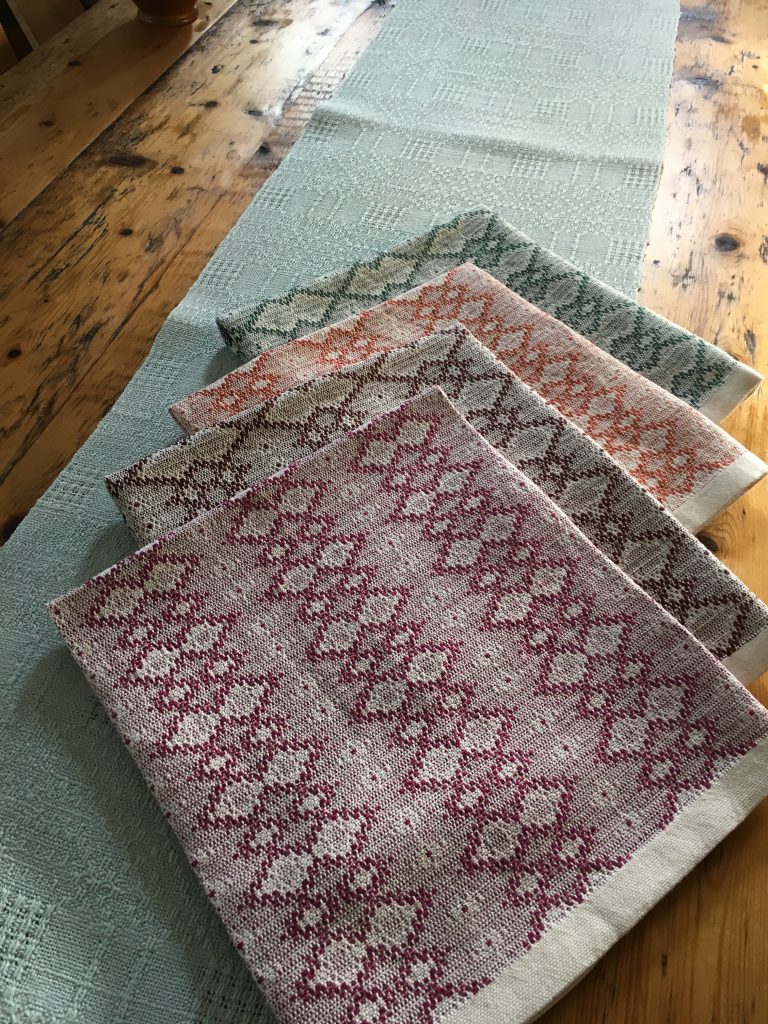 It is an honor to know that items I have woven are now in the house at the farm. It was a great feeling to see my handwoven cottolin towels in service when I arrived this year.
During my first visit, in 2017, one of the relatives suggested we visit an art exhibit in the somewhat nearby town of Virserum.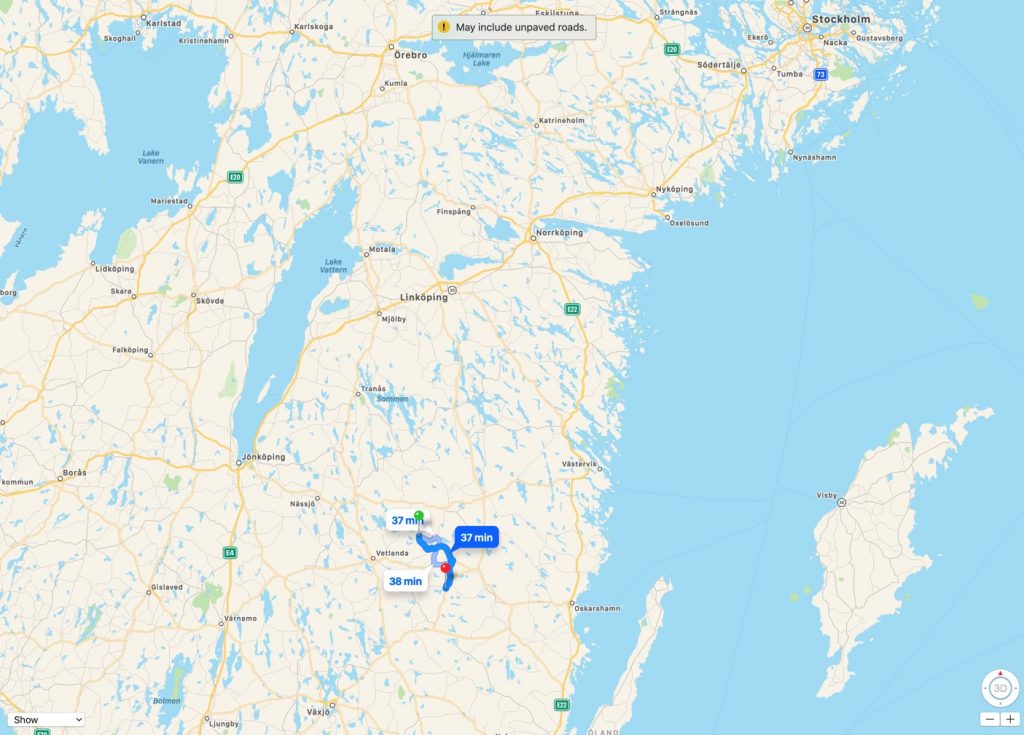 The exhibit was on a renovated campus of buildings that formerly were used for making furniture. There were beautiful gardens and several buildings. I could hardly contain myself when we pulled into the parking lot. The first building I saw displayed a large sign that read "Vävstuga."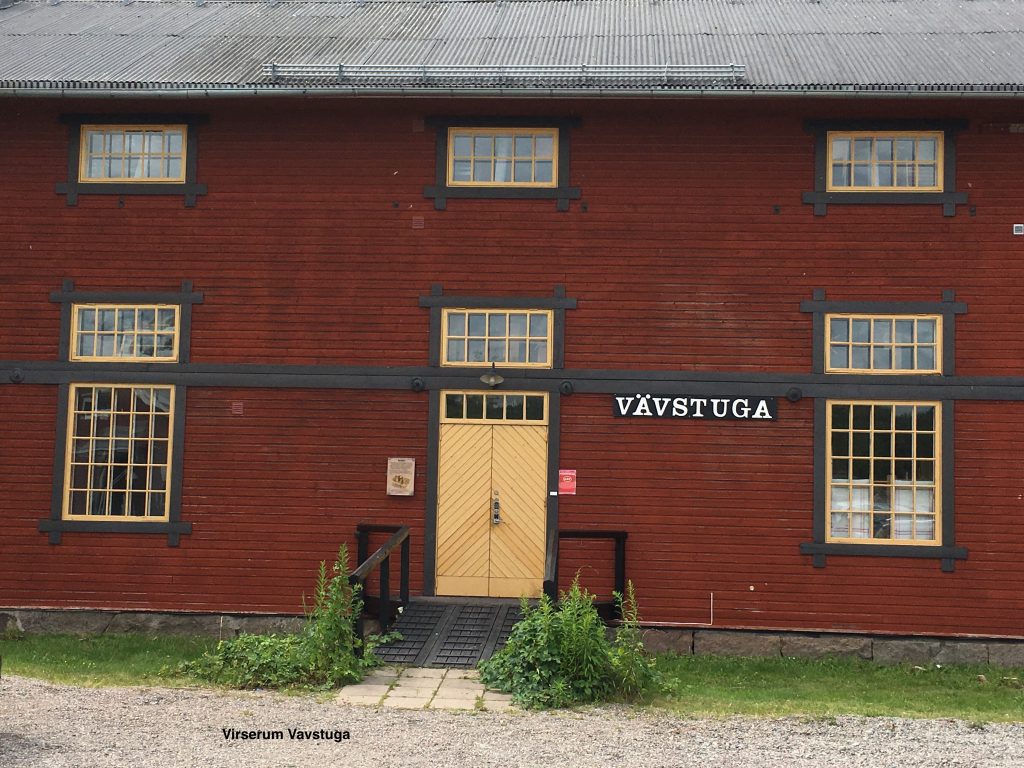 That is one Swedish word I definitely know! As luck would have it, a woman was just about to leave and one of the relatives, speaking the Swedish I could not speak, engaged her.
Anne-Charlotte, the guild president at the time, was kind enough to stay and show us the weaving studio. How amazing to walk in and see over 30 looms!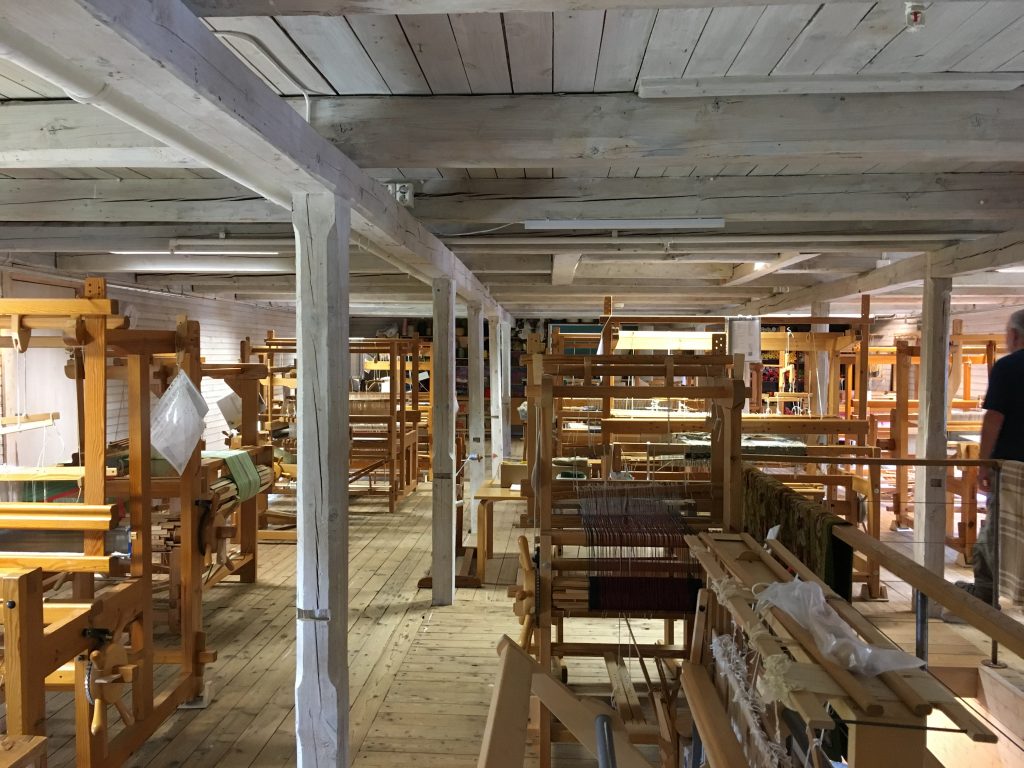 They recently moved to this location and she showed us all the counterbalance, countermarche, and drawlooms.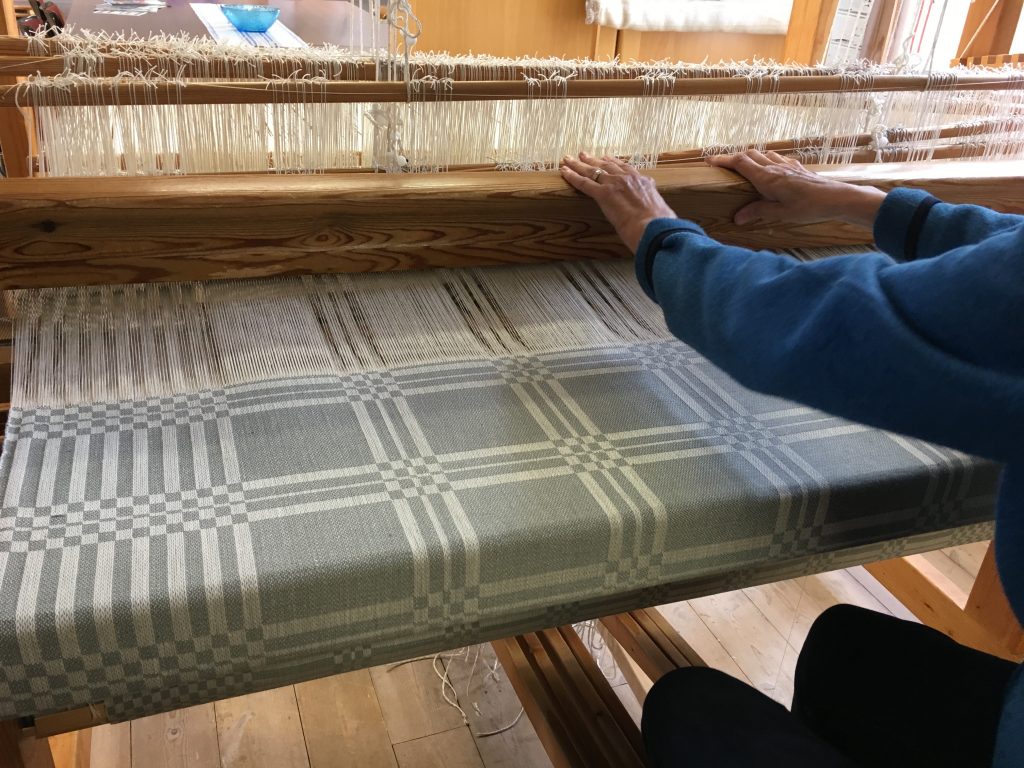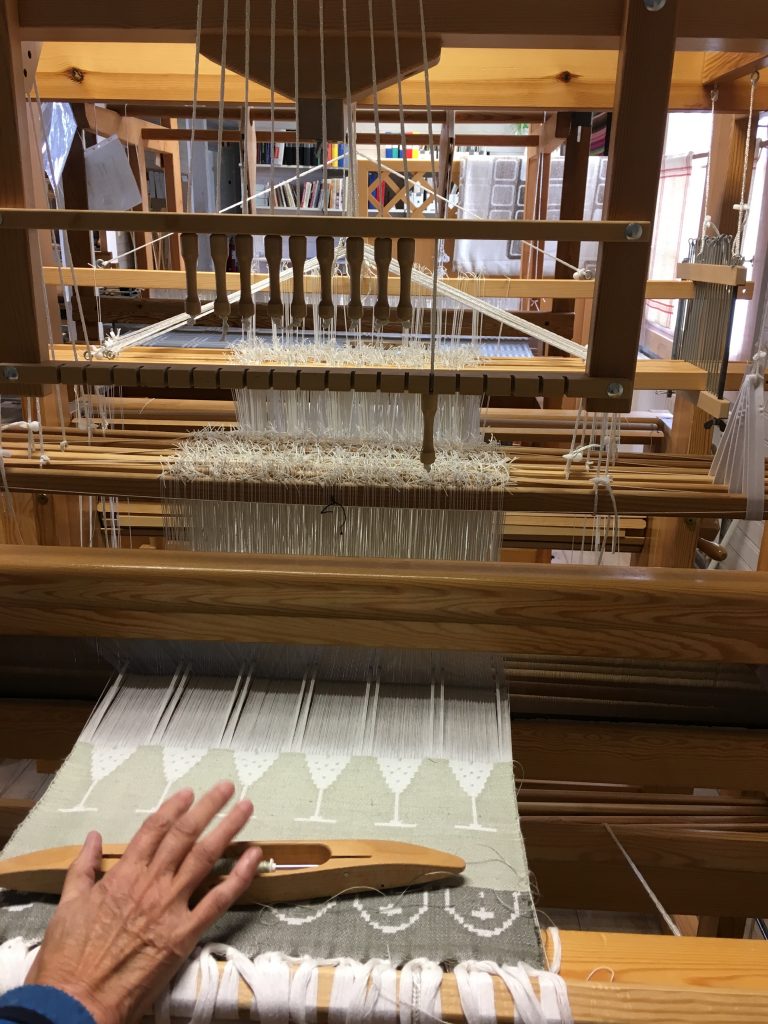 The guild has two floors, plenty of reeds, yarns, and other materials, as well as a book of obviously
old drafts.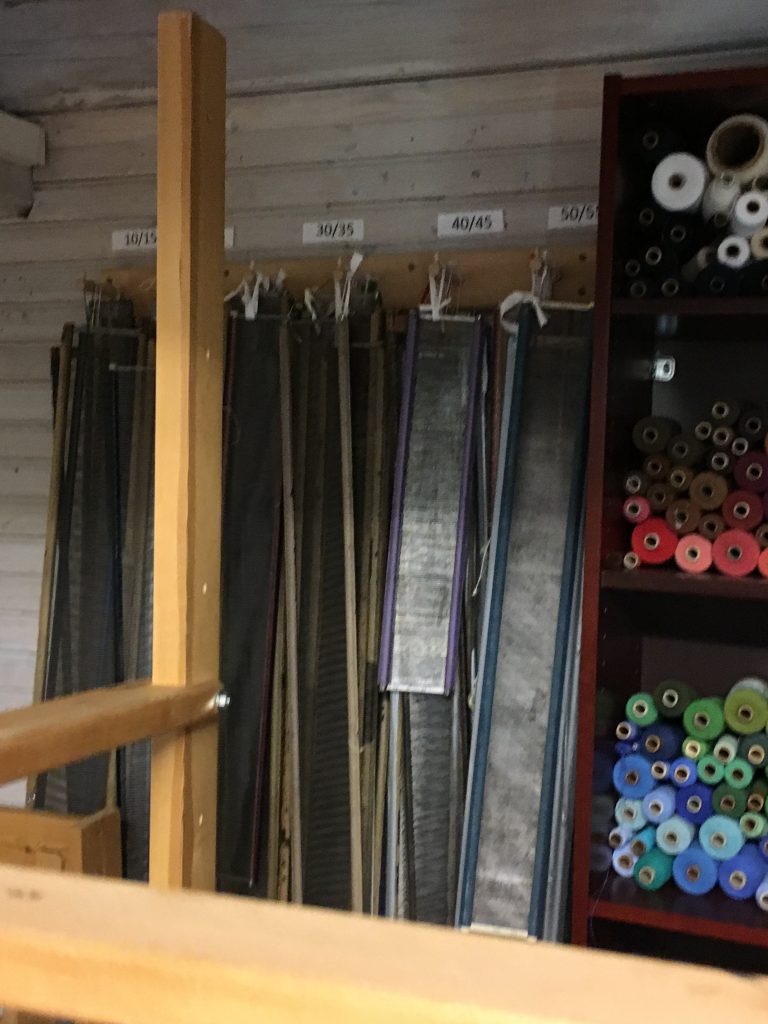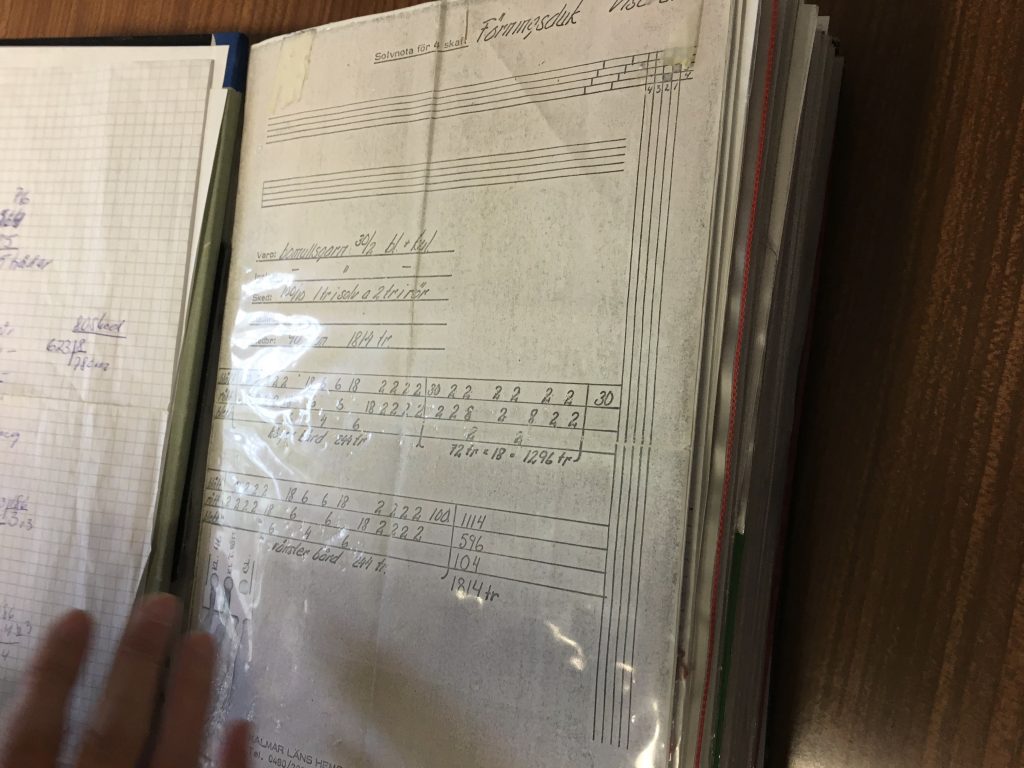 It was fun to learn to communicate. The cousins did a fantastic job of translating and then eventually Anne-Charlotte and I found some common language in weaving and medicine as she is also a recently retired nurse practitioner and psychotherapist. An amazing and synchronous connection across the globe!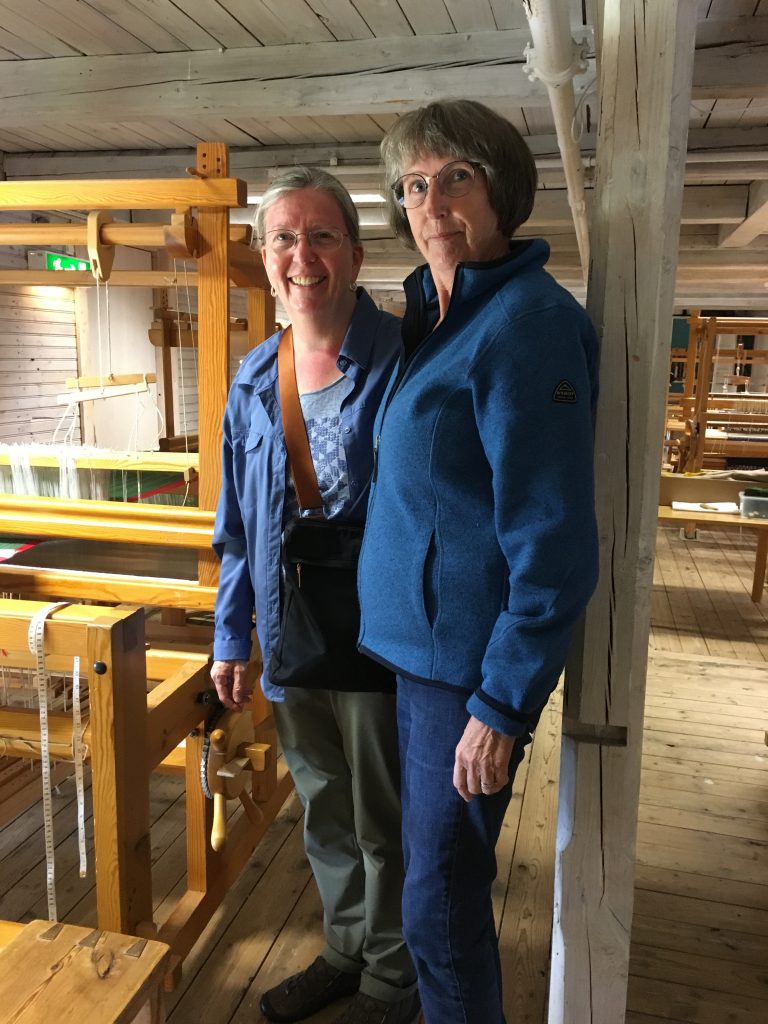 During that first visit in 2017, Annica found skeined weaving threads in a trunk in the house. The best estimate is that they have been there at least 50 years. They had been wrapped in newspaper. She was going to discard them but instead I brought them home. Sadly, the black and the green threads were tangled and disintegrating. I have saved most of the white thread and washed it. I've managed to wind a small amount of it into a ball and, using a McMoran balance, it measures as sewing thread.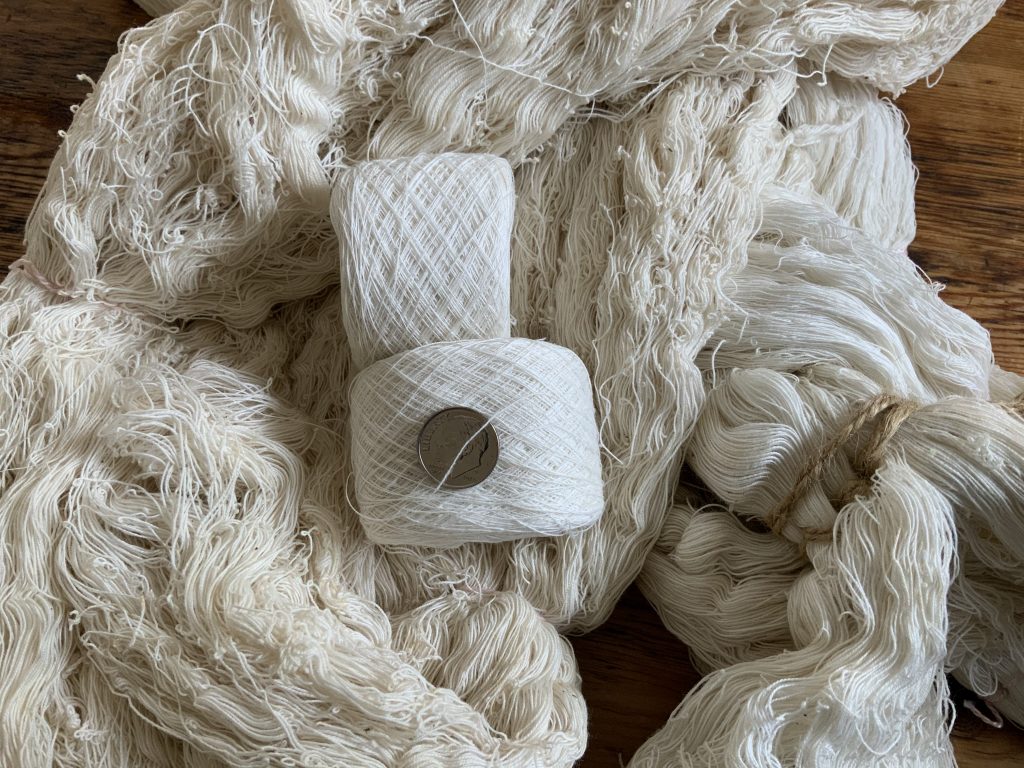 My plan is to ply two strands and weave a small table square of twill blocks. That is IF I can salvage enough to weave something. This will be a project requiring much patience, but I think I am ready for the challenge.
The barns at the farm contain many artifacts from the distant and the less distant past. Michael has spent many hours sorting through things, sometimes finding things from when his grandfather was a boy here. While the cousins have organized many work days that resulted in much cleaning and reorganizing, as well as retrieval and restoration,
there is still quite a bit of interesting material in the barns.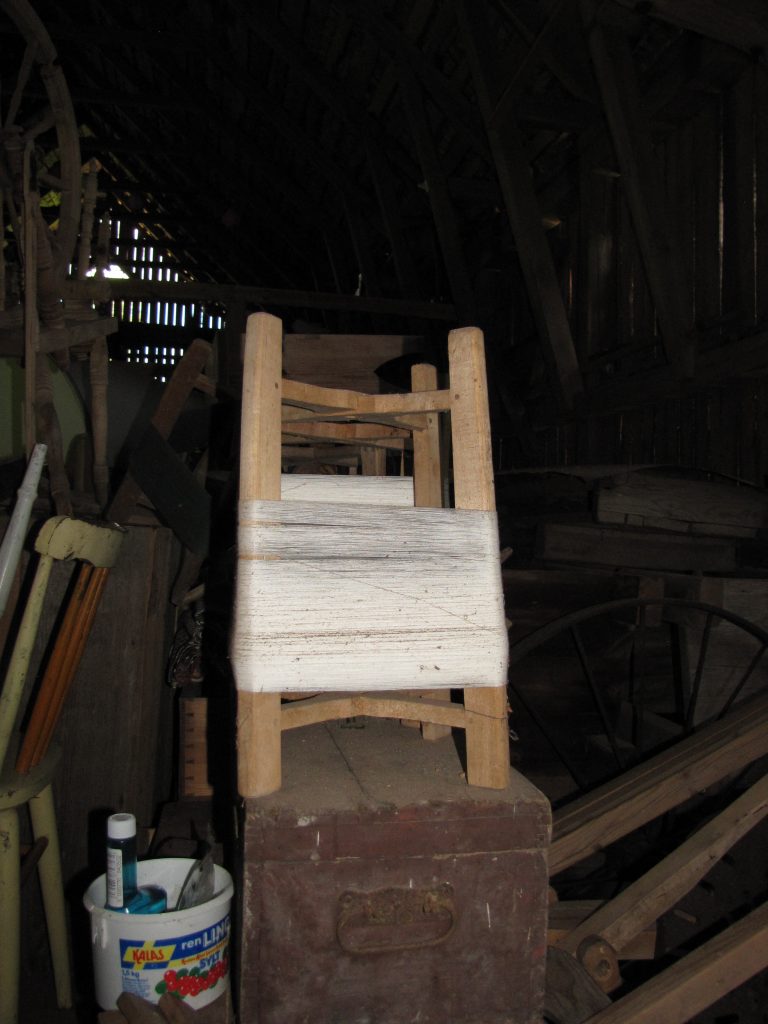 In 2017 we found parts of the four-shaft counterbalance loom that Michael's great-great grandfather built in the late 1800s.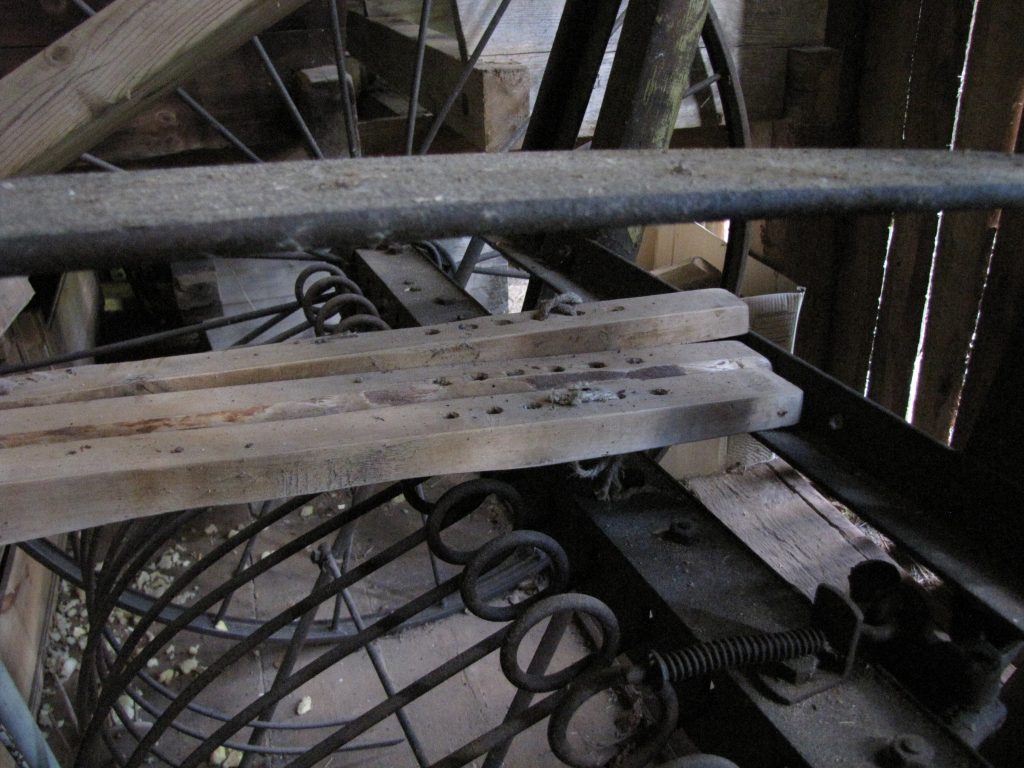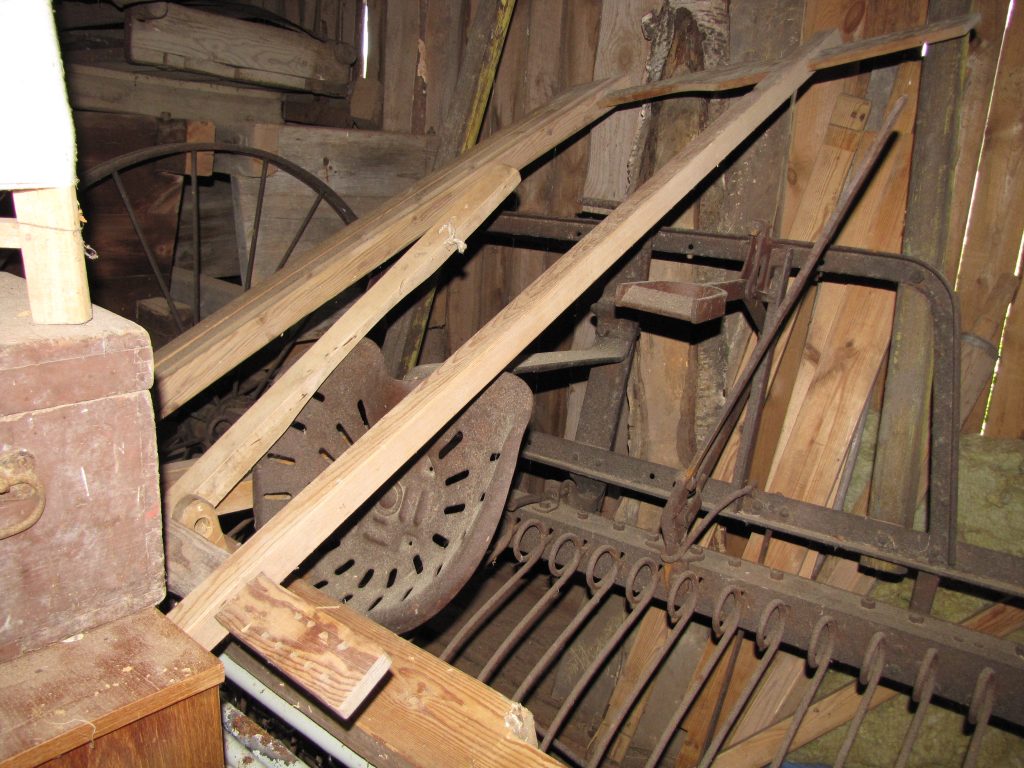 Not really knowing that we would be able to return to the farm, it was more of a fantasy than a plan, but Michael was imagining restoring the loom, assuming we could find all the pieces.
On our visit to the farm this year we had more time to walk the forests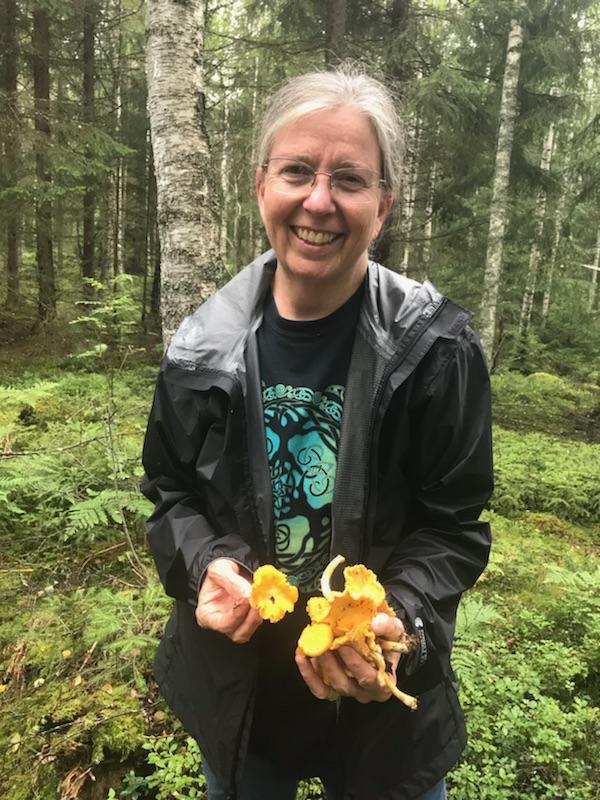 and search the barns. And, amazingly, Michael found all the parts to the loom. I am familiar with Swedish counterbalance looms, but we could not quite figure out how to assemble all the parts and pieces. It just wasn't fitting together.
The warp beam didn't fit where we thought it should go and neither did the treadles. A few days after putting the loom together as much as we could, Annica picked up Margaretha and brought her over. She came with an old text on weaving
and some photos of a workshop on working with flax that she took in the 1970s.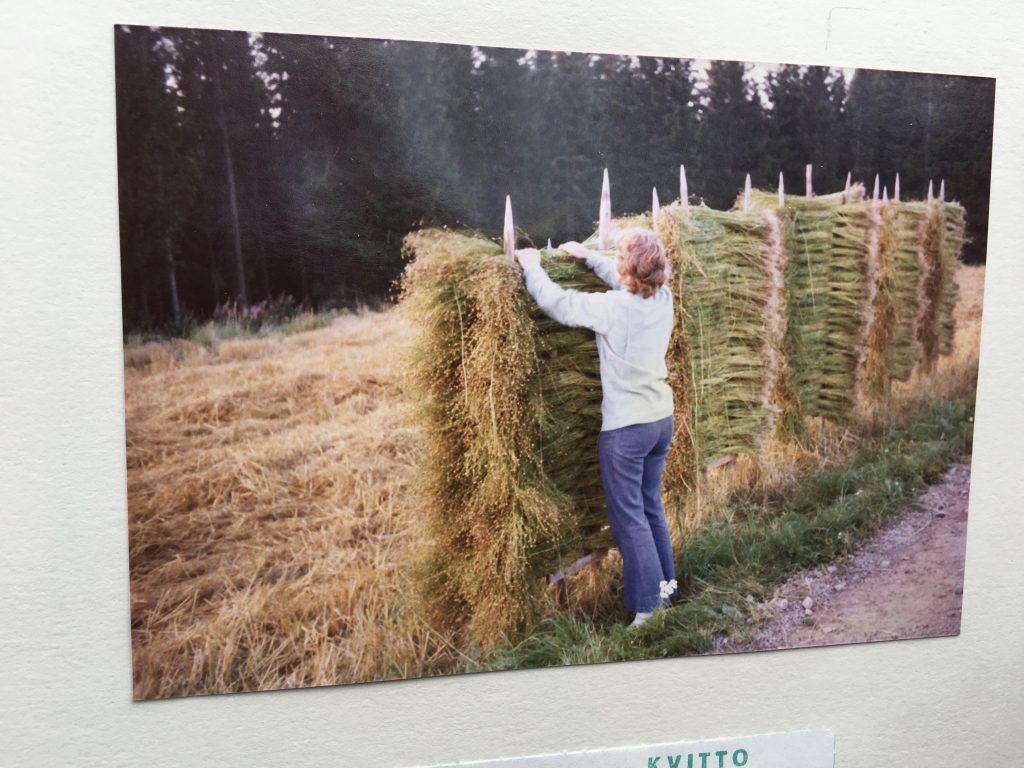 She quickly identified our error in putting together the loom.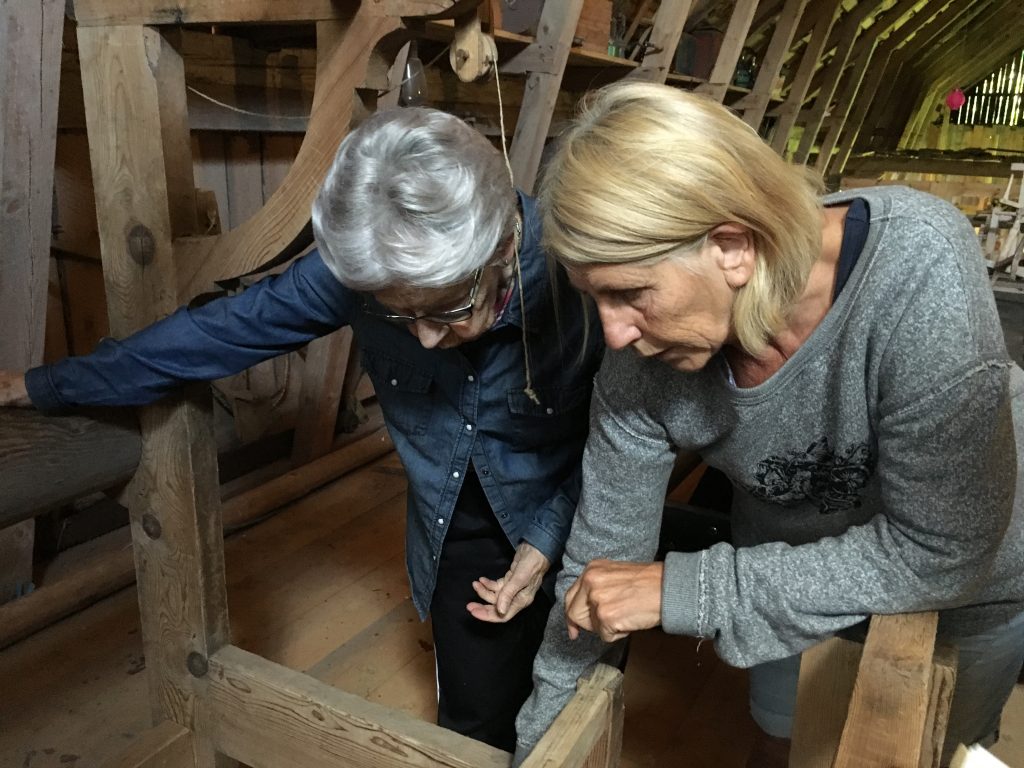 The treadles are hinged in front instead of in back and the warp beam fits in the front with the cloth beam in the back. After a brief group effort with hoisting and lifting, the loom
was essentially put together. And Margaretha was delighted to be sitting at it, once again.
She is the last living person to have used this loom. Annica intends to learn to weave and use this loom, probably some 140 years after it was built.
As far as we can tell, the loom is made of Swedish Alder, with the exception of the cloth beam, which is a hand-hewn log of fir.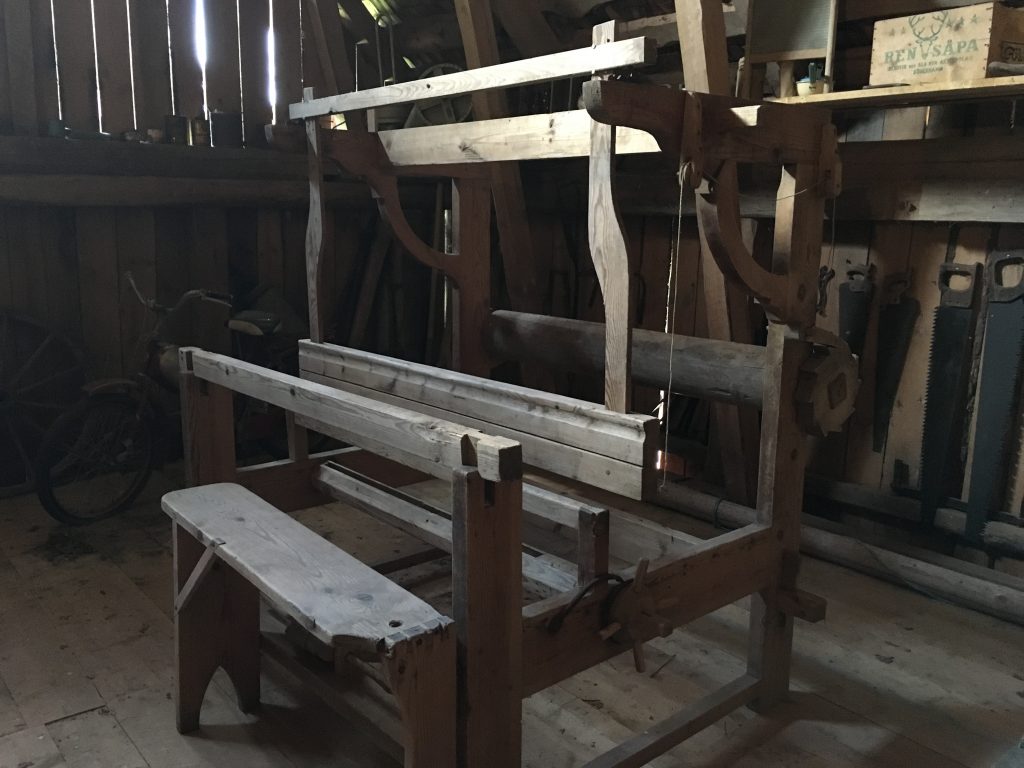 Given the lack of available sandpaper when it was built, a draw knife would have been used. It features hand forged metal in the hand cut brake and hand forged metal holding
the beater.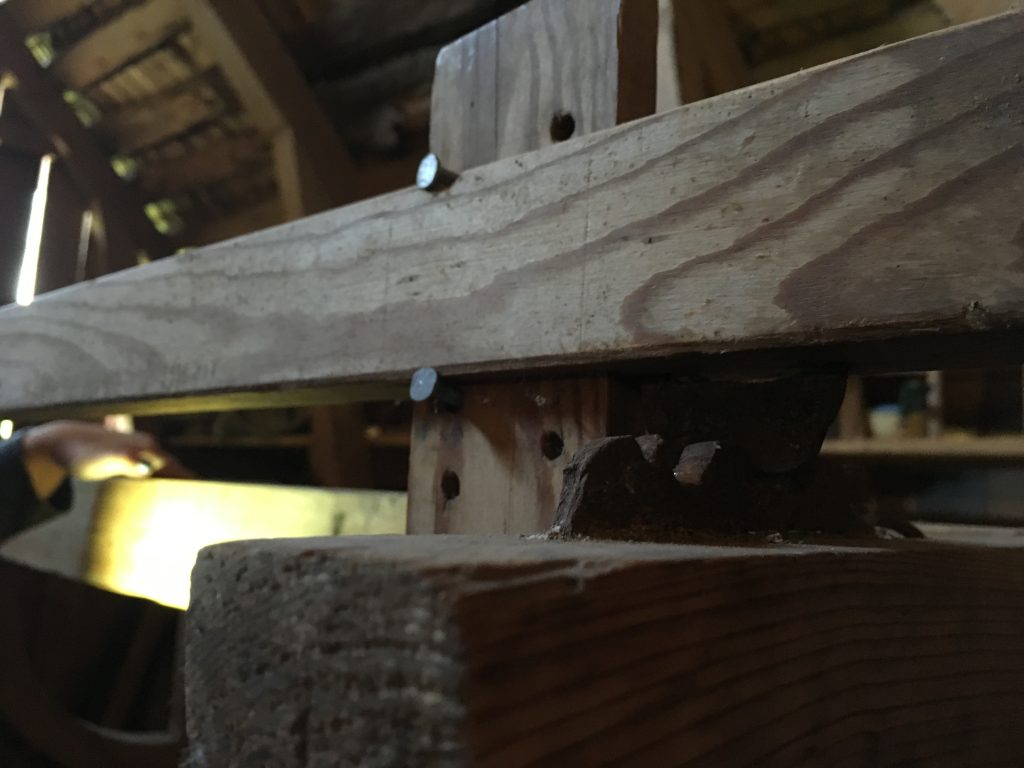 It is amazing to see the hand cut brake and all the mortise and peg work on this work horse of a loom.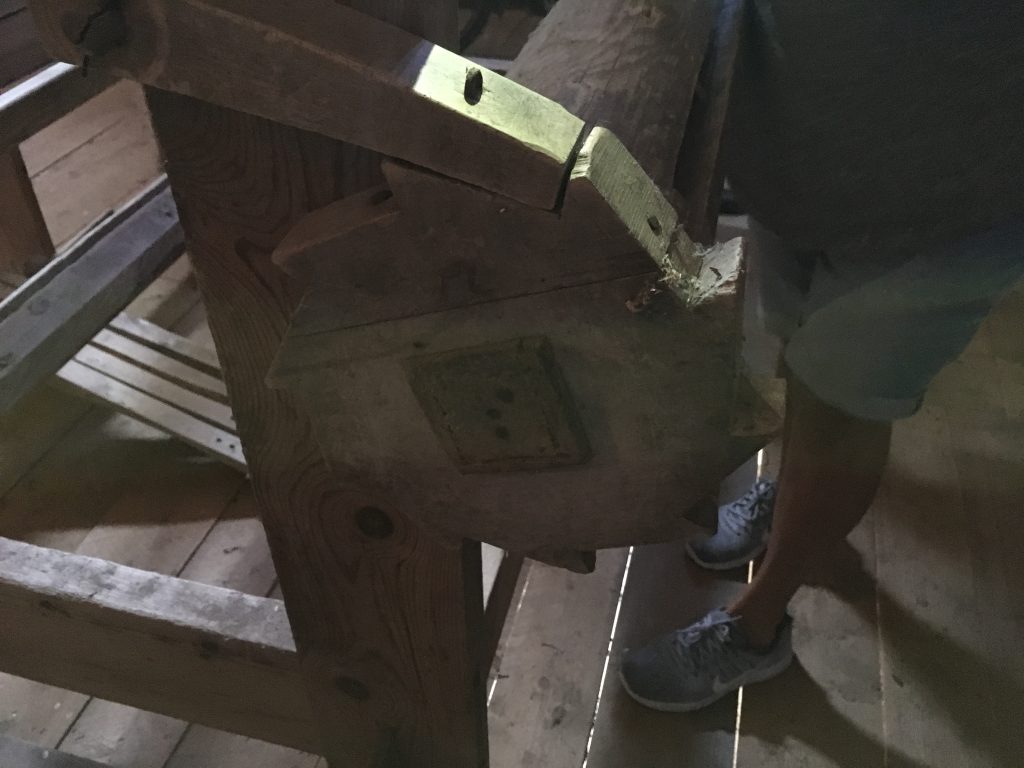 The warp beam is of a hexagon shape, done with a draw knife, and the beam features a chiseled crevice. Initially we thought the bench to be broken, with only three legs remaining. However, as Margaretha quickly pointed out, it is a swing bench and is attached on the left side of the loom. Nothing broken about it!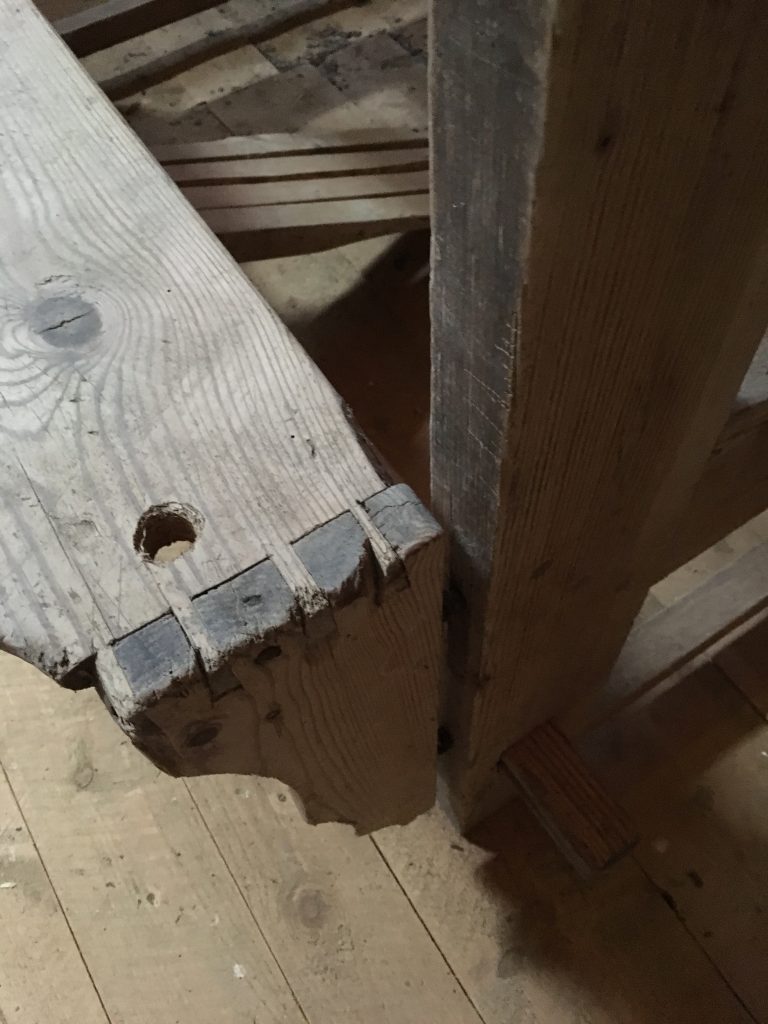 Three generations studied the pencil marks on the loom, seemingly related to weaving drafts.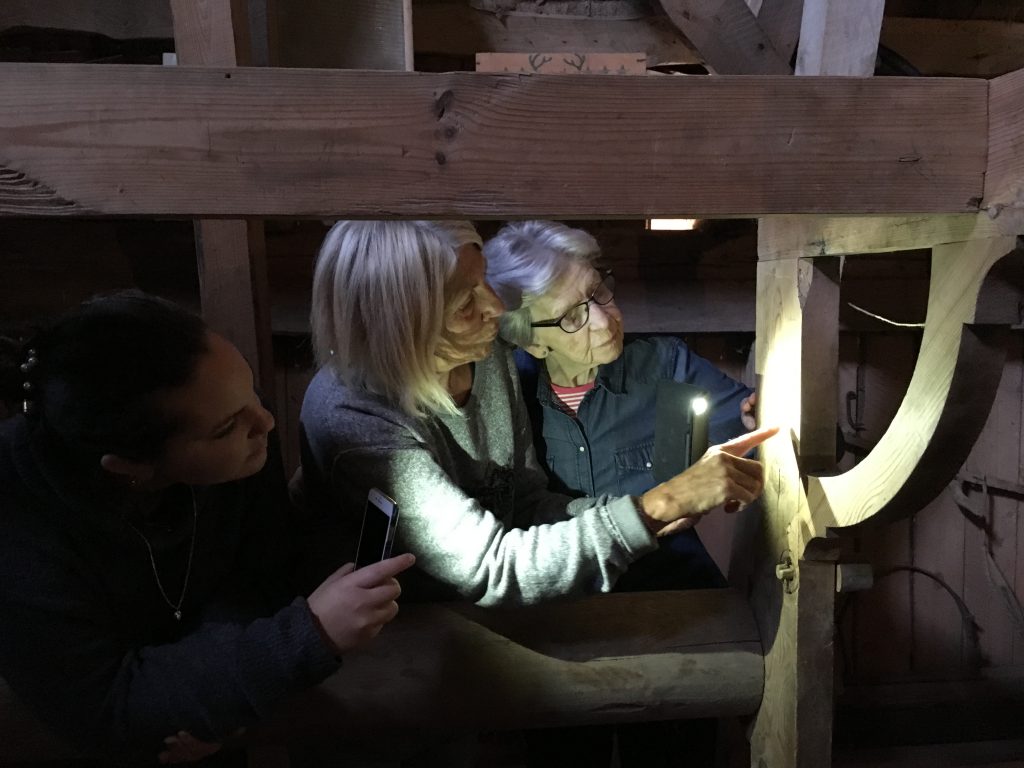 Margaretha was so pleased that the grandson of her mother's brother was able to reassemble the loom.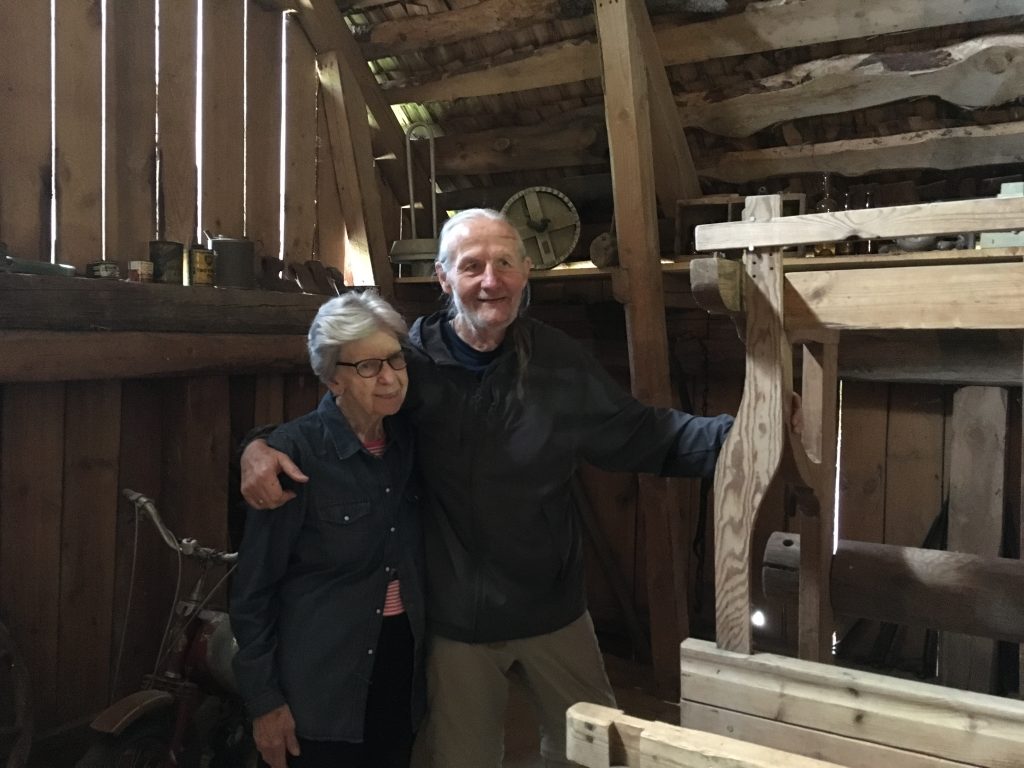 In a trunk in the house we found reeds and more parts for the loom.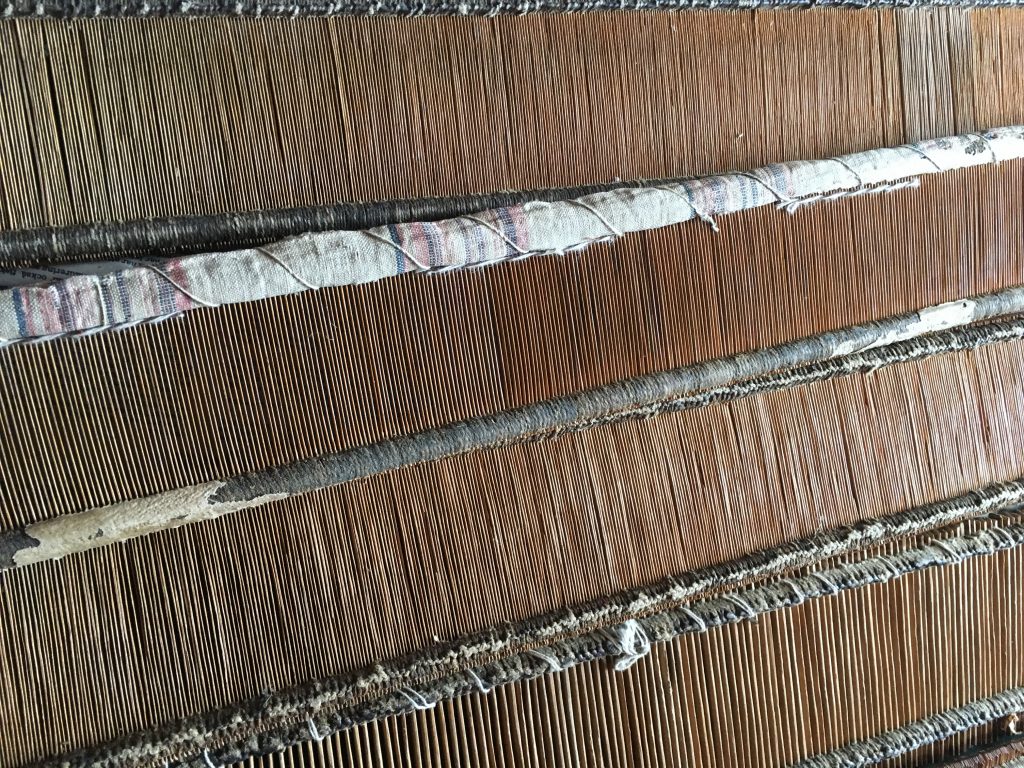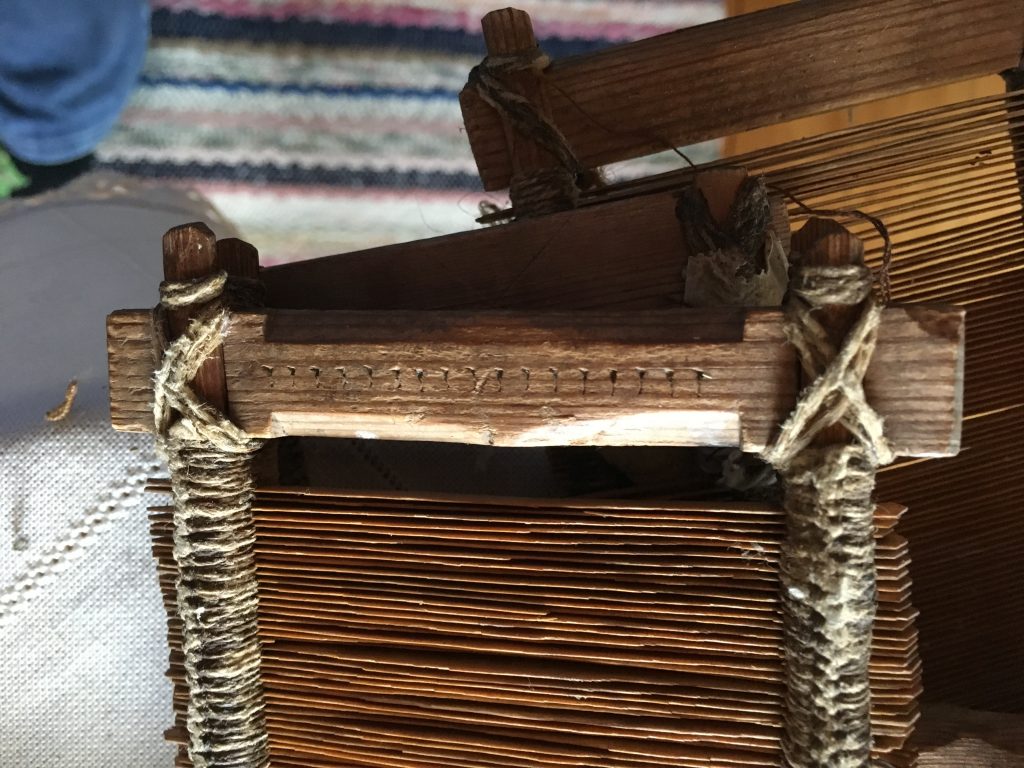 There is much work to be done to restore this loom. The cousins plan to repair a barn roof and remodel the kitchen and we live on the other side of the world. So, how and when loom restoration happens is anyone's guess right now but in my mind's eye, I can already see Annica weaving on the loom that her mother, her mother's mother, and her mother's mother's-mother once used.
In the meantime, I have woven a shawl for Margaretha. It is Swedish Lace in Swedish wool and I hope it warms her heart during Sweden's winter this year.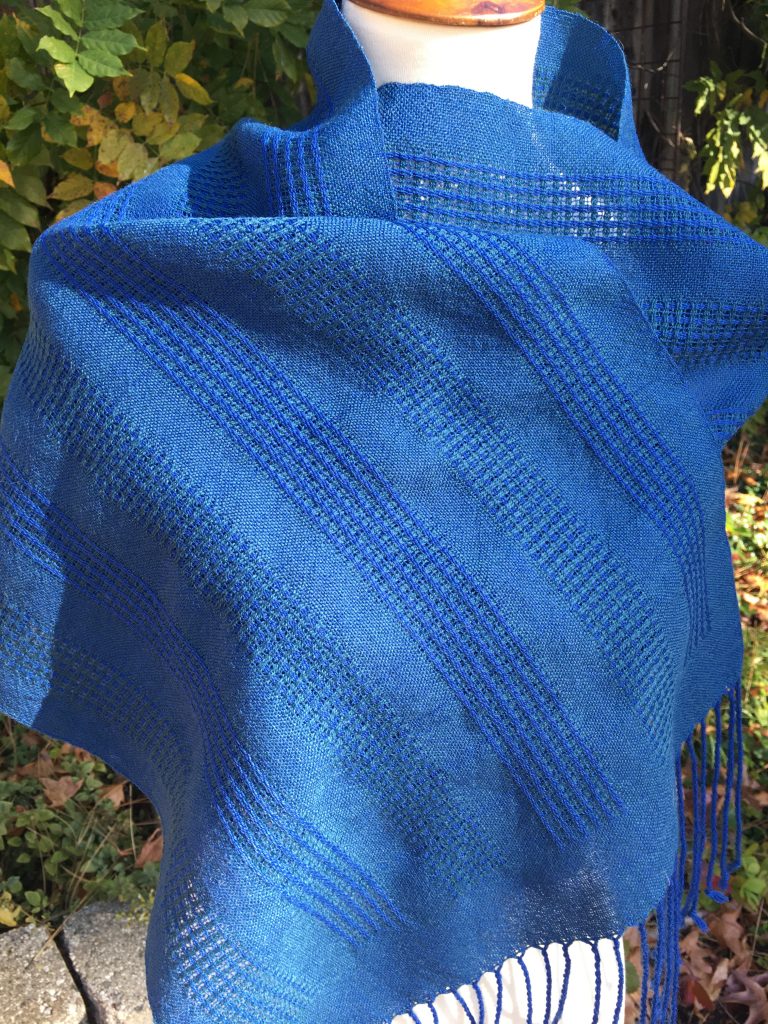 Maybe my language skills will have progressed to the point I can converse, just a bit, with her on our next (hoped for) visit.