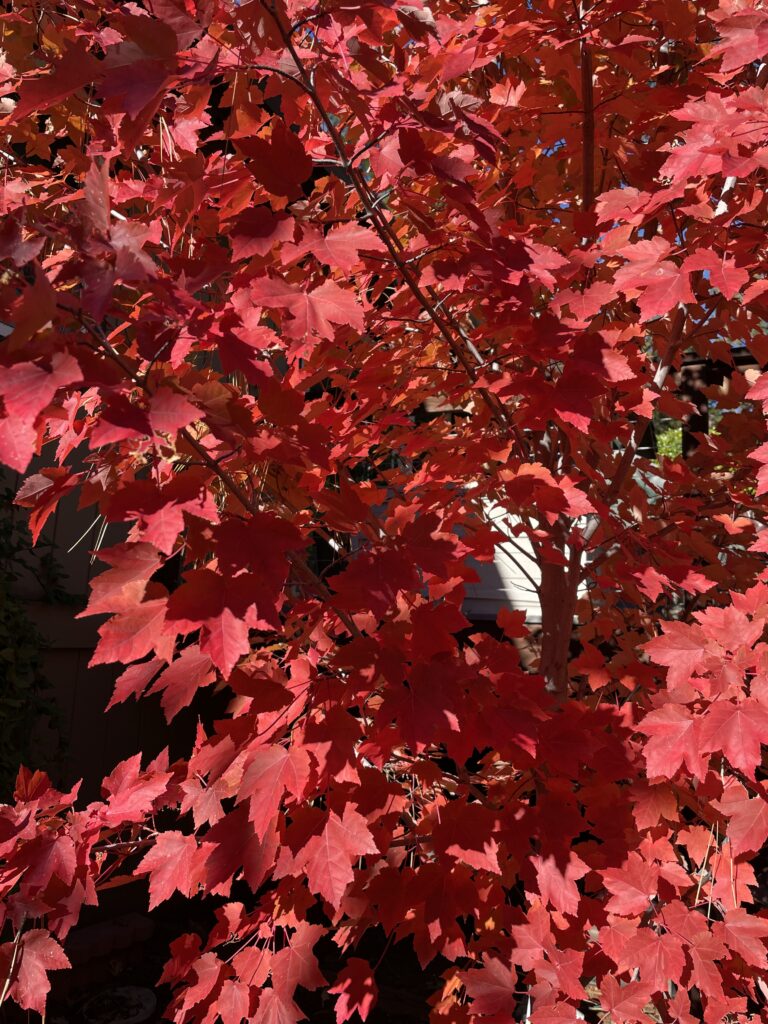 So many changes in such a short time!
Gil, my eight shaft Gilmore loom, has a new home. He left in a pick-up truck in mid-September.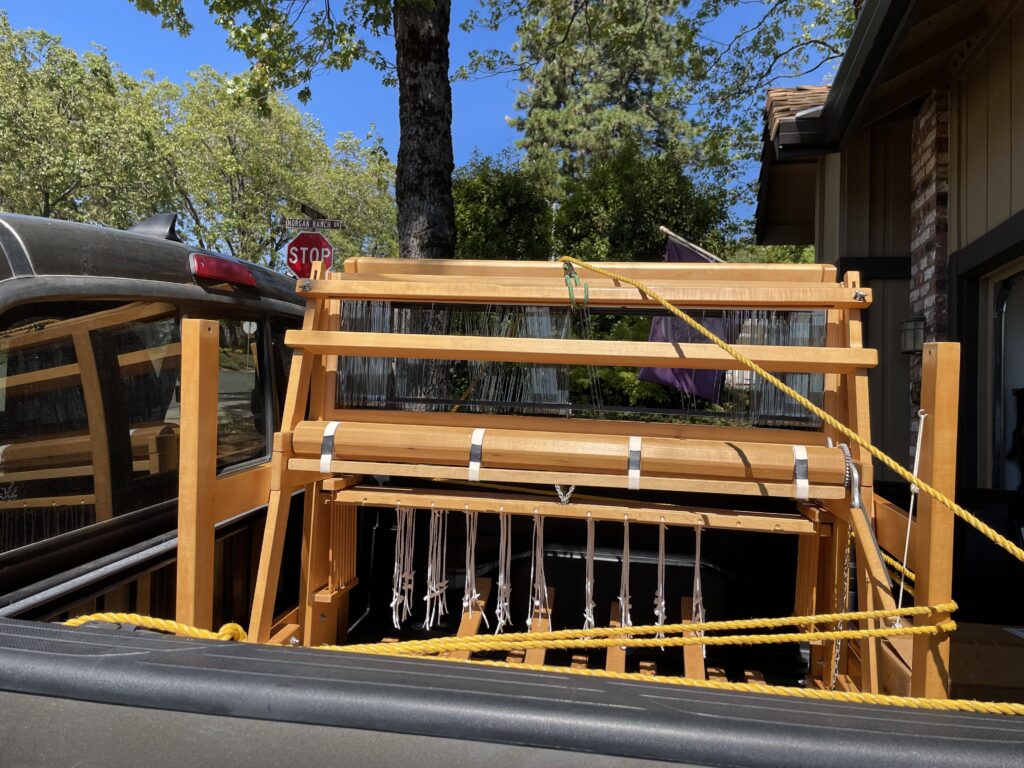 We seem to be past fire season for this year with at least two atmospheric rivers come and gone. However, it is mid-November and it is hot and dry again. The garden is finished for the season. The last Persian cucumbers, eggplant, peppers, basil, arugula, tomatoes, and tomatillos are put up or consumed. Our persimmon tree gave us the best harvest ever and we are enjoying delicious Fuyu persimmons. Salsa, jam, and chutney are on the horizon
The summer linen projects are finished, including two super light weight lace scarves of 40/2 linen, some bread bags in 16/2 linen with handwoven bands for ties, and some fine linen tea towels made with 35/2 linen. Well, the towels still need hand hemming, but they will be in the shop before long. I enjoy the lighter weight linen and will likely do more towels and table linens in the future.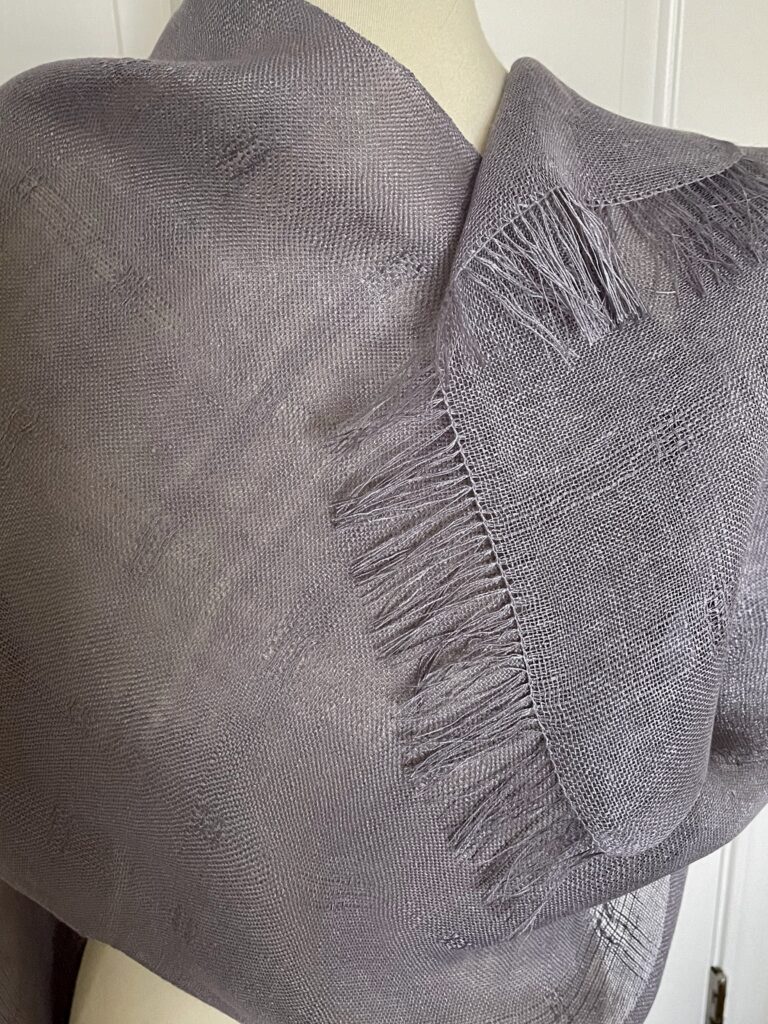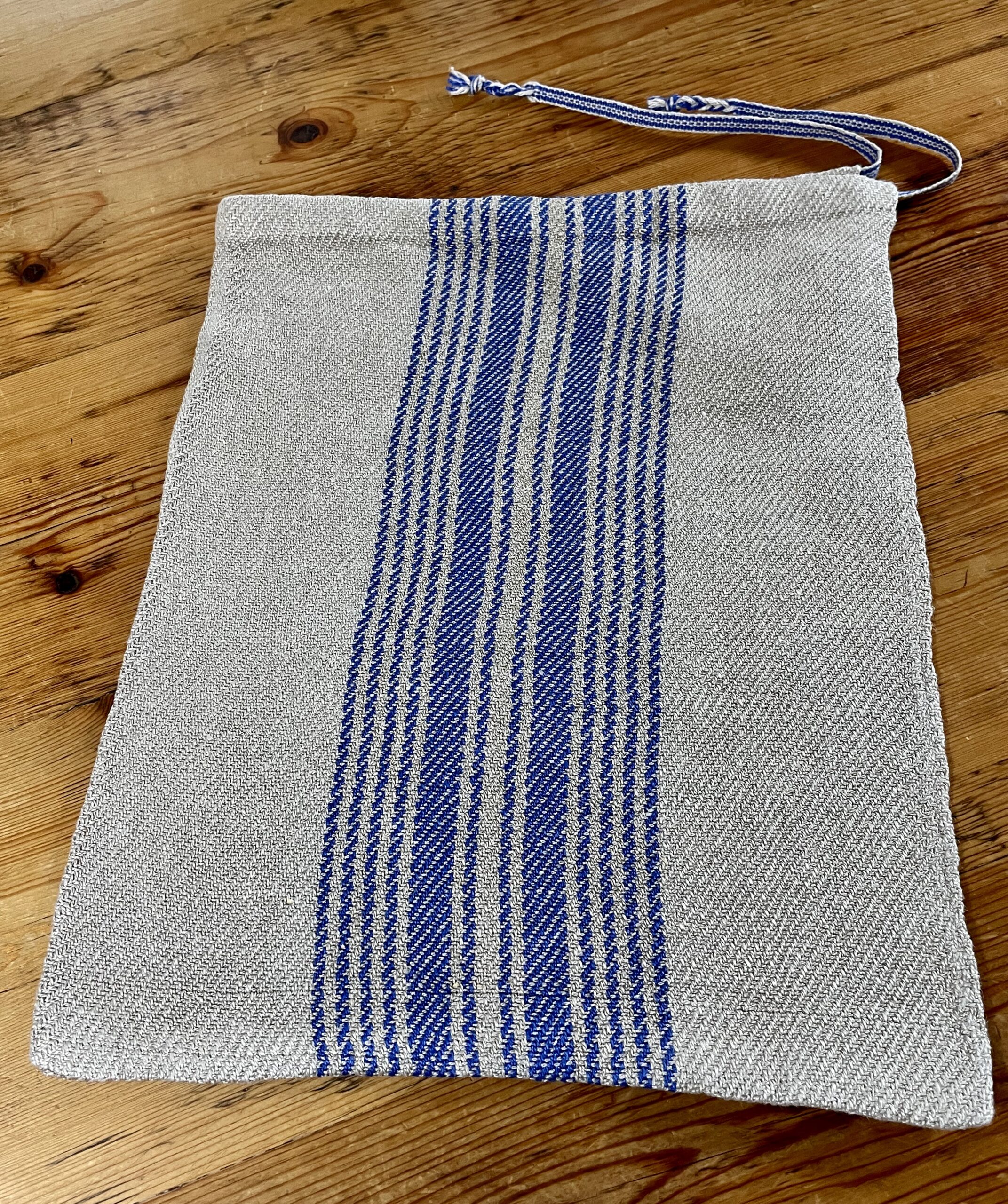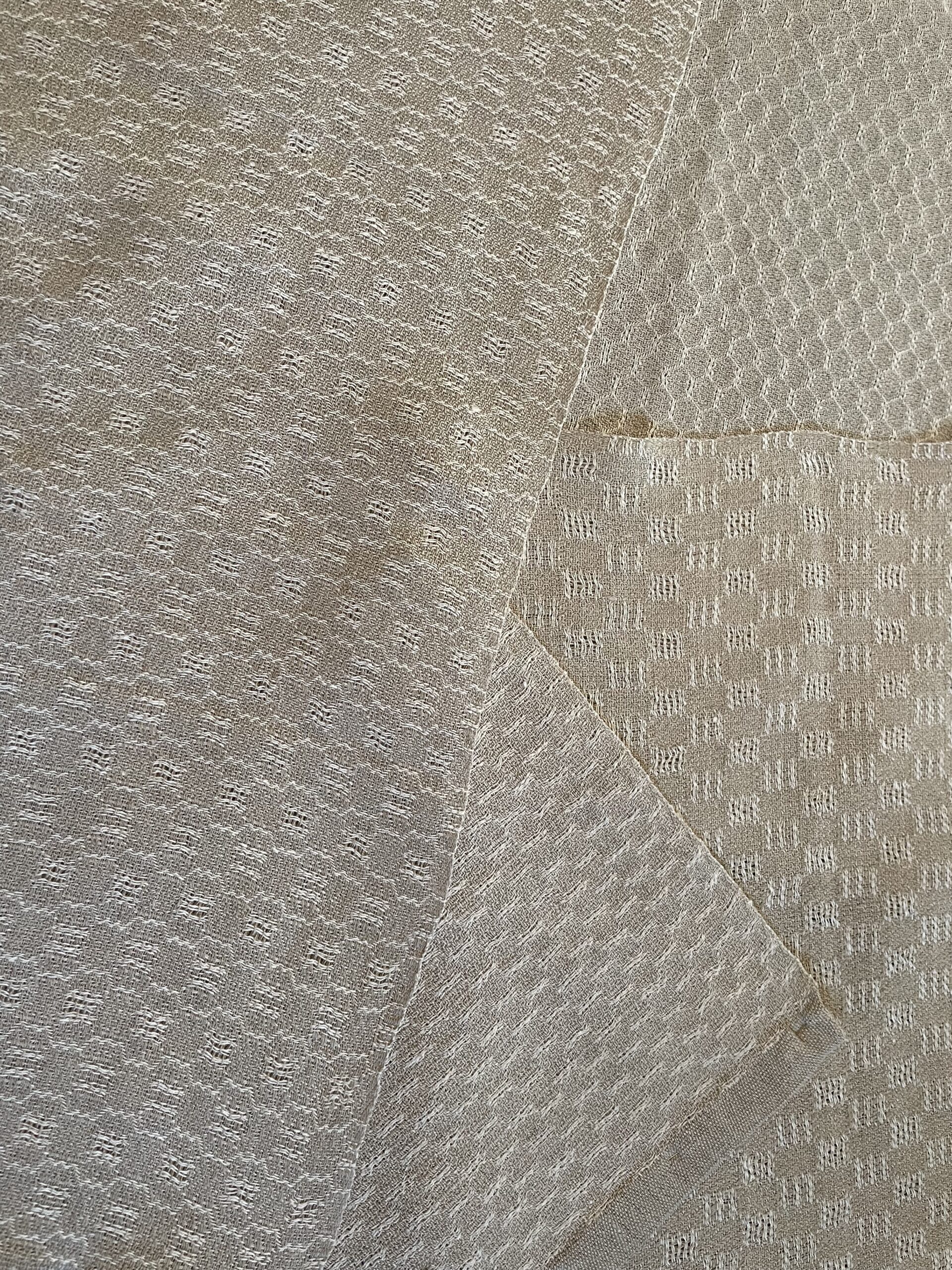 The ability to access wonderful weaving workshops via Zoom is a real gift of this awful pandemic. In June, I completed an Echo & Jin workshop by Denise Kovnat as part of the MAFA conference. Denise was so generous with her time and resources. The learning will continue for years to come.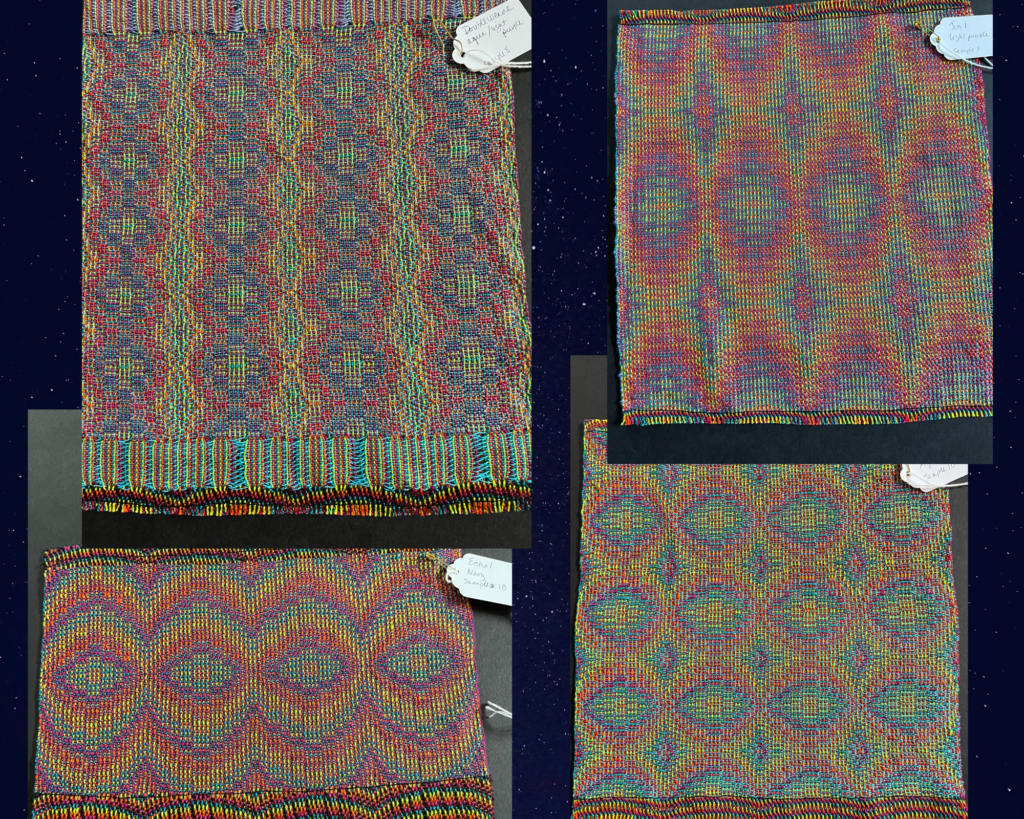 Much to my surprise, it is possible to get a lovely fabric at a denser sett. I used 8/2 Tencel at 36 ends per inch in this scarf, with a 20/2 mercerized cotton weft, and it is lovely.
More projects dance in my head but they will have to come later. I must be honest and say that as much as weaving means to me, not much weaving is happening right now.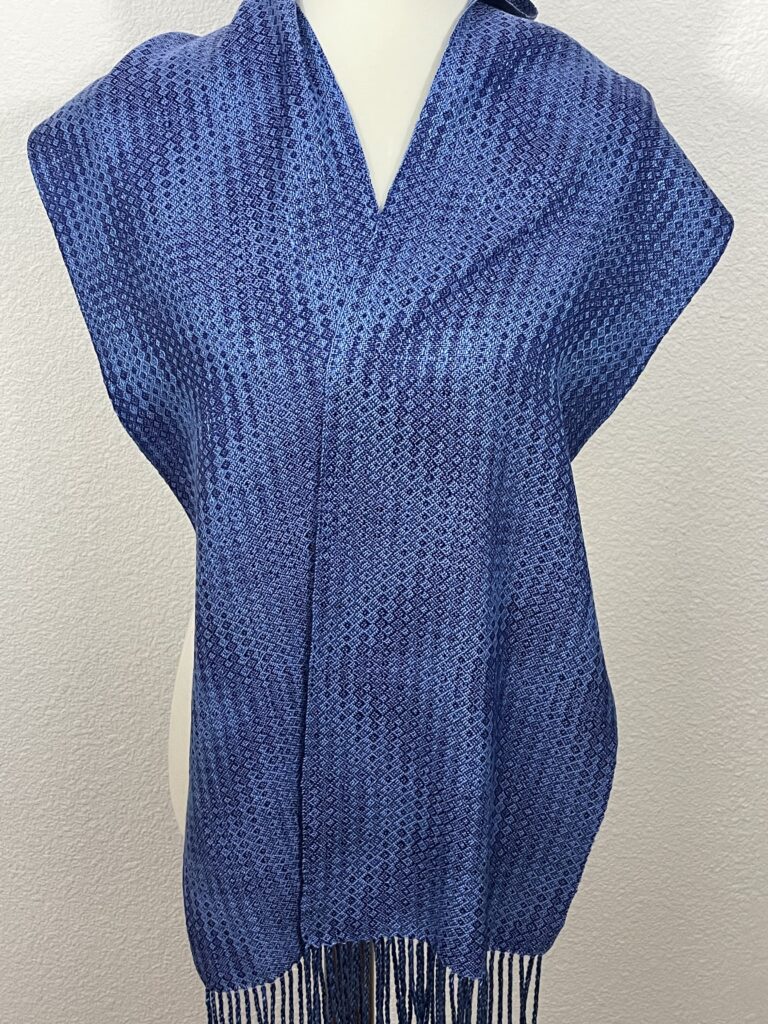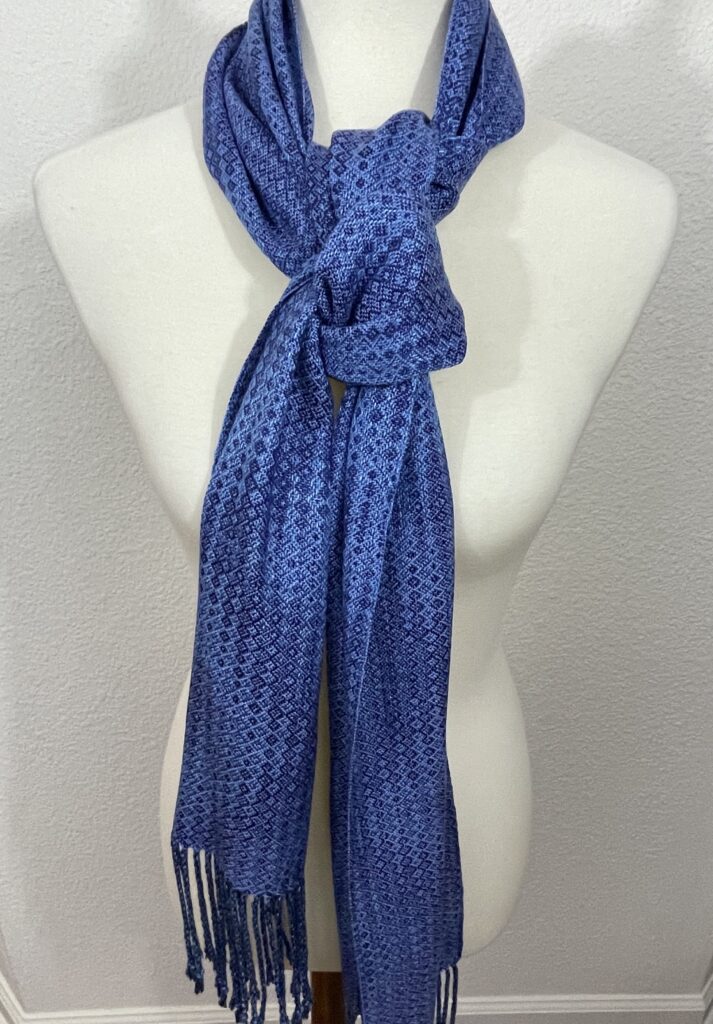 Here's why: Meet what's under the Looms - Finn!
This beautiful and sweet Bernedoodle was born August 13. He was raised by a local fiber friend and we've been visiting since he was about 2 weeks old. At eight weeks, on October 8, he came home with us, and nothing has been the same since!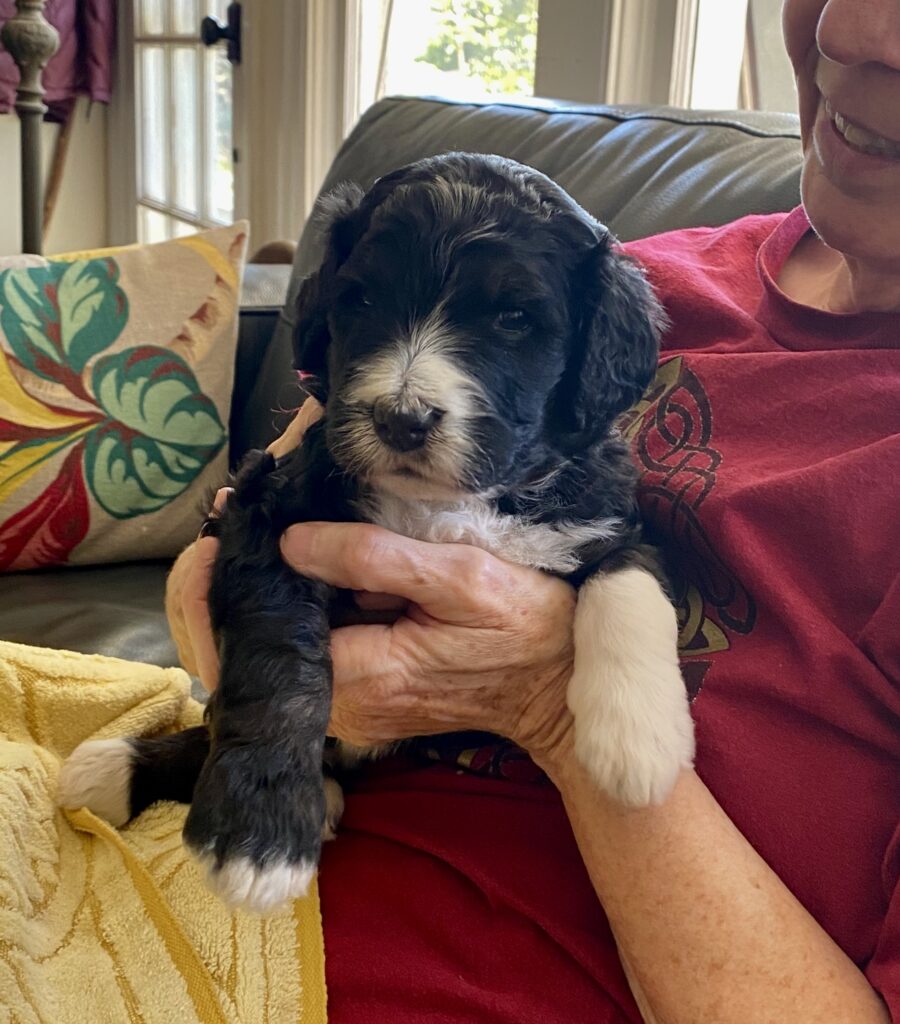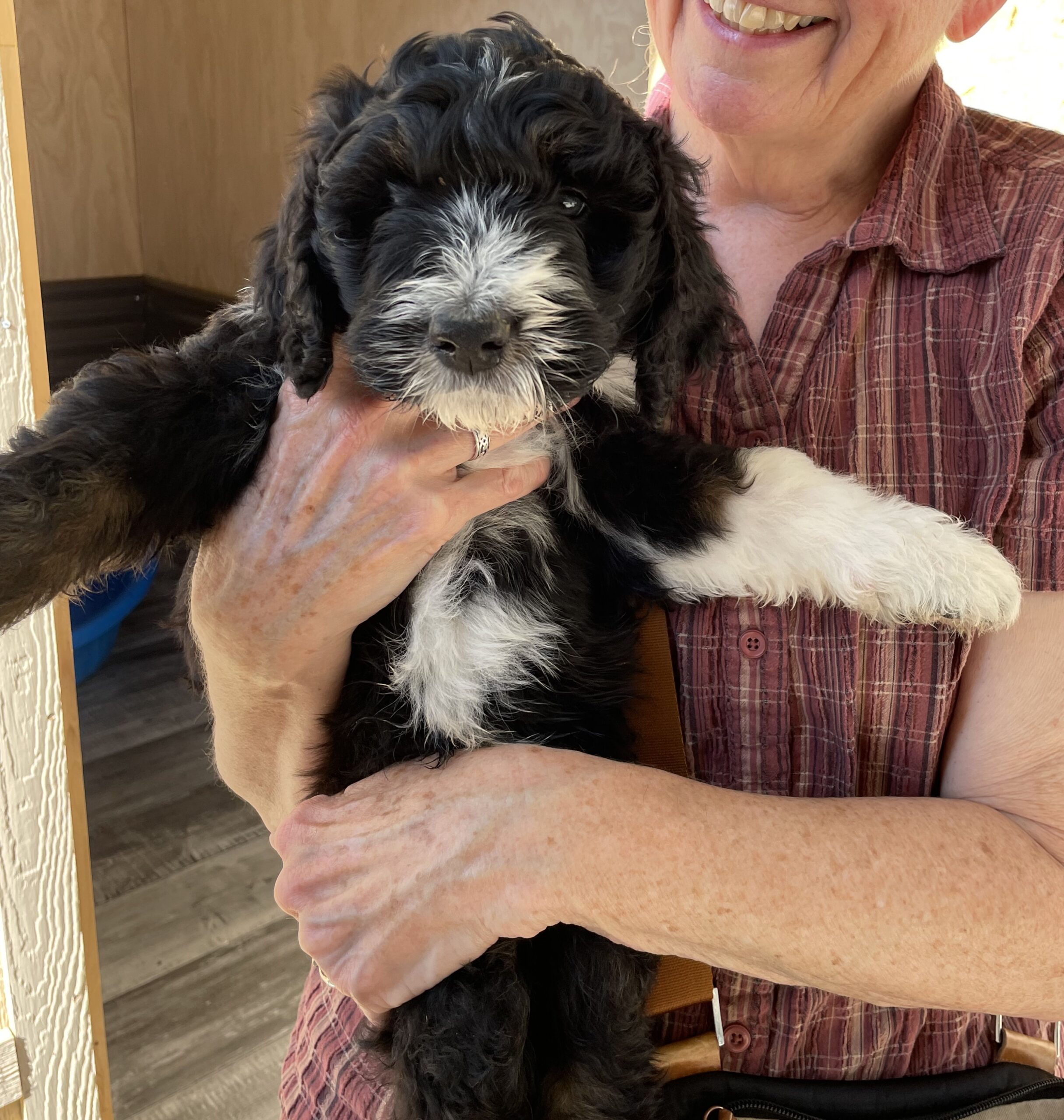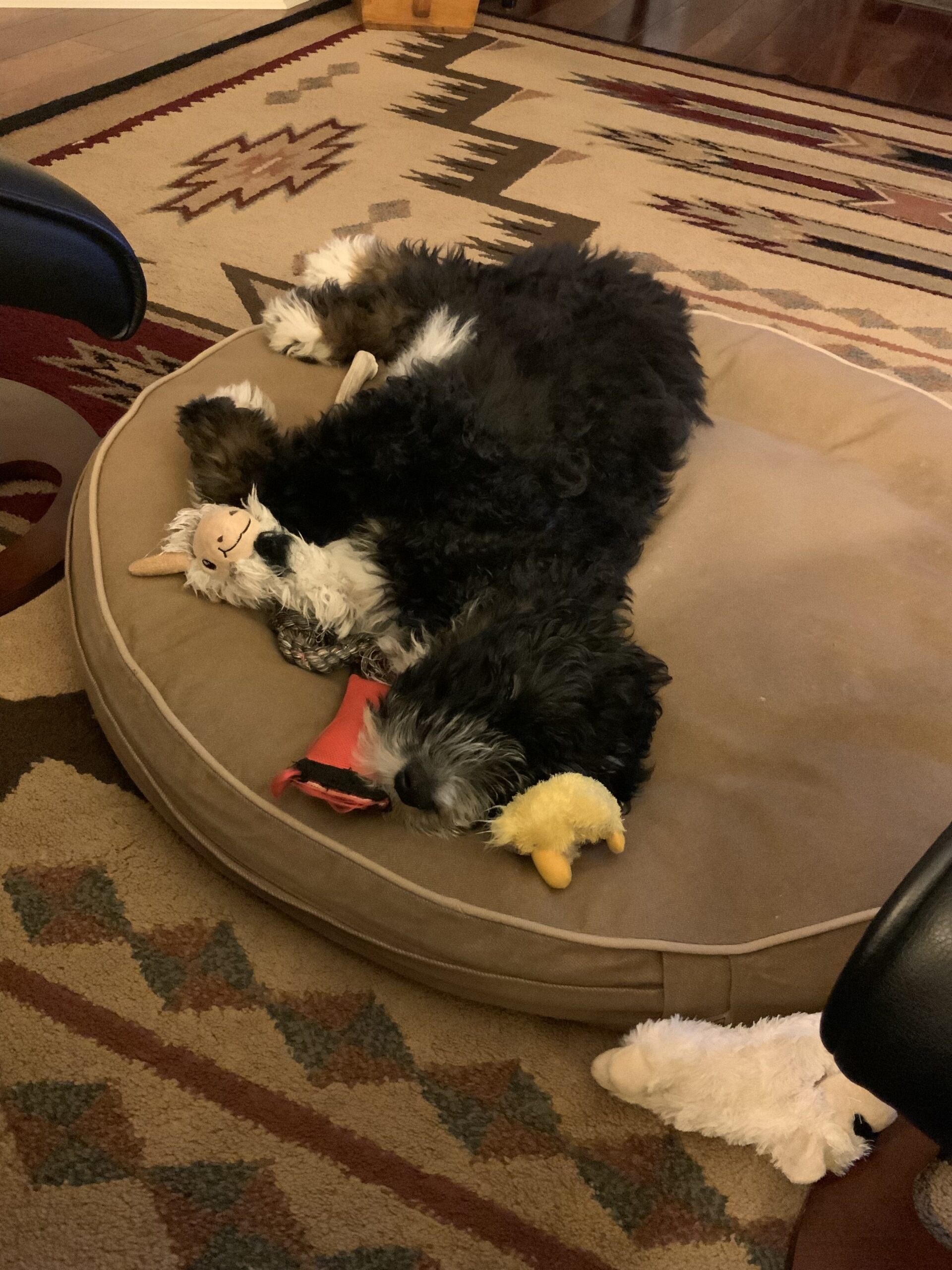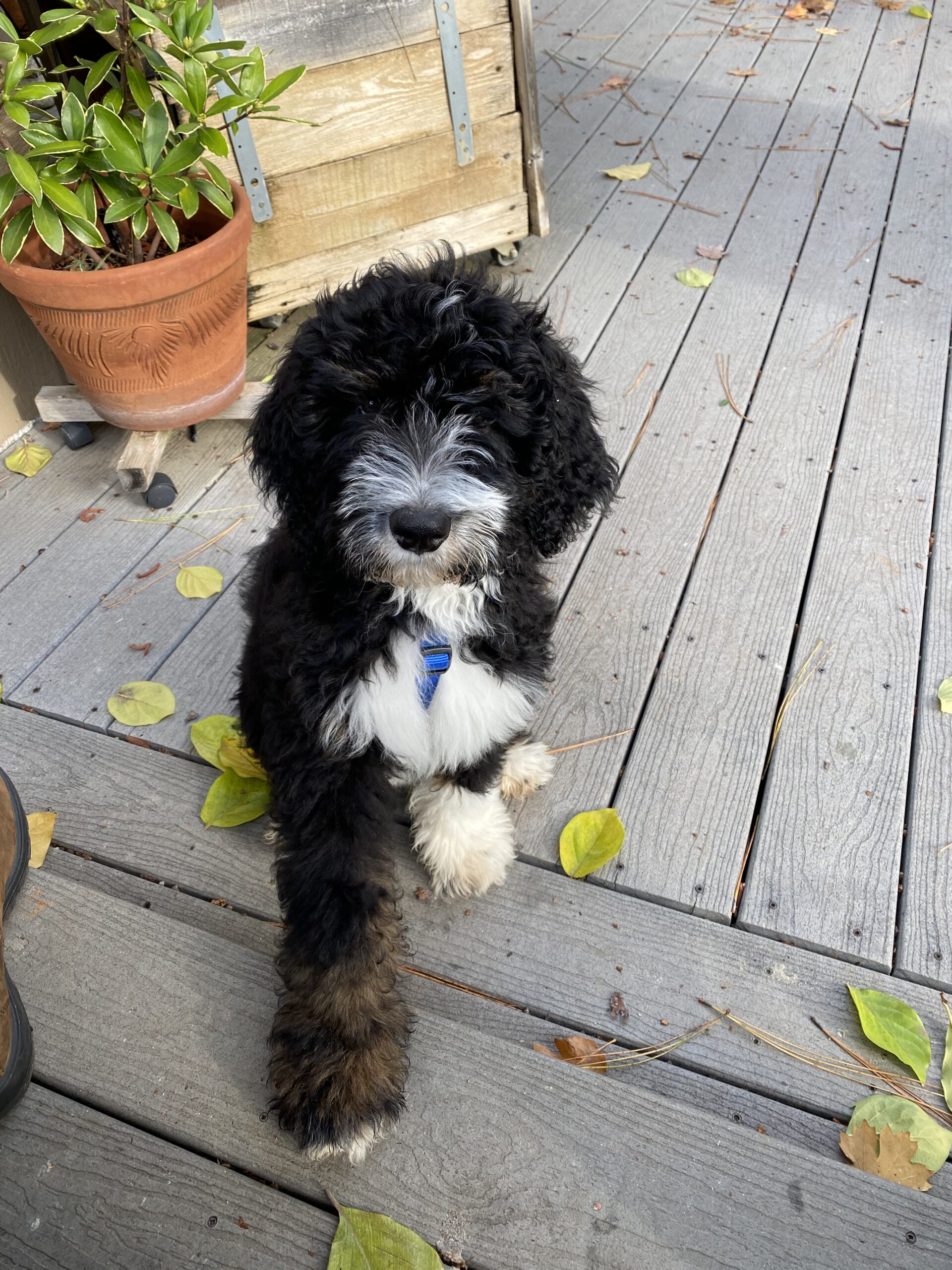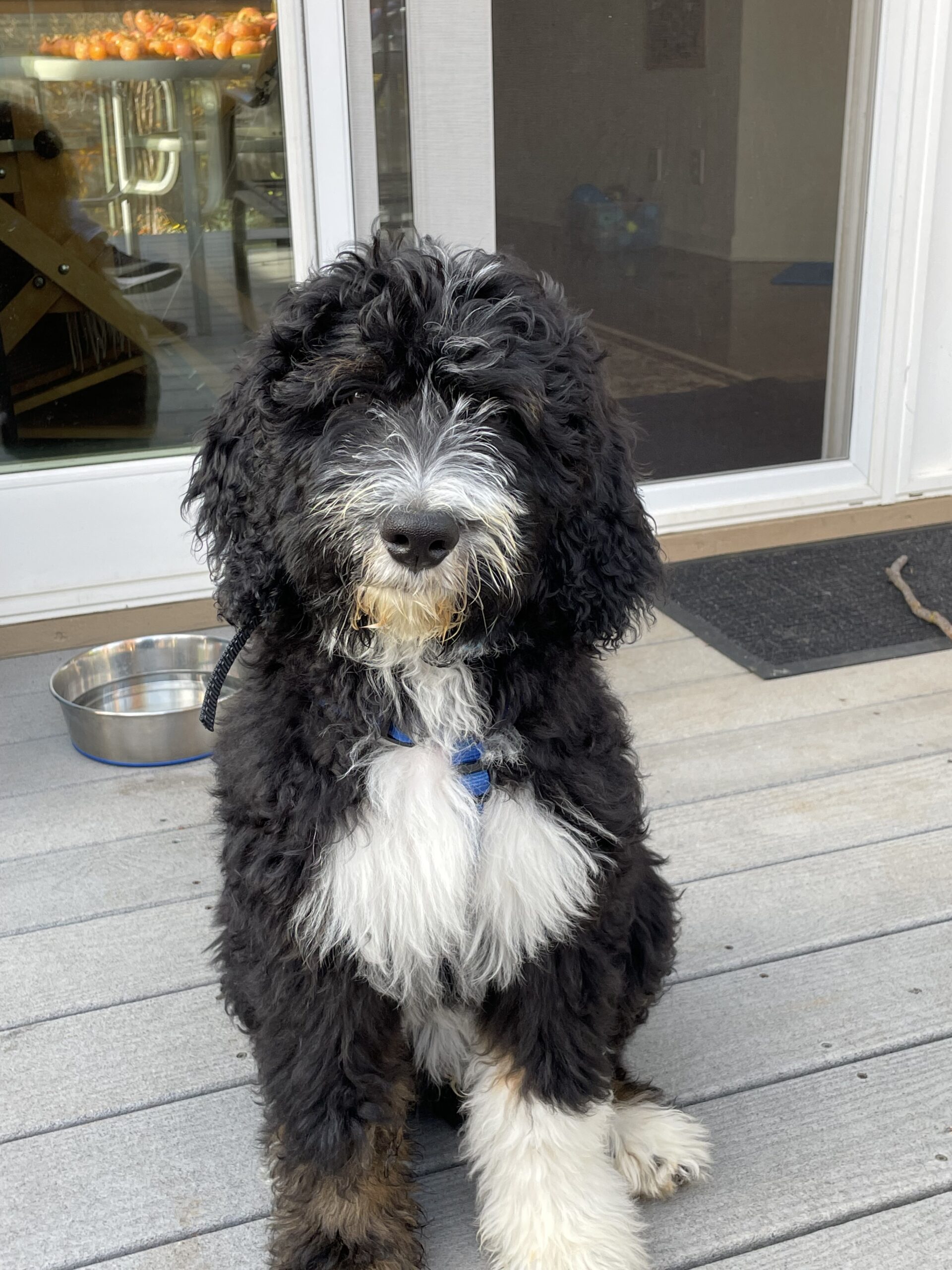 I've recently been heard to say, "I used to be a weaver." That's how it feels right now. Finn's idea of a good time is not to play with pretty string, so it has become very difficult to get anything accomplished other than potty trips outside, walks, cuddles, brushing, training, and playing with dog toys. We thought we were prepared for puppy parenthood but who knew? I could never do this without Michael (DH in Rav speak).
Already he is becoming more of a young dog than baby puppy, but he does demand much time and energy. Everything is broken into 30-to-60-minute intervals, if that long. So, thinking about weaving projects … well, thoughts are interrupted, puppies need attention and training, and there just are not enough quiet moments in the day. He doesn't mind the sound of the looms and I've even been able to spin and knit, just a bit. Basically, he is a sweet, smart, loving dog who is very bonded with his two humans and who is learning and growing fast.
I was able to complete two special projects; one before Finn arrived and one during his early days with us. My friend who raised Finn lost her husband and one of her beloved canine companions less than three months later. I wove a shawl for her and used 18/2 merino in warp and weft. The yarn came from Lunatic Fringe.
I was particularly appreciative of the fact that they will wind off by the ounce for this and the 18/2 merino/silk that they carry. Customer service at Lunatic Fringe is great. I miscalculated weft and was able to get more, of the same dyelot, very quickly. The draft is from the awesome resource, Handweaving.net and with a sett of 24 ends per inch, it had a lovely hand and drape. Time was a bit crunched, and I did not get a photo after wet finishing, but the recipient was delighted.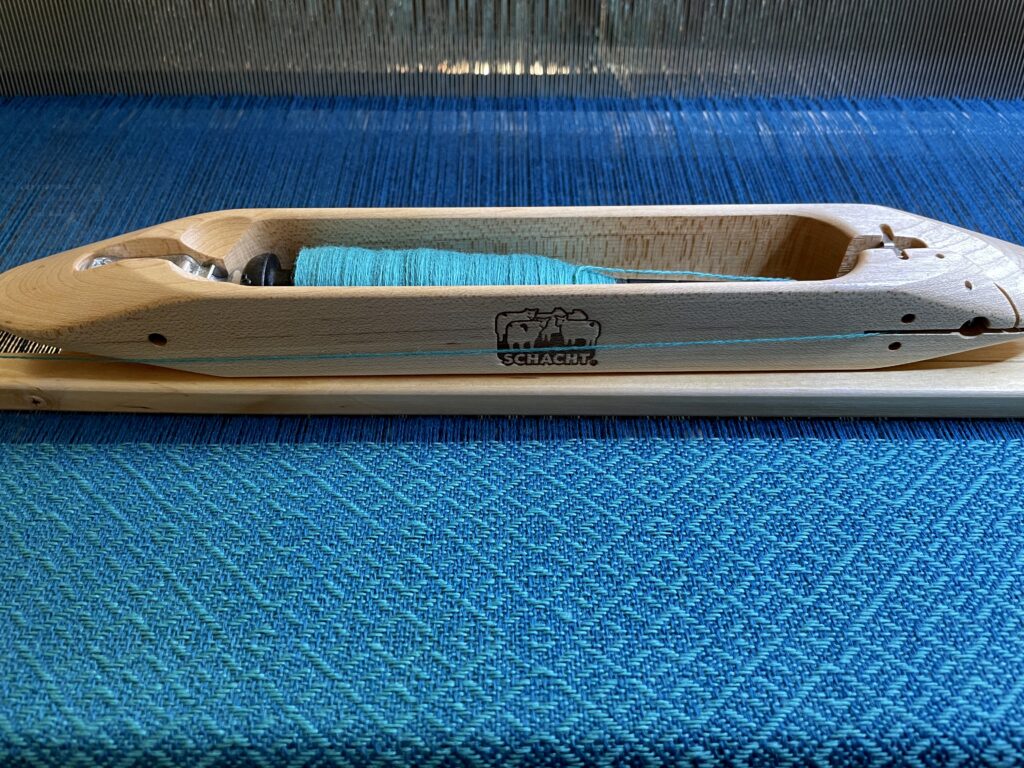 The other project was a commission request from a friend in another state. It was great fun to meet on Zoom, introduce her to some aspects of weaving so that we could design together, and it was a fun weave. I sent her photos of the process and laughed when she told me I must be making up words!
Another draft from Handweaving.net was just the right pattern and 10/2 mercerized cotton from Lunatic Fringe came in just the right colors. The cloth was exactly what the recipient wanted, which is always a wonderful thing.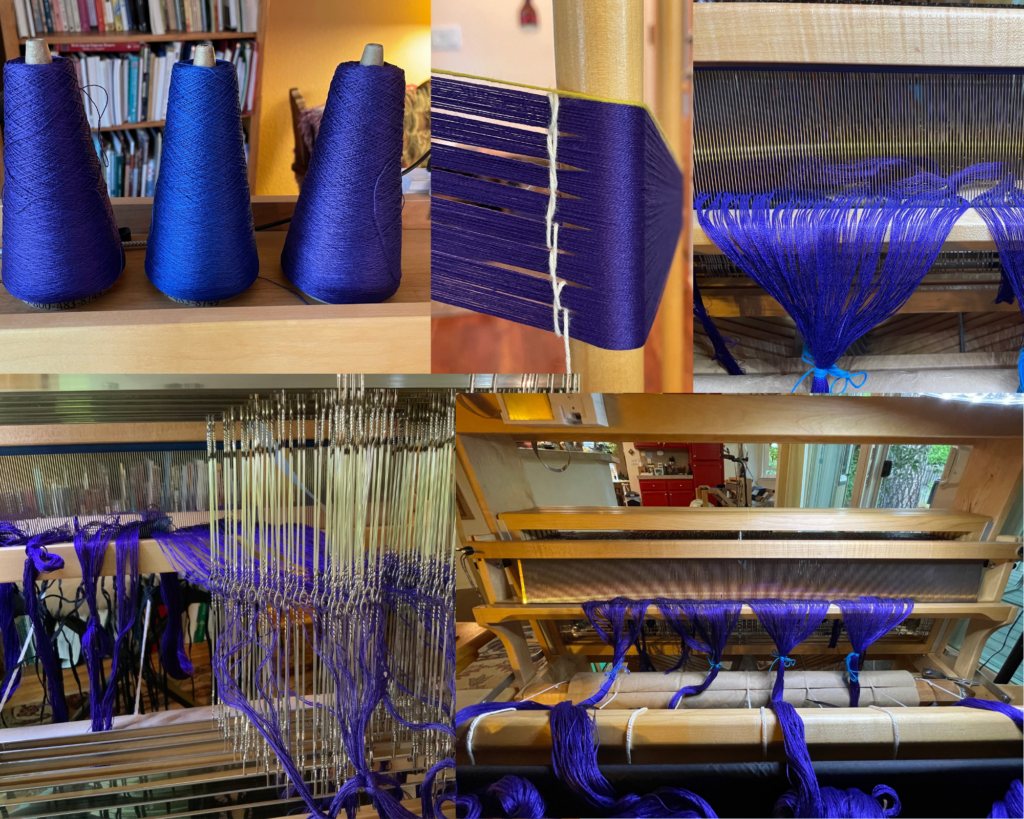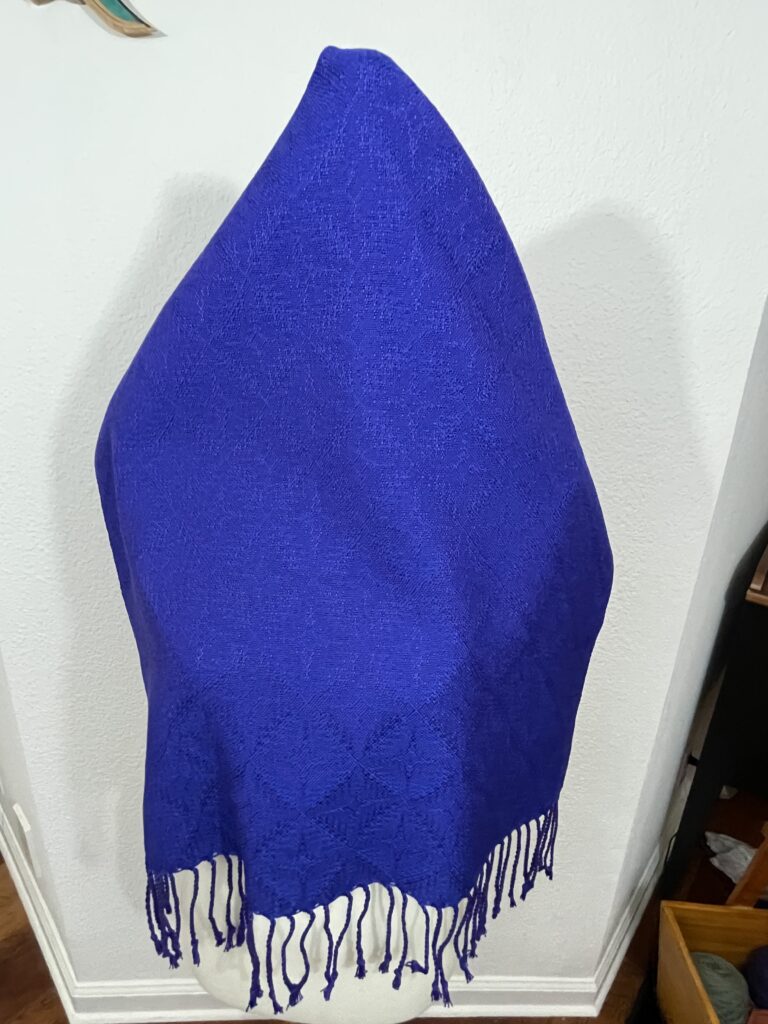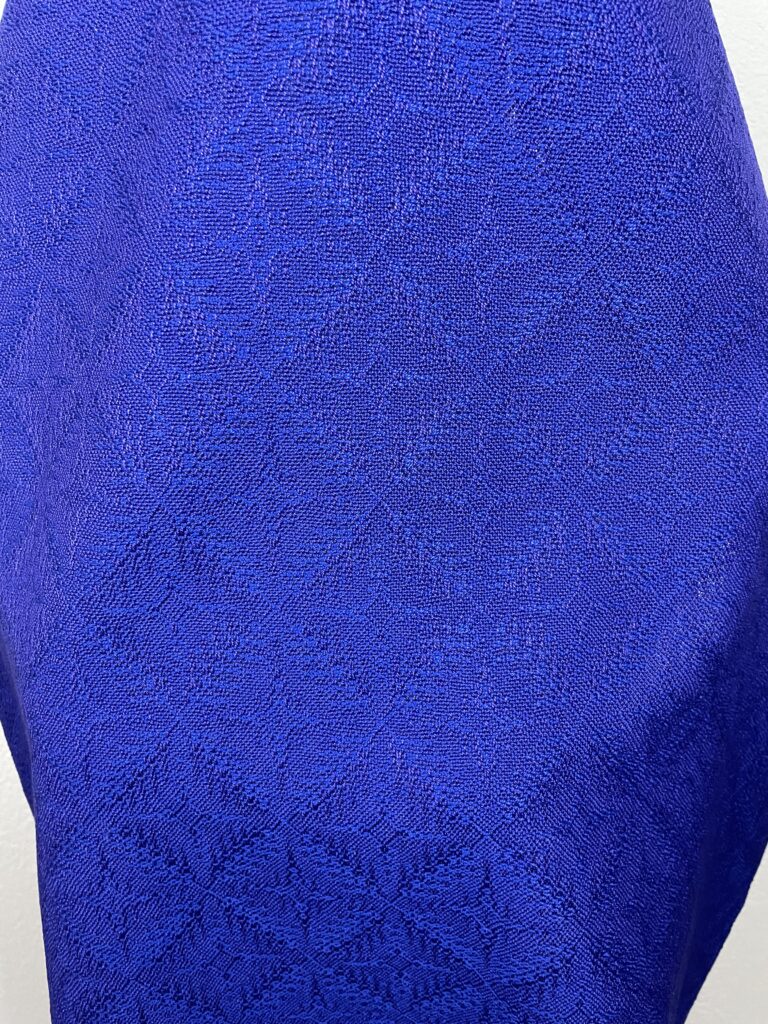 I will freely admit that getting ready for another weaving workshop in early November while tending to a young puppy just about pushed me over the edge!
Trying to learn how to use a second back beam, warp the ground and supplementary warps back to front (I am a dedicated front to back person!), and correct a big threading error right before the start of the workshop while also tending to a teething puppy did cause a bit of stress.
I took Karen Donde's Turned Beiderwand workshop on Zoom. Karen was most generous with her resources and provided excellent video tutorials for getting a supplementary warp on a loom, with or without a second back beam.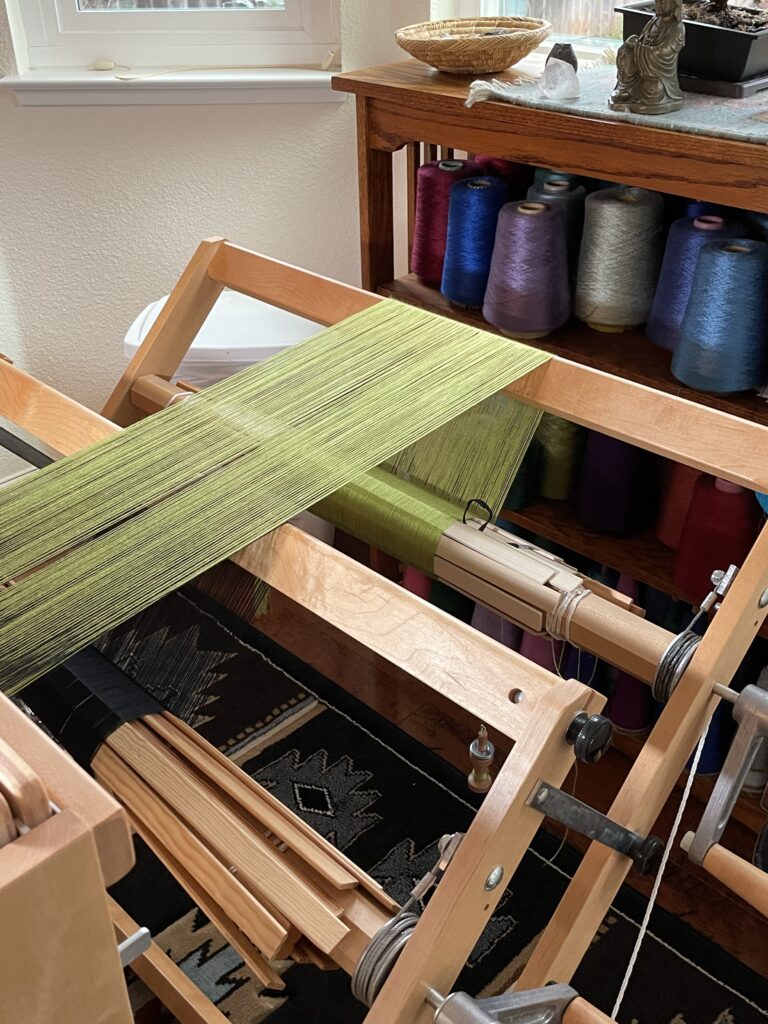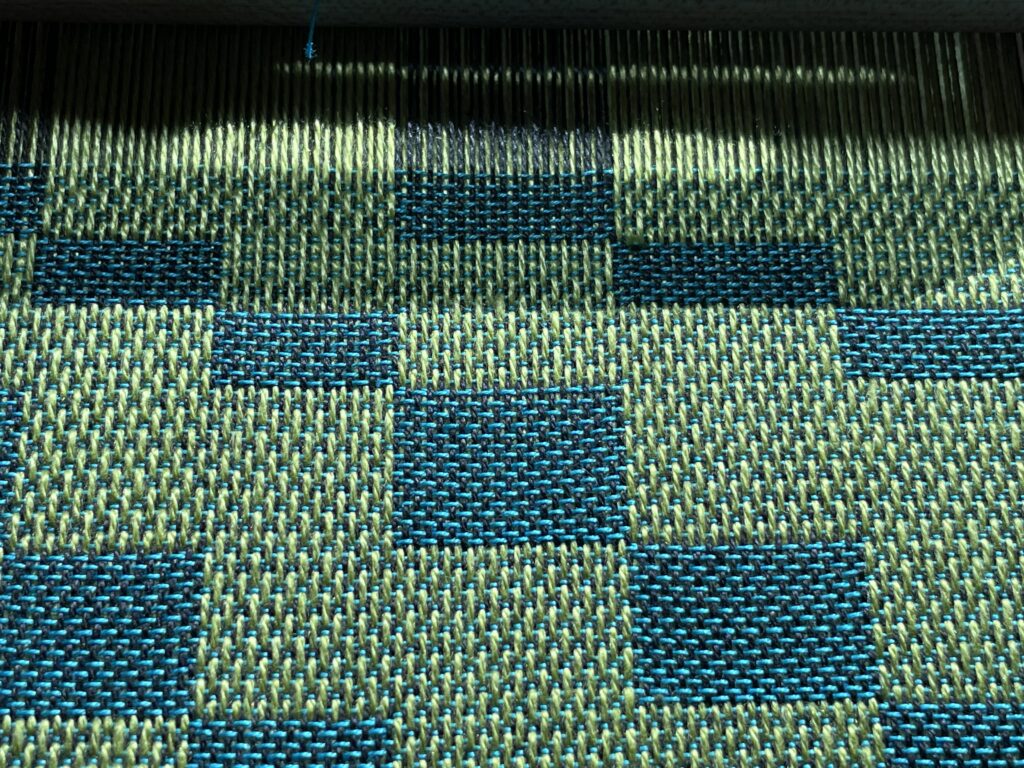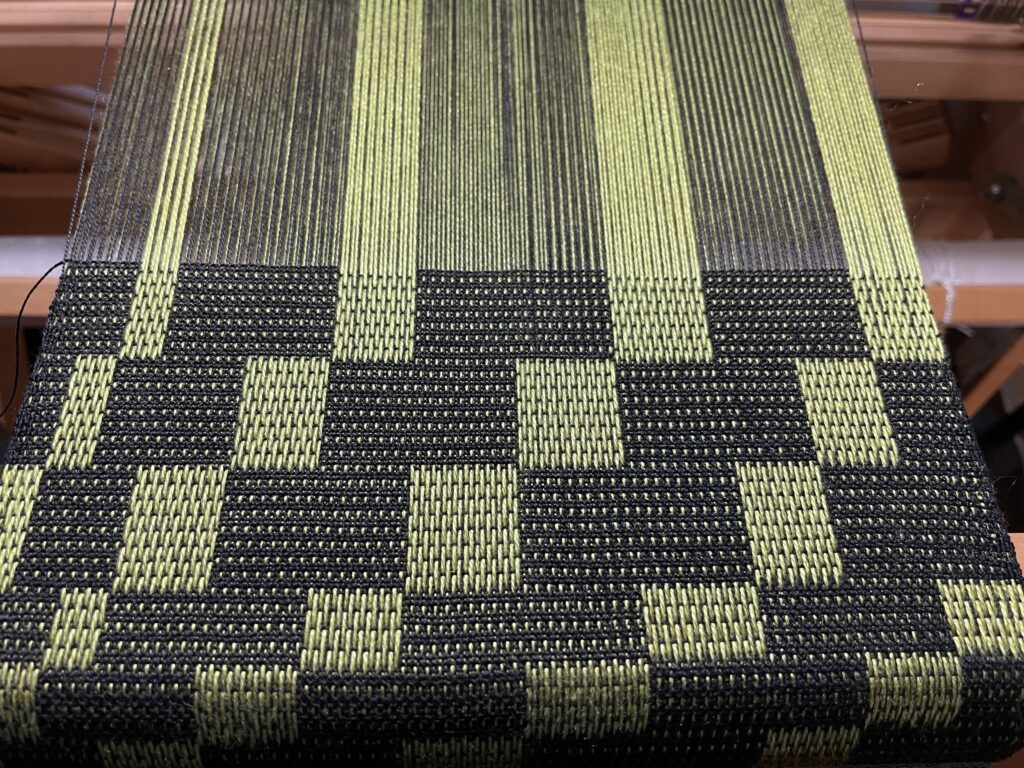 Again, the learning will continue for a long time. The workshop was jam packed with content and resources and, once again, I found myself especially appreciative of my time with Madelyn van der Hoogt at The Weavers School. Weaving off the samples will take a long time, too, thanks to Finn. But puppyhood doesn't last forever, and my looms, yarn, and ideas will still be there. I think!
Last post I wrote about the beautiful Shetland fleece I was gifted in June. I did finish the mitts I carded, spun, and knitted from that fleece. I wrote about the process and included some pictures, and the shepherdess was most appreciative. There is more fleece to play with - at some point in the future when Finn is a bit older.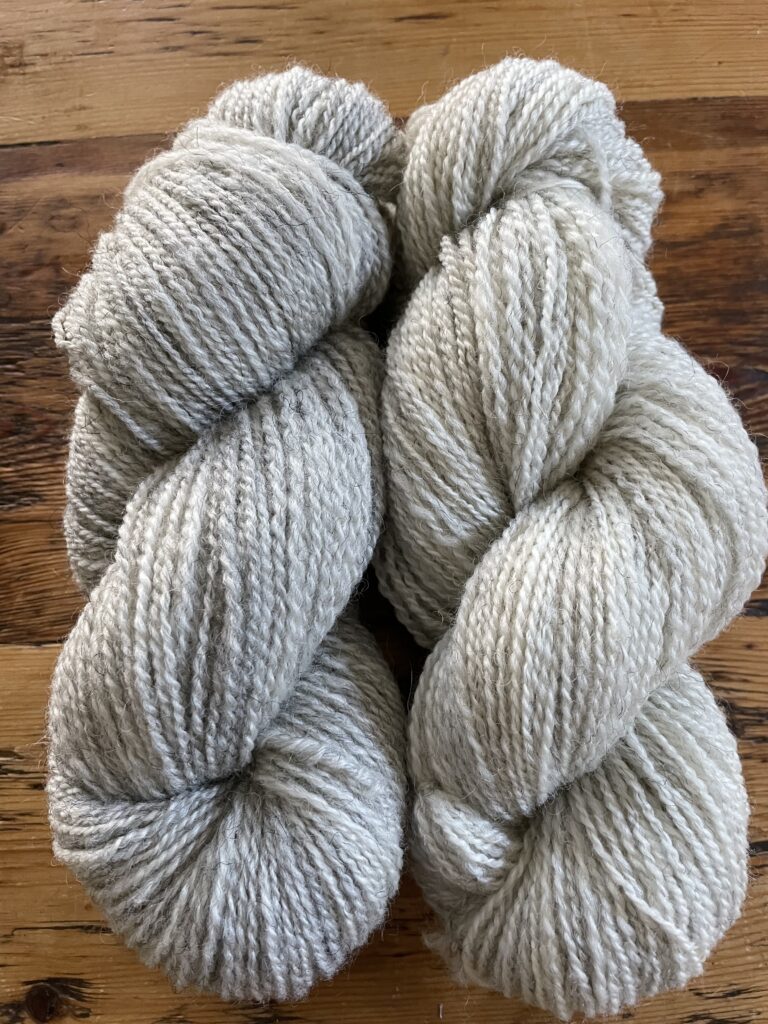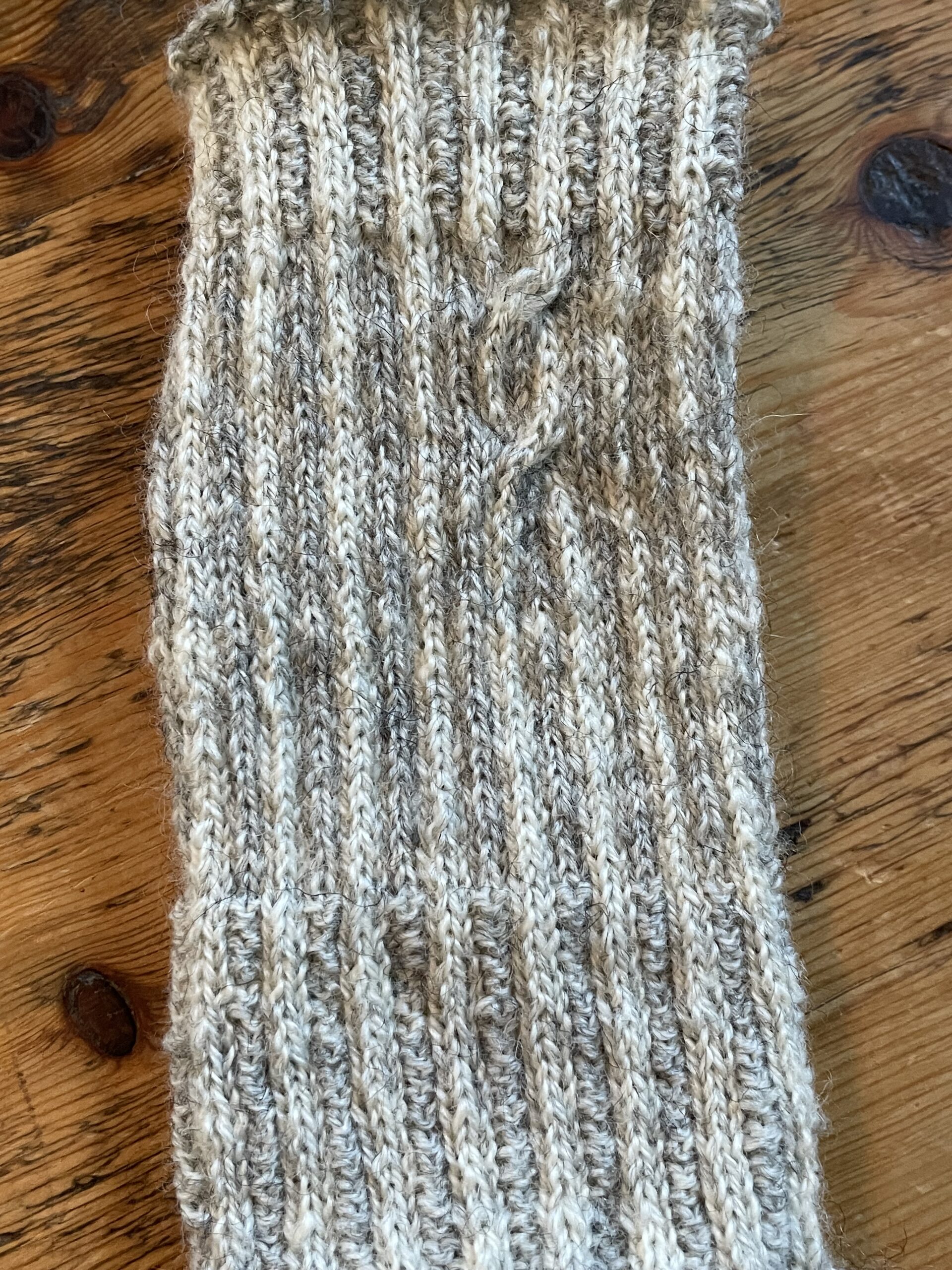 With all the changes in our household, more on the horizon, and the holiday season upon us, I have put most of my weaving on hold for the moment.
I plan to keep my idea journal at the ready, filled with ideas for the time when Finn is more content to train, play, exercise, and nap at regular intervals instead of constantly wanting to chew everything in sight while teething.
Meanwhile, I'm working on another pair of Shetland mitts, a beautiful grey sweater, and – whenever possible – the BFL/silk I started spinning before Finn arrived. No telling how long that will take to finish but there is no reason to rush. I will just spin in the moment.
May we all enjoy our moments as best as possible.