August 2020
When I last wrote we were just over a month into sheltering at home. Well, here we are, still sheltering at home four months later and no doubt the longer haul is yet to come. One transition I am experiencing relates to the kinesthetic knowing that we are in this for the very long haul. I'm not talking about the logical brain sort of knowing; I refer to the inner, cellular knowing. Of course, anything can happen at any moment. But it sure seems like we will be here like this next July, too. I suppose part of this transition is trying to settle into that understanding. Pandemic Permanence.
My dear daughter is very much hoping we are NOT like this next July. Shortly after I last wrote, she hit the "P" button. That would be POSTPONE as in the beautiful wedding she had planned for July 2020. It broke my heart but, of course, had to happen. She and my future son-in-law have been together for over 10 years, so they chose to postpone, hoping to celebrate the existing relationship with friends and family next year, assuming it is safe to do so. Such a beautiful bride she will make! Her setting is trees and while it will be warm, I did weave a shawl to go with my navy mother-of-the-bride dress.
It is 8/2 tencel set at 24 epi and the draft is Strickler 314.5. I have NEVER finished anything so early!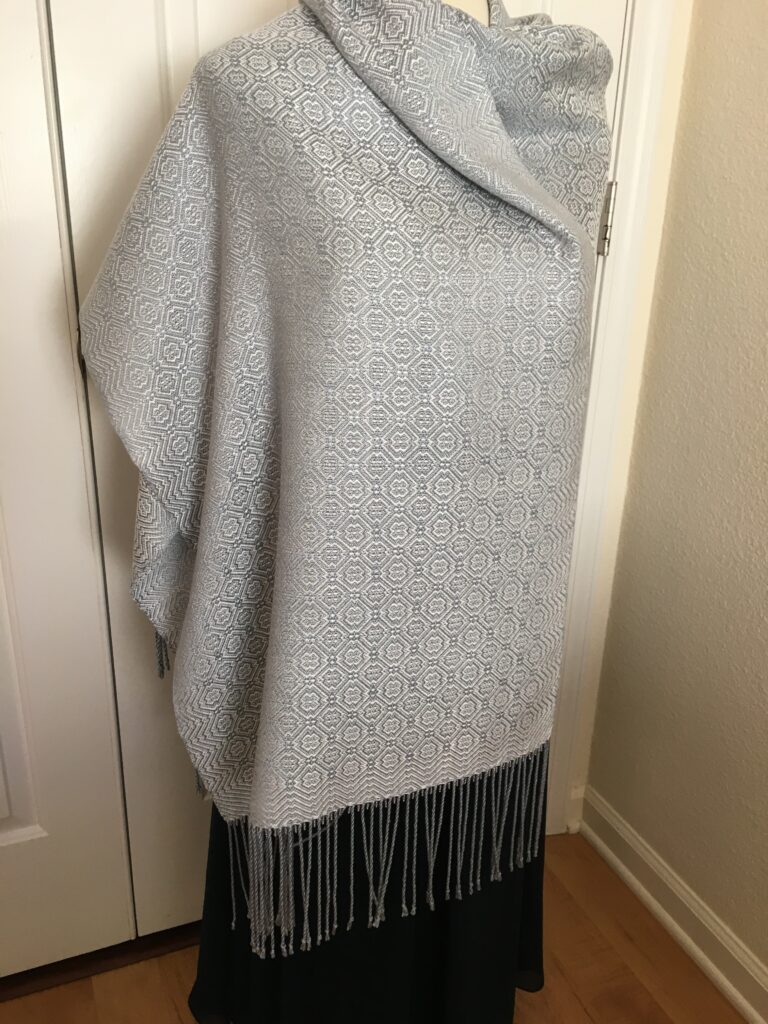 To keep this focused on fiber arts, I'll write of that sort of transition. But first, remember my post about the textile adventure at the family farm in Sweden? Family Farm in Sweden I posted a picture of the blue shawl I wove for the family matriarch, Margaretha.
Well, it took about two months, but she finally received the shawl. Recently I received a lovely letter (translated by her daughter) and photo.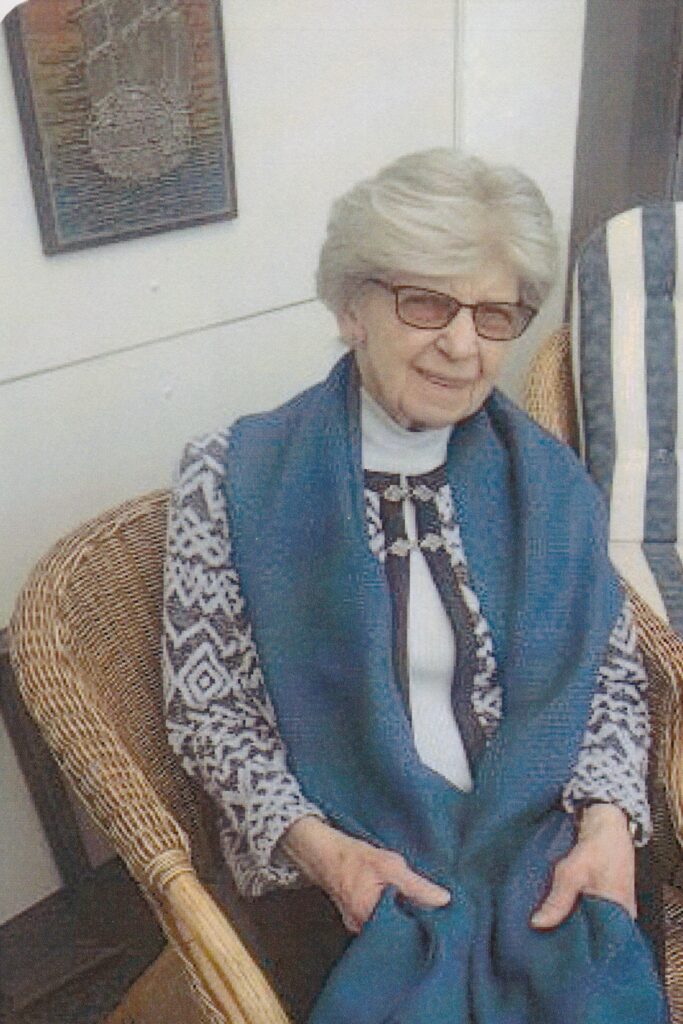 She was so delighted! And she was pleased to receive my letter and the photos I sent of our adventure at Bjälkerum. She sent a photo of Linnea, the tiny flower of Småland. I have left the letter and photos out in my "fiber room" and I smile each time I see them. No telling when any of us will be able to travel again.
As a weaver, I am experiencing a transition. I decided I am not a rug weaver. No surprise but I did have to test that out. My first rug feels great under my feet and is surprisingly supple, given the linen rug warp, the high tension under which I wove it, and the intensity of the beating I did with each pick.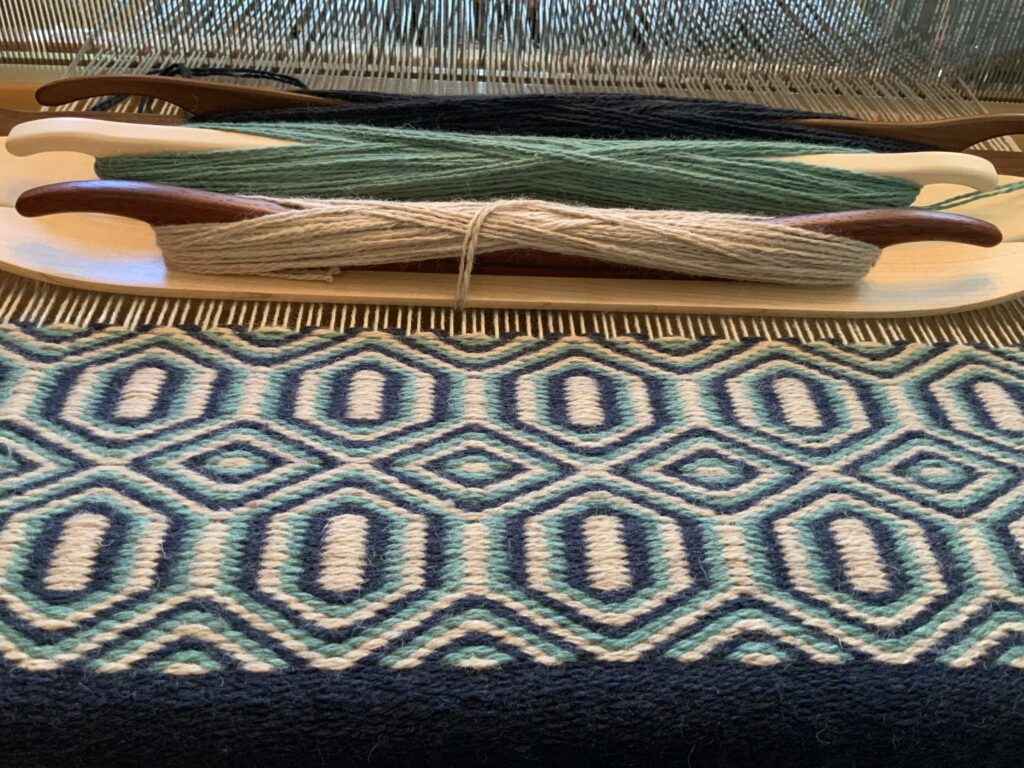 It turned out alright even though the selvages could be better, and the edges could be more even. Currently, with a non-skid pad under it, rug #1 it is warming Michael's feet when he gets out of bed.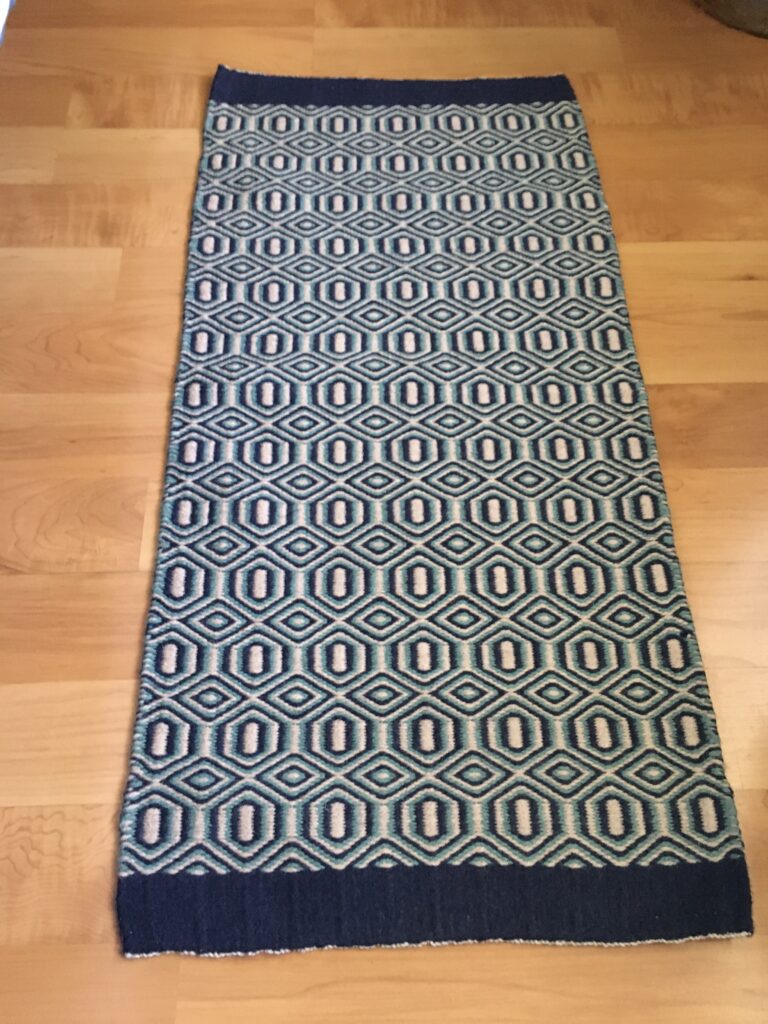 Since we wanted the room to be balanced, and because I really wanted to weave this particular rug, I am weaving a Krokbragd rug. It was a bit of an event getting the box of yarn from Maine to California. UPS only lost it twice. But the colors are beautiful.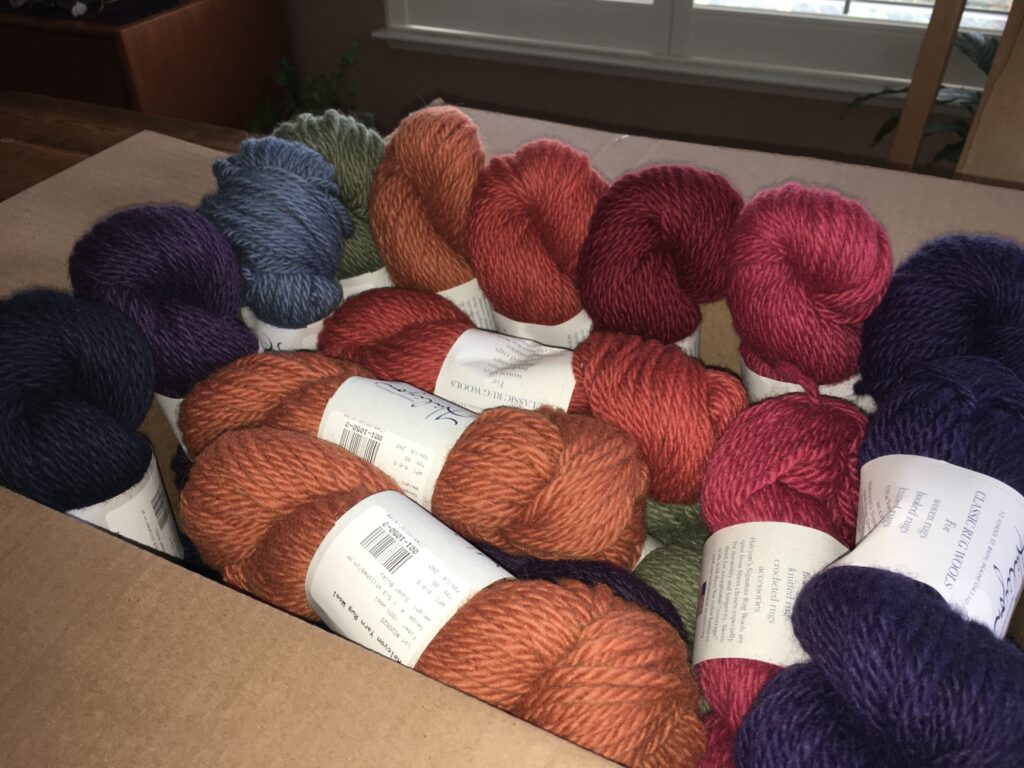 Weaving the rug, however, is an event. This 1973 8/12 Gilmore is a wonderful and very sturdy loom and I've outfitted the beater with an angle iron and two steel bars for extra weight.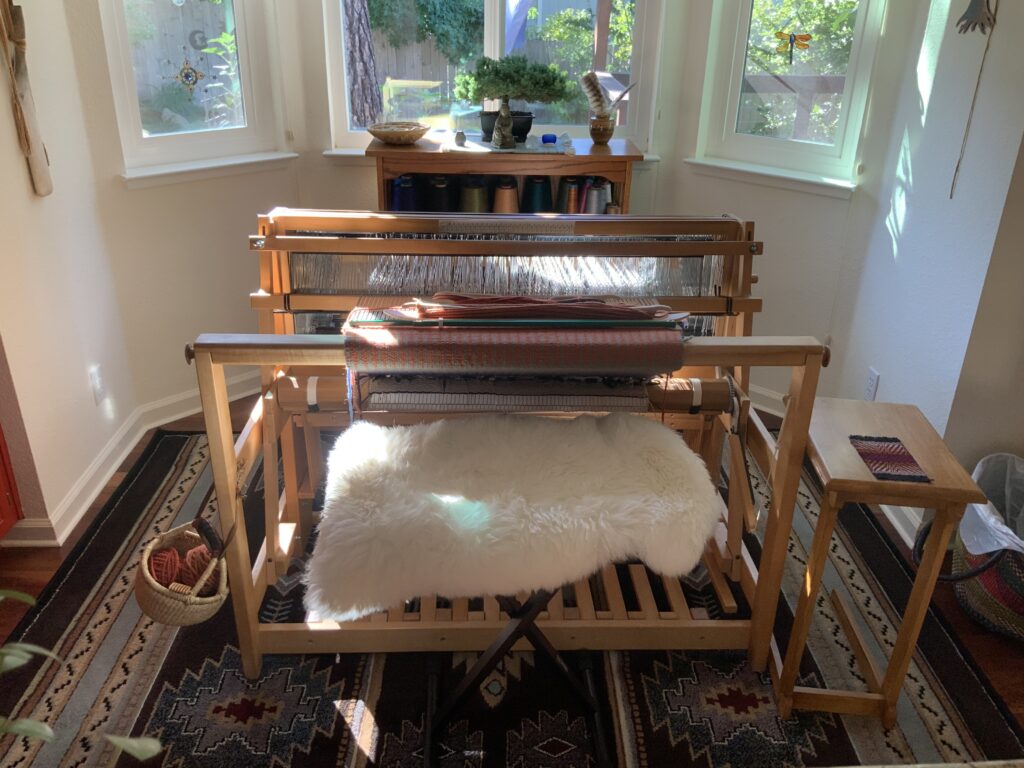 But Gil likes to dance, and it takes me and Michael both some effort to get Gil back in place after a weaving session. The other day, with a cup of tea on my small table next to the loom, the loom danced enough that the cuppa went flying. Fortunately, my favorite cup did not break. So, the weaving goes on, bit by bit. When this rug is finished, I will list Gil for sale so he can move on to a home that will put him to good use and my Baby Wolf, currently hogging much space in my fiber room, will take Gil's place in the kitchen nook. I'm not quite half-way finished so this particular loom transition will take a while.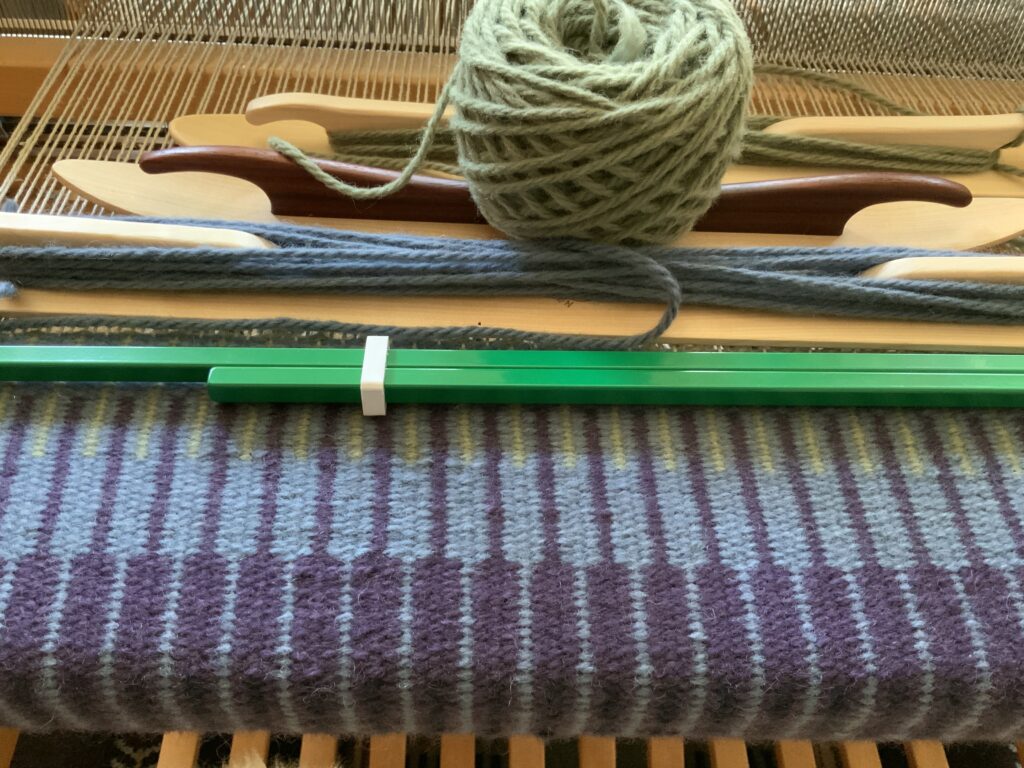 Shortly before beginning to shelter in place (five months ago as I write this), a used Wolf Pup LT (four shafts and six treadles) came up for sale on Ravelry. The loom was located one state away and only a few hours from my youngest kiddo. It was reasonably priced and I had been looking for just this very loom. So, thinking I would make the drive in a month or so, I purchased the loom. The seller was kind enough to store it for me until I, or my youngest kiddo, Archie, could come and get it. Well, then came the lock down.
As a Mothers' Day gift to me, Archie made the day long round trip to pick up the loom from the seller. Michael and I were both a bit restless but we also had to be very careful. We watched the case rates closely in California, Oregon, and Washington and decided to take a window of opportunity before what we expected would be a surge since so many people were refusing to wear masks and counties were opening up again. We packed plenty of gloves, masks, and disinfectant, all of our own food except dinners, plenty of water, and, of course, my knitting.
We have driven from our home in northern California to Washington many times. We usually give ourselves two days to get to the greater Puget Sound area, or Whidbey if that is where we are headed. This time it was a night in Ashland, Oregon as our first stop. All went well and we remained very careful.
I couldn't pass through Eugene, Oregon without stopping at the Eugene Textile Center. It was my first time to see Suzie's new store and it was wonderful! With masks on and no hugs, we saw Suzie and browsed her beautiful, spacious store full of natural light, delighting in seeing so much weaving and spinning equipment and materials. I purchased some hand dyed 20/2 tencel and some linen. A second EFD shuttle came my way as soon after Suzie received it from Schacht.
It was, of course, absolutely wonderful to get to Washington and to see my youngest kiddo! Archie had tested Covid-19 negative shortly before our arrival and we were careful to keep a window open when we gathered. A shared cocktail and dinner rounded out our first evening together. My little Pup was ready to travel and we whisked it off to our hotel room.
The next day, Michael and I enjoyed a trip to the coast while Archie worked. It was a splendid day at the beach!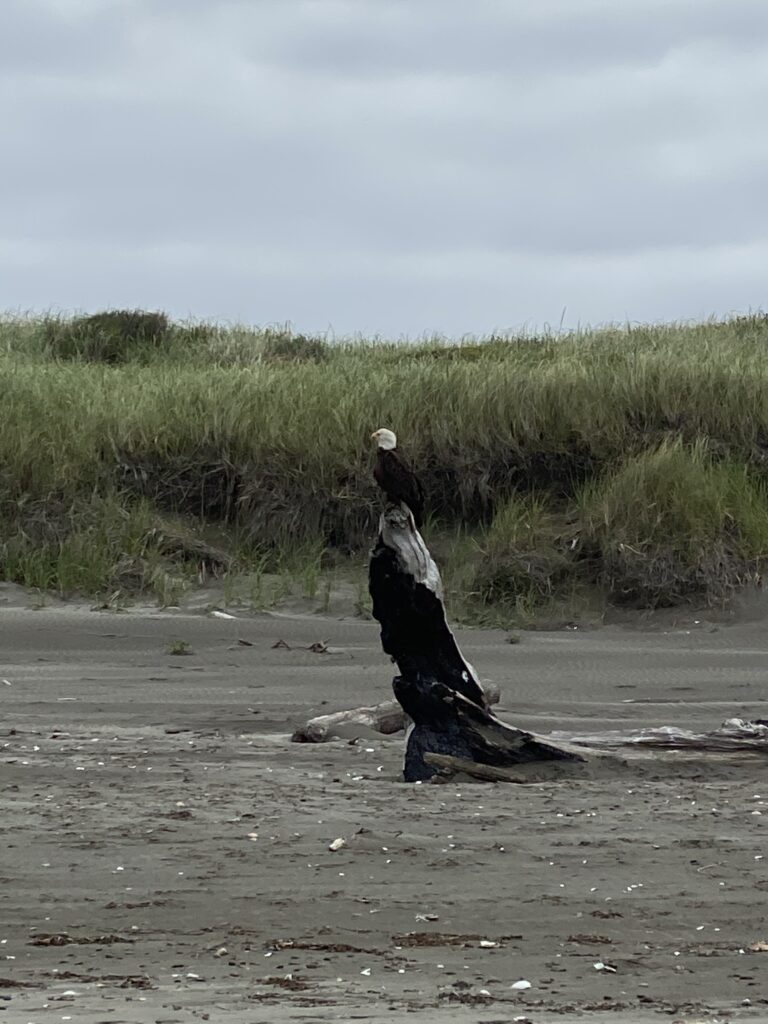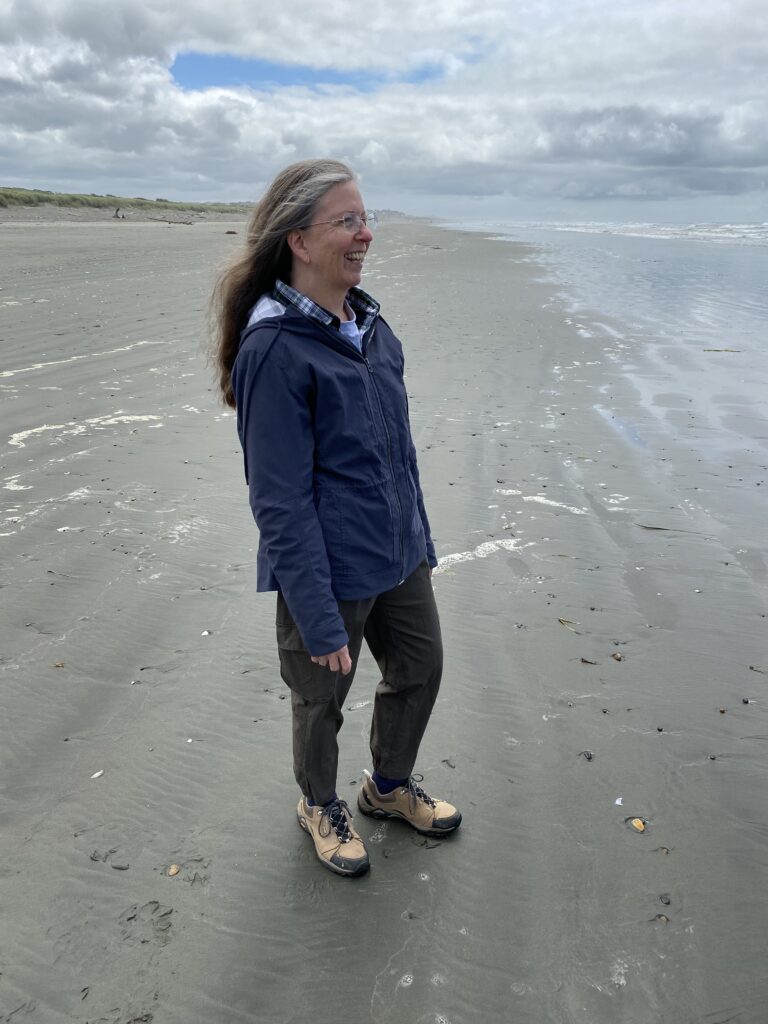 One more dinner with Archie (all dinners were take-out) and then it was time for Michael and me to head home.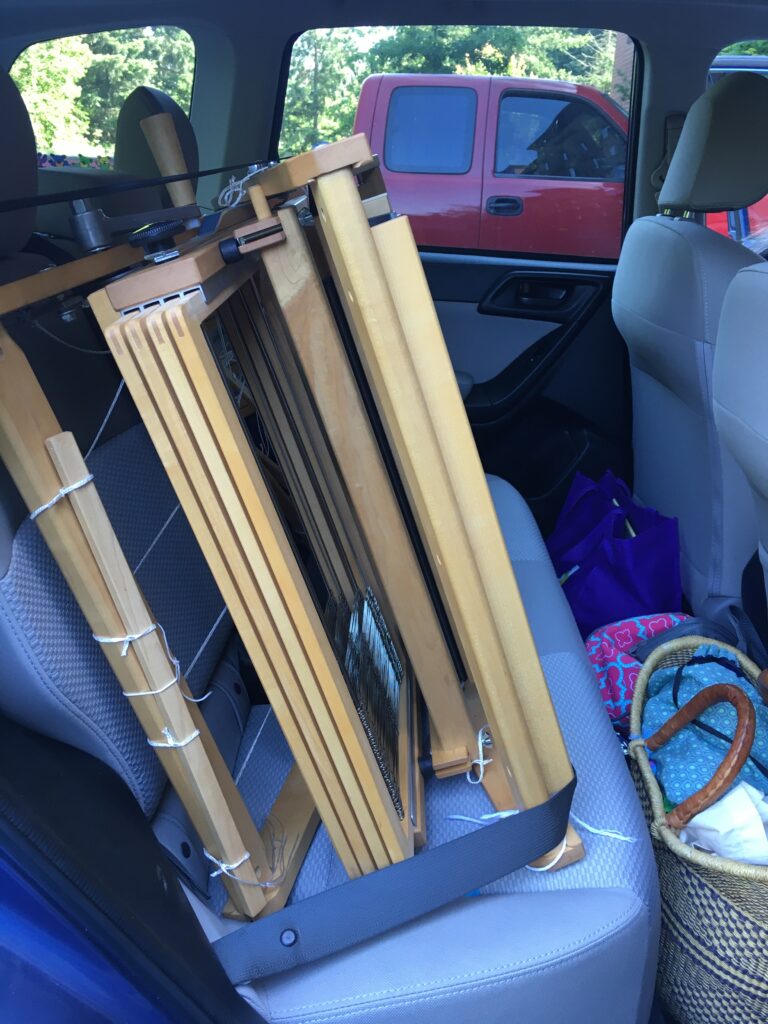 I have no idea when I will see my youngest kiddo again and that hurts my heart. After returning home, I was able to send off to Archie the knitted panel they had requested. Not even a Ravelry person, Archie came across the pattern and brought it to my attention. I chose to knit it in the round, using stranded knitting and steeks, instead of how the designer knit this, so I had two panels and mine is now backed in red fabric and hangs on my front door.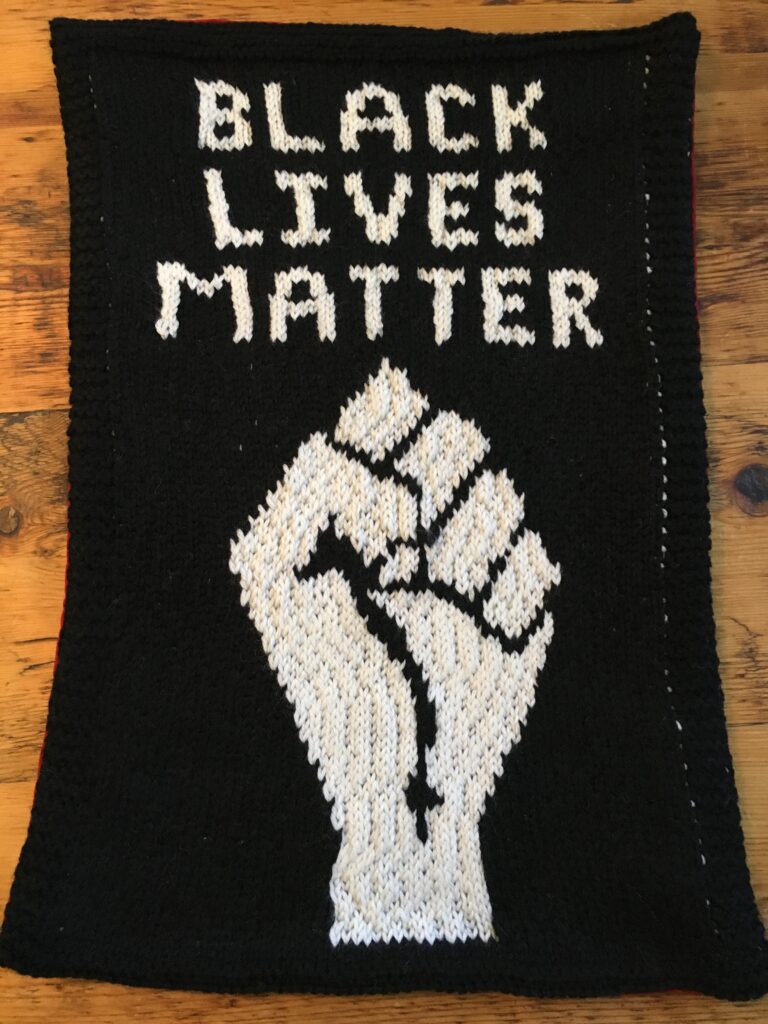 My wolf pack is now complete and my first project on the little Pup is a Baltic band using a Sunna heddle. I'm making a few bookmarks as a warm-up project.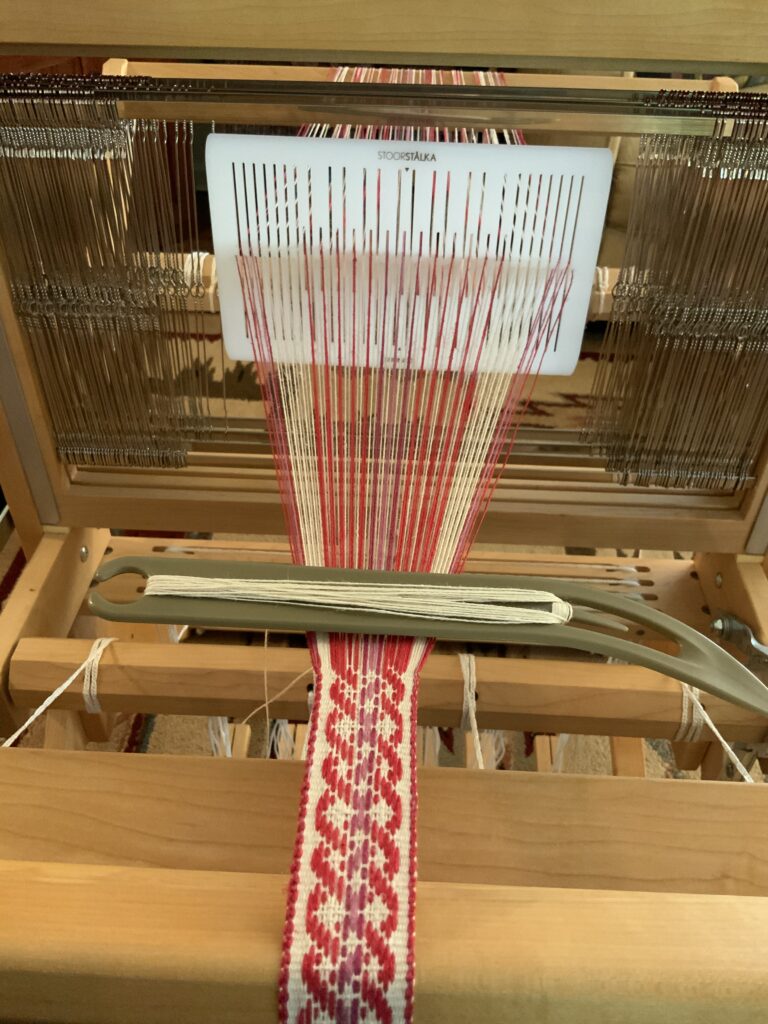 My plan is to use the Pup for band weaving and, whenever we get past this pandemic, to use it to help people learn about weaving. Fortunately, the Pup is very easy to fold up and move around; a very good thing since at the moment there is no specific space for this loom.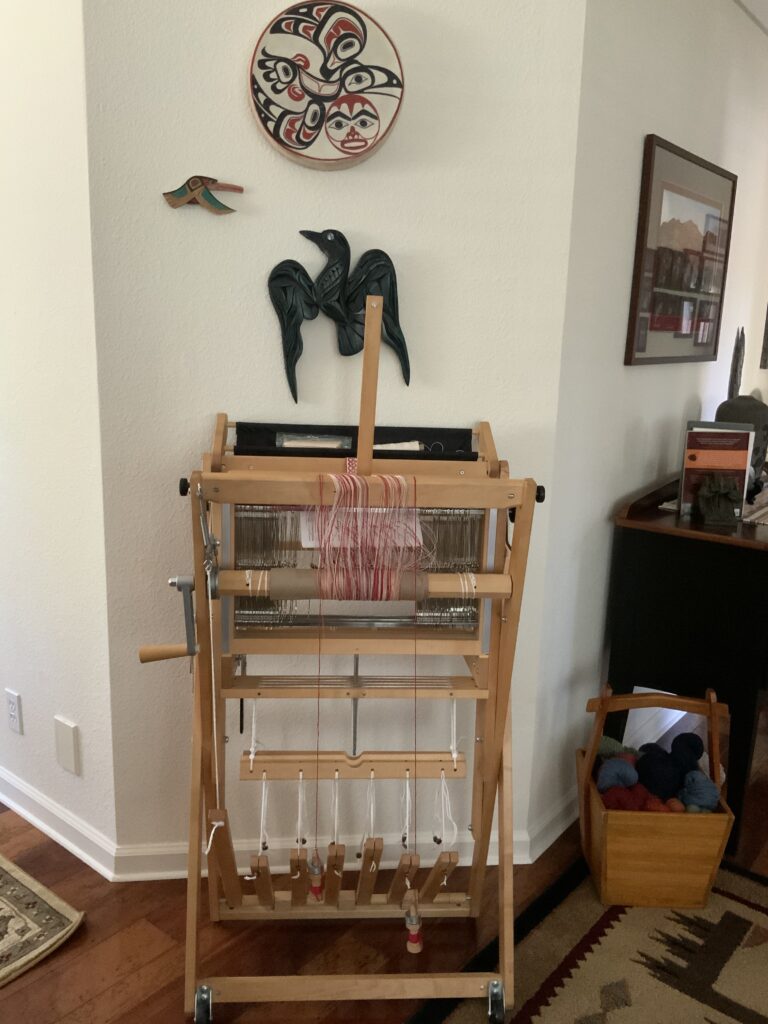 Another transition is a shift in my thinking and planning for opening my little online shop. It is happening!! It has long been my intention but now my goal is by September. (Ok, it may be October!) To prepare, I have been attempting to create inventory and I now have some labels. Stay tuned as this develops.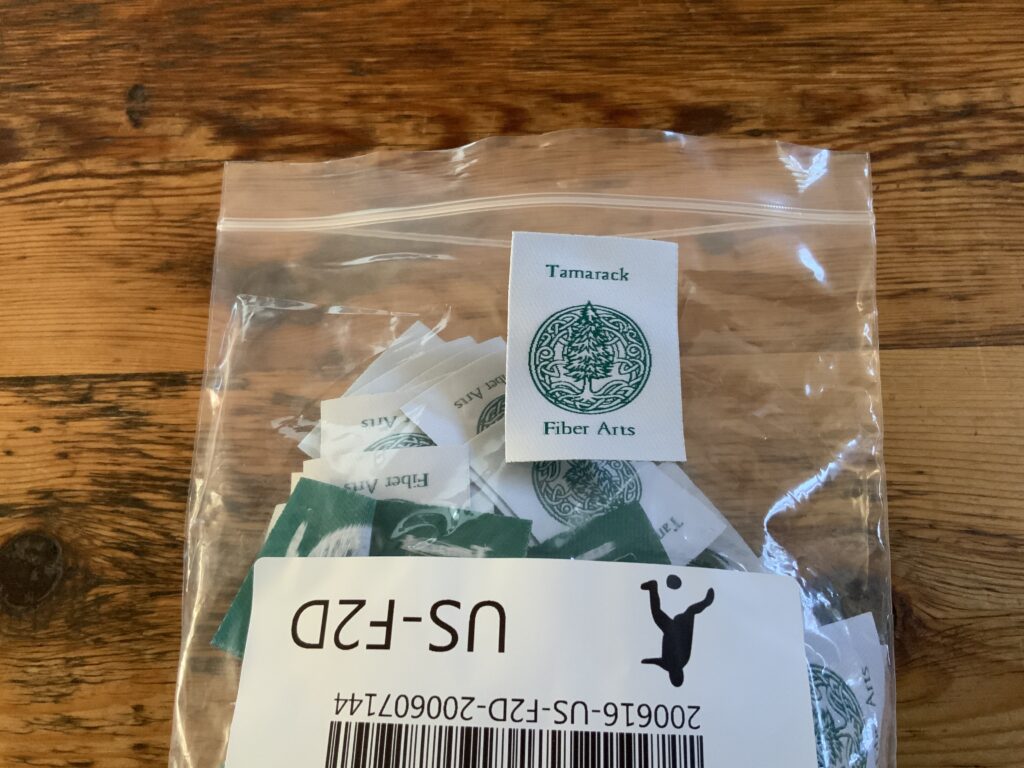 I've had fun weaving scarves with Tencel recently and plan to weave many more. It is such fun to play with color and pattern. I'm happy to say that I have achieved a structurally sound piece of fabric that is also feather light.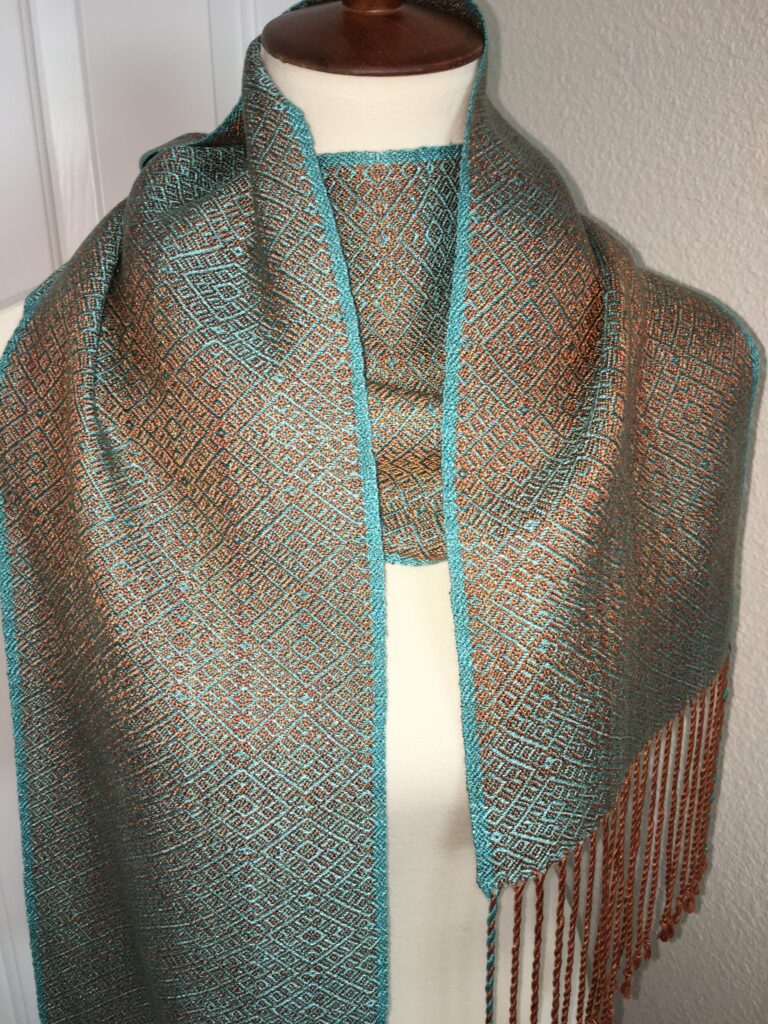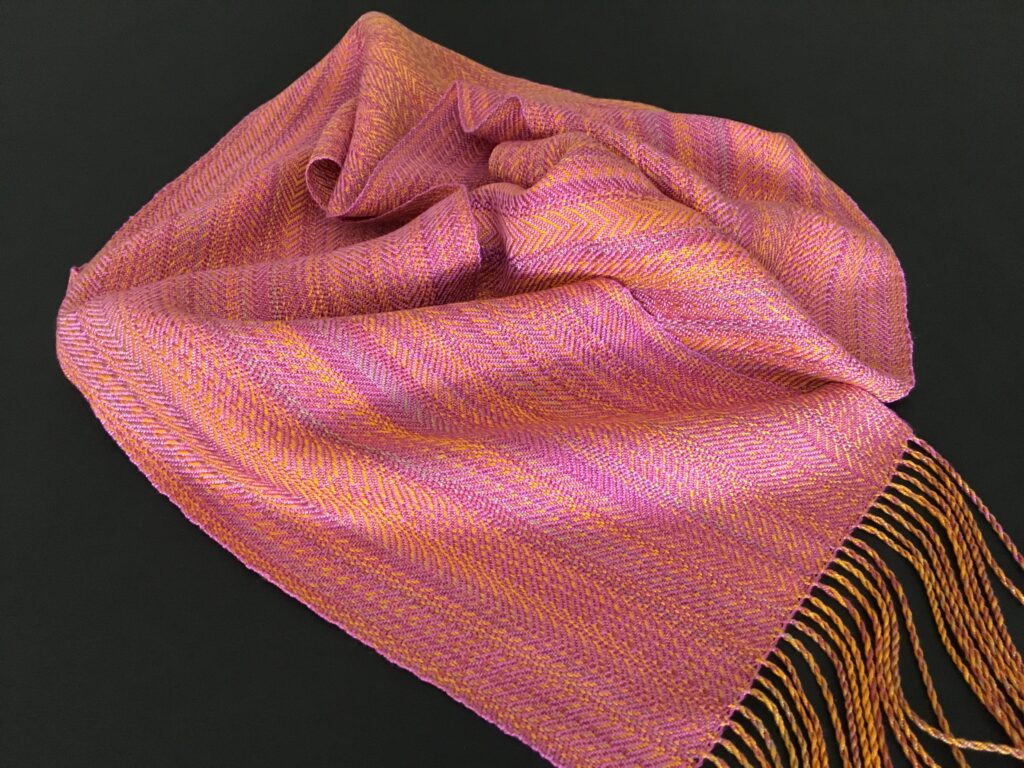 I'll be transitioning to a new knitting project next. I finished a sweater I had been wanting to knit for over 10 years. I was very fortunate to have enough yarn on hand for the sweater. I purchased 10 balls of this worsted weight wool from what used to be our LYS during an annual sale. The store has been closed about five years, so this has been in my stash a good while. Despite the yardage listed for the pattern and despite obtaining gauge on my swatch, I used far more yarn than predicted. Of course, cables eat yarn, and this is a very heavily cabled sweater, but I used a bit over 2000 yards!! It turns out that I'm pleased with how it fits and, assuming we will once again have cold weather (it is over 100 degrees F on my back deck in the afternoon lately!), this sweater will be just right.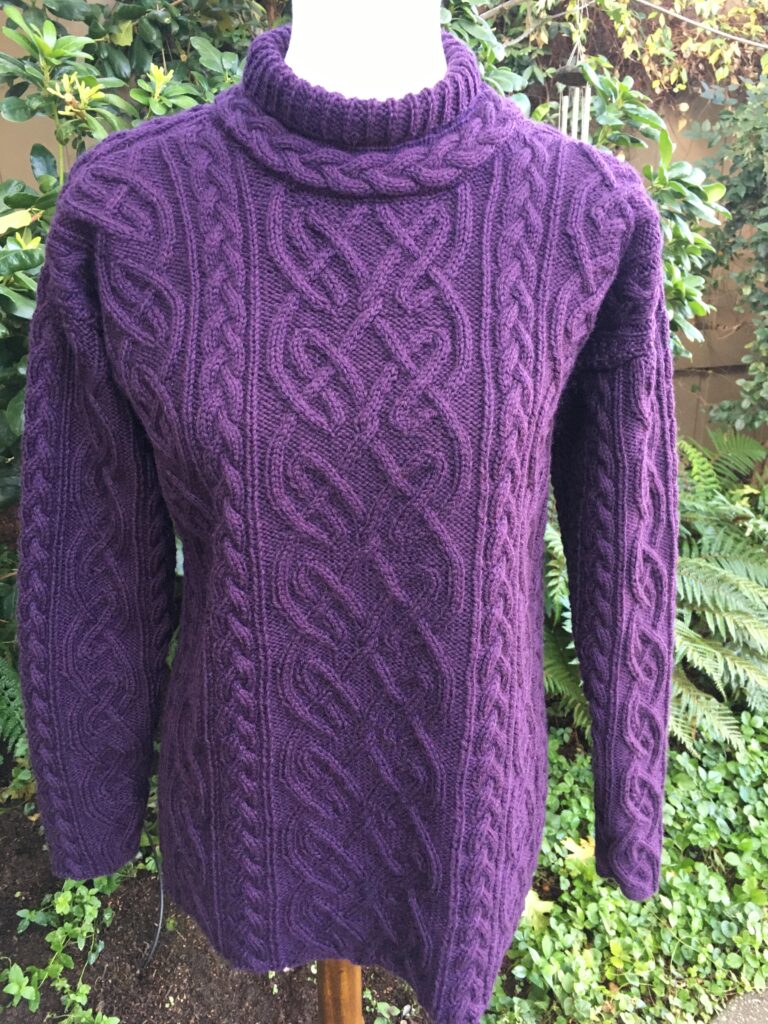 Of course, this is the time of year for constant transitions in the garden. I'm not the best gardener and it does take time away from weaving, knitting, and spinning. But it is wonderful to watch it develop and it's hard to beat sitting on the deck in the evening with my e-spinner, watching the hummingbirds, flowers, and trees. I can almost see the vegetable, herbs, and fruit grow right before my eyes! And what inspiration to take to the loom!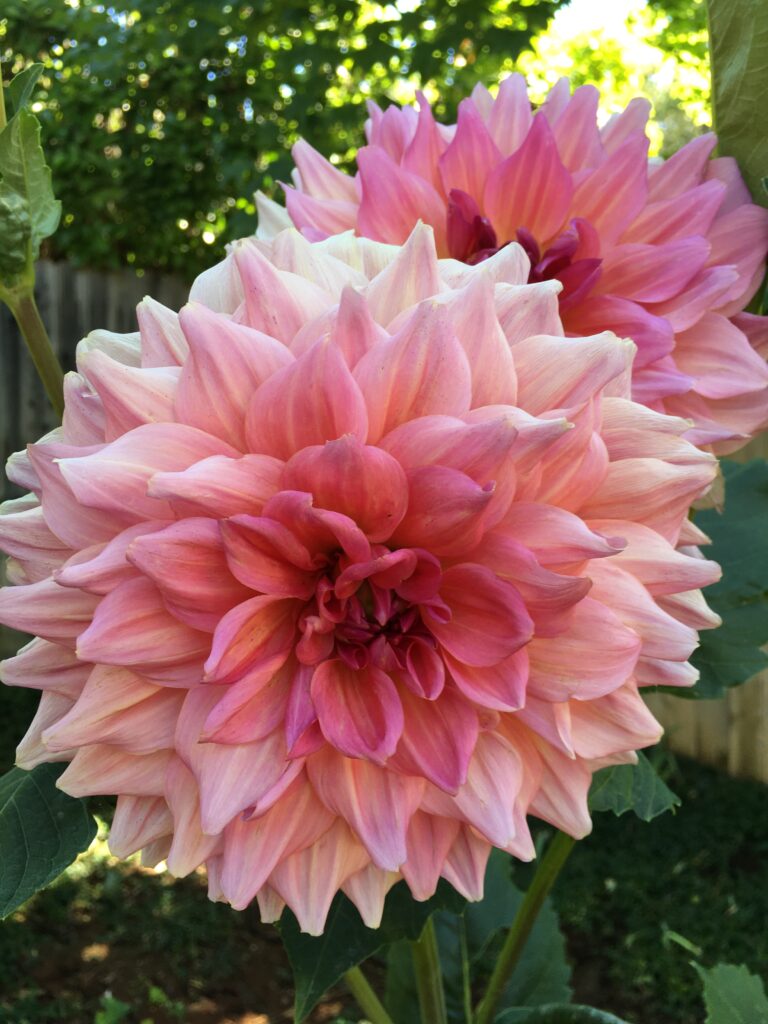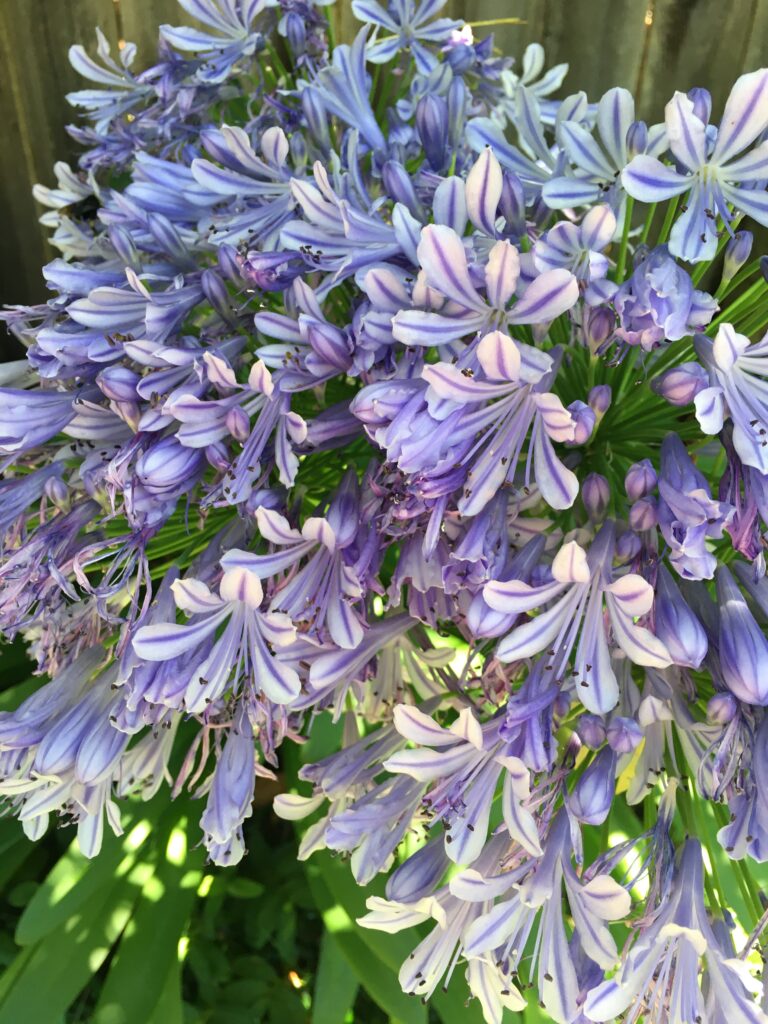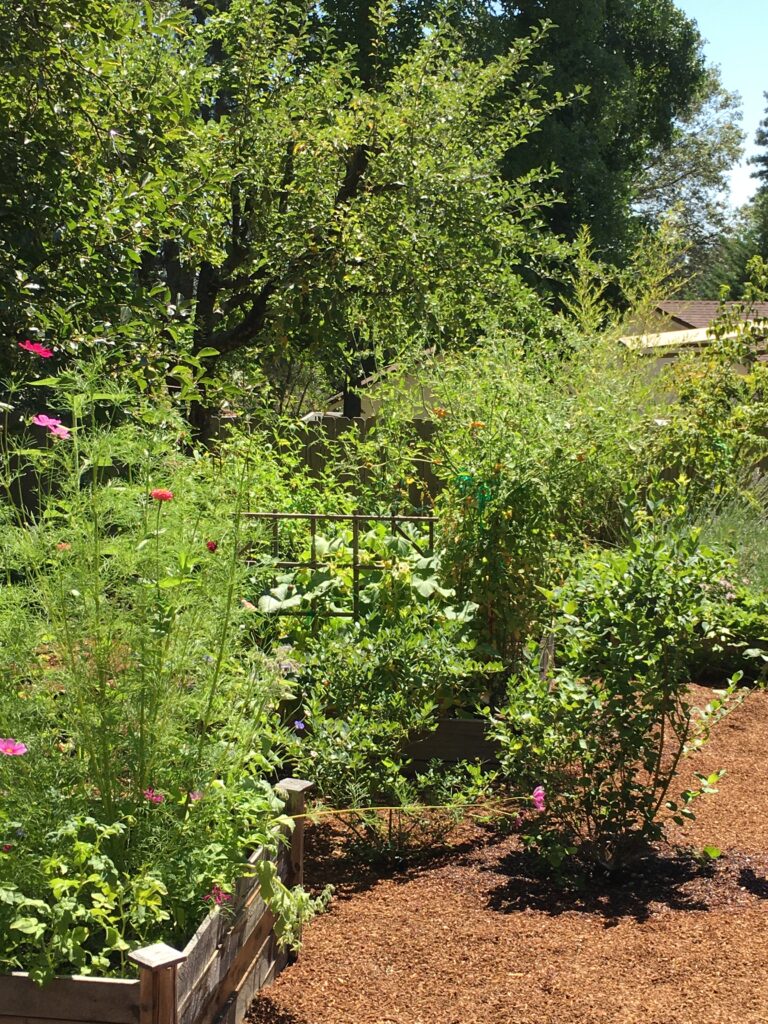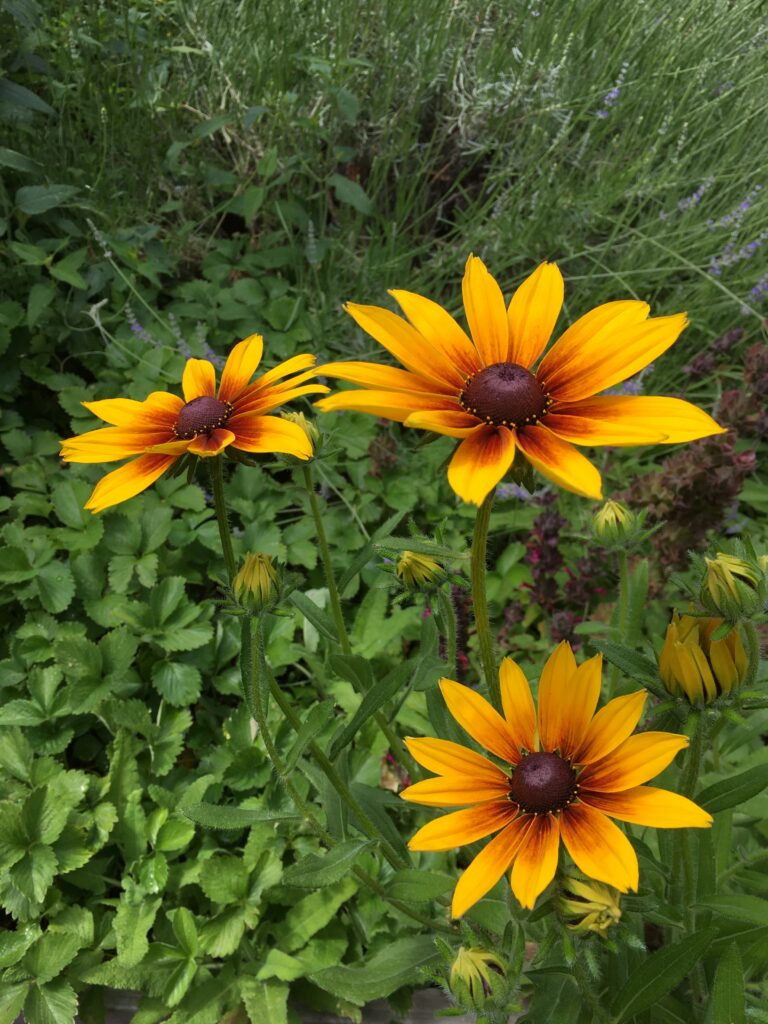 For now, as the country tears itself apart and the pandemic worsens, I will continue to use weaving, knitting, and spinning as a meditation.
May all beings be happy
May all beings be safe
May all beings everywhere be free